On Thursday night, Tony Schultz from the Winger invited me to an evening of performances by two fabulously innovative and engaging modern dance companies, Misnomer and Keigwin and Company. It was my first time being 'comped in' as a 'press member' and it was very exciting! Thank you Tony 🙂 🙂
After the performances, they had an after-show dance party, so that is what the above picture is about — regular people kicking off their shoes and preparing to take to the stage themselves! Both of these companies seem to have a kind of "bring dance to the people" mission, albeit executed in different ways. Misnomer has a very cool website, one of the most intricate I've seen by a dance company, and Chris Elam, the artistic director, has expounded an audience outreach initiative that landed him in the pages of Business Week. Keigwin, on the other hand, from what I've seen by him so far, seems interested in questioning / bridging the so-called "high-art / low-art" dichotomy by including in his modern pieces burlesque and vaudeville artists — as in Keigwin Kabaret, which I recently blogged about — or, as in his new piece celebrating NYC life — BOLERO NYC (which just debuted on Thursday) — by involving non-dance-trained actors and just regular people from the streets. So, I felt the dance party following the performance was kind of a continuation of that, a continuation of BOLERO NYC, saying dance is for everyone.
Anyway, this was my first time seeing Misnomer, and they were unlike anything I've ever seen. First, Chris Elam performed a mesmerizing solo, CAST-IRON CRUTCHES. The man just moves in the most incredible ways; he's like a one-man Pilobolus or something. It looked somewhat animalistic but really really beautiful. His solo was followed by a short film depicting busy people on a crowded stairway, which was really cool — sometimes the heads and faces were such a blur I couldn't tell whether they were going up or down. And, then he premiered his longer work performed by the whole company, FUTURE PERFECT, a sweet, humorous, thought-provoking take on human social and romantic interactions. I've read that he gets a lot of his ideas from his world travels and it is clear that he is an astute observer of other cultures and peoples; I think this is what makes his work so different and intriguing. Here are a couple of pictures of Elam from Misnomer's website.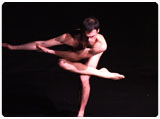 And go here for video snippets of FUTURE PERFECT during rehearsal.
This was my second time seeing Keigwin (first was the Kabaret), and, again, I really enjoyed them. His stuff is very fast-paced, sometimes aerobic (as in CAFFEINATED), oftentimes humorous and gender-bending (at one point, in the second piece, NATURAL SELECTION, Nicole Wolcott, whom I just love, carried small but powerful Julian Barnett), and filled with lots of incredible feats (Ying-Ying Shiau running sideways along a back wall assisted by two men), and dynamic, energetic dancing to fast, pulsing music. Liz Riga stood out to me more this time. She has a commanding presence and fills up the stage with her movement. Oh, and correction: I realized, Alexander Gish, who was in Thursday's performance, was not the guy I said he was in Kabaret, who did the little cherub-faced waiter with the butcher knife number. I'm not sure who that guy was, but I saw him in the audience Thursday night! Here are a couple of pictures from their website:


The show is happening again tonight, Saturday, at the Skirball Center for the Performing Arts at NYU. Very interesting, very innovative and loads of fun with after-party for everyone including dancing onstage and alcohol and little snacky foods in the lobby 🙂