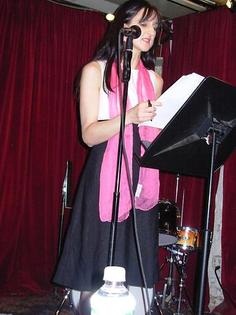 Hahahahhaha — I look SO intense!
Tonight I had my first ever public reading of my novel at the Cornelia Street Cafe. I read as part of the Writers Room Member Reading series, which takes place there every third Tuesday of the month from September through June.
Hehe, so much fun. I was so nervous, but once I got started, I was fine… at least that's what my wonderful friend, Evangelina, told me 🙂
Here I am with Evangelina, my good old trustworthy friend from my writing class days. She's known (main character) Sophie and all of her nutty problems since her inception so it was PERFECT to have her in the audience! I would have invited more people, but I was really nervous going into it and didn't know how well I'd do, so I wanted to minimize the number of people to see me screw up!
But as it turned out, it went fine, and now of course I can't wait to do it again. When I do, I promise to invite everyone I know in the NYC area 🙂
Here's playwright and Writer's Room Reading Series host, the hilarious Stan Richardson, about to introduce me.
Hehehe, I'm such a goof. I actually wrote out my intro to my piece that I was reading. I always do such silly things — whenever I give an oral argument in court, I absolutely MUST write at the top of my outline the words, "May it please the court. I am Tonya Plank and I represent (client's name)" … my friends like to make fun of me — because what, am I going to forget my name?? — but I'm always so nervous approaching a podium, I just must have those words on my paper in order for me to get myself actually talking.
All in all it went really well. Like I said, I was very nervous and shaky-voiced at the beginning — which I felt and Evangelina confirmed — but after I got into it, it got much better. After I read, Stan said my reading made him think and there were a lot of things that he really wanted to talk about but there was no time — how sweet! And then later, he made a couple of jokes about Freud and everything in this post-Freudian universe being sexual, which was a riff on my first couple of lines 🙂
Then, after all readings were over, a writer, Jim Story, approached me and told me he thought I did well and my work sounded interesting but that I read way too fast and needed to slow down. Evangelina agreed, but said I only read how I talk (which is way too fast!). She also said that I need to learn proper comic timing — when I have a funny line, I need to PAUSE afterward to give the audience time to get it and respond. I know, I know, I know, but eeek, I just feel so weird doing that; I feel like I am begging for laughs, basically telling the audience I want them to think this is funny and to laugh by pausing in certain places — no??? I guess maybe just reading slower in general would do the trick…
Hehehe, also Stan asks everyone a question or two when introducing them. For mine, he asked me what I liked best about my website. I was thinking he was going to ask something like when did you join the Writers Room and / or why, what publishing house would you like to publish your book (questions he's asked others), but instead I got this one and I couldn't think quickly. I said the first thing that came to mind which was the graphic! I do really like the graphic designer my web builder, Gregory Tomlinson, hired, and those couple of little outlines he did of me and Pasha dancing in my first showcase, one on the main blog, and one on the home page. And then I started vomiting on (when I'm nervous I just start blabbing incessantly; it's really just BAD), about how I used to take ballroom and, oh can you believe the guy in my graphic, my former dance teacher, is now on "So You Think You Can Dance" and woo-hoo a famous person on my blog, who knew Pasha would make it so big, and how awesome, and blah blah blah… have no idea what else I said; it's just a blur now! Well, Stan had no idea what I was talking about — he's like, So You Think You Can Dance, is that American!? I'm such a goof, I have to remember not everyone is as obsessed with dance as I am … And, hello, what kind of writer says their favorite thing about their website is the graphic!!!!!!!
Anyway, it was all so much fun and such a great experience and I so want to do it again. I could totally get used to this writer life 🙂 Thanks to Stan for being his humorous self and easing my nerves, along with my two co-readers tonight Dan Klein and Lauren Yaffe, and Evangelina, friend extraordinaire for her never-ending support :), and to Cornelia Street Cafe and the Writers Room (the most awesome of all urban writers colonies!) — as well as the Jerome Foundation, NYC Department of Culture, and National Endowment of the Arts for underwriting the WR Reading Series — all for giving new writers such a wonderful opportunity to be heard and to engage in the writing life in this way. Happy night!
Front of Cornelia Street Cafe, where Evangelina and I had dinner and caught up with each other after the reading. And, across the street, we noticed this very happening restaurant, Petra or something like that? Hmmm, will have to check it out someday…