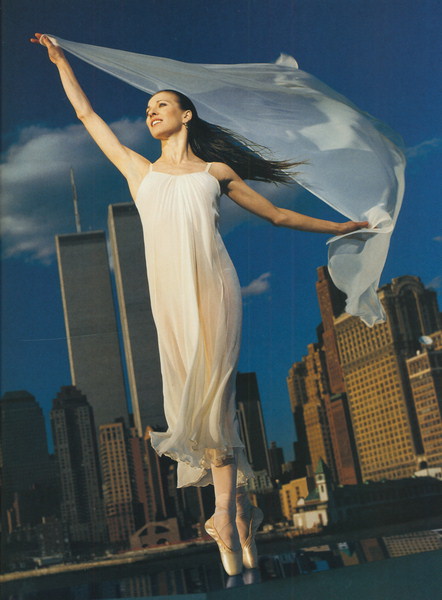 (Picture directly above taken from Ballerina Gallery; top pic taken by my lovely camera from the Fourth Ring at NYCB last night).
Last night marked the final performance of Kyra Nichols, the second-to-last still-performing ballerina to have worked directly with George Balanchine, and thus widely considered to be of the last of "the Balanchine ballerinas." (The other Balanchine ballerina is Darci Kistler, also of NYCB). I'm relatively new to ballet and especially New York City Ballet, so I haven't had many chances to see her dance, and I'm really feeling sad now, as I felt when I recently saw the legend Gelsey Kirkland perform (in a non-dance role) in American Ballet Theater's Sleeping Beauty, that I've missed out on an era. Ms. Nichols danced brilliantly last night; I was so overwhelmed and I wish so much I would have seen more of her over the years. Since I don't know a huge amount about her, here's an interview she gave recently to Gia Kourlas of Time Out NY, and here is Joel Lobenthal's article in The Sun (I remember NYTimes's Alastair Macaulay also wrote an article on the several retiring ballerinas but it's impossible to link to because they only allow paying subscribers to access articles). Also, here is long-time NYCB fan Oberon's review of last night.
Last night was breathtaking. Peter Martins (NYCB Director) put together a gorgeous program for her. First on was Serenade, what to me seems to be classic Balanchine — involving oodles of beautiful ballerinas in gorgeous flowing baby blue chiffon, and one or two men overwhelmed by them all! (which is largely, it seems, Balanchine's take on ballet 🙂 ) It was mostly abstract but with a slight narrative in which Nichols poignantly danced the main character. (I will definitely be reading more on this splendid ballet in Terry Teachout's book on Balanchine, but more about that in a minute…) Second was Balanchine's "ballroomy" piece for four couples set to Robert Schumann's "Davidsbundlertanze" (try saying that several times in a row!), which I've seen before and loved, and set to lovely onstage piano music. And, my favorite of the night (can't help it, I'm a ballroom dancer!), "Der Rosenkavalier" from Balanchine's Vienna Waltzes, a shortish piece in which the stage is overtaken with waltzing couples — the men in elegant black long-tailed tuxes and the women in long lavish white gowns — one of the most exquisite sights I think I've ever seen on a stage, and one that rekindled the passion I felt for Standard Ballroom upon attending my first competition. Not that several couples waltzing their own routine on a ballroom floor could look anything like this (even if those couples are at the level of Mirko Gozzoli and Alessia Betti or Jonathan Wilkins and Katusha Demidova…) — it takes a genius choreographer, not just a few great dancers, to create such a sublime spectacle. And one thing I love about ballroom is how it seems to convert little boys into mature gentlemen — Robert Fairchild and Tyler Angle looked so dapper whisking their ladies all around the floor — so charming! It just takes you to another time and place, to a fairytale land…
Anyway, although it was the end of an era in the ballet world, for me it was a time of new beginnings, of meeting new people and making new friendships. I met up with critic and writer extraordinare Apollinaire Scherr, who introduced me to the illustrious critic and writer and author of several books, Terry Teachout, who gave me a copy of his biography of Balanchine!!
The three of us met up during intermissions, then all went out afterward and chatted all about the ballet world, and the dance critic world — so very interesting for newcomer me! Mr. Teachout is so brilliant. He's a former jazz musician and has been writing for so long about the worlds of classical music, ballet, and now theater, he's just like a walking encyclopedia of the New York arts scene. It's so amazing. I can't wait to start reading his book — which I'm going to begin this afternoon (in between trying to finish two briefs for work by the end of the month — I'm going to get it all done I swear…) Meeting him was so fun, and so educational, and I'm sure his book is going to open up a new world to me (and, he even said he liked my blog 🙂 :)) — thanks so much, Apollinaire!
There was so much going on last night, every ballet fan in the universe (or at least those lucky enough to have got tickets) must have been there — but somehow I was also able finally to meet Sarah, who frequently comments on The Winger as well as Philip's and my blogs, and Bob, who comments a lot on our blogs as well! That was fun, and I'm completely amazed that in that massive crowd people were actually able to recognize each other. I sat next to Susan, who also is a big blog and Ballet-Talk-commenter (and met her nice husband), and Philip and Wei (who I also met beforehand at the stage door and hung out with. Philip is great fun to lurk around the stage door with because he knows everyone and everything at NYCB … he should be a tour guide, if there was such a thing!) We all looked for Carbro at Ballet Talk, but couldn't find her.
Anyway, it was a really amazing night, amazing experience. Oh, we also spotted Kristin Sloan onstage filming — so her video's going to be a lot of fun to watch when she finishes it. I think it's so magnificent that we now have this technology that enables us to preserve these monumental events in this way. First those excellent "Tragic Love" videos documenting Martins's new Romeo + Juliet and now this — NYCB is just going to HAVE to expand it's website's broadband to make room for all these awesome videos Kristin's making!
Okay, time for rest and relaxation (and brief-writing) until tonight … when a ballerina whose career I HAVE followed and whom I love, retires as well — there were many teary eyes in last night's audience; tonight is going to be my night for being a hysterial wreck…