Ballet season has officially begun in New York! So, I have spent the last two nights at NYCB.
(photo of Robbins by Arthur Elgort)
Wednesday night's program was called "Russian Roots" and last night's "French Cuisine" — I'm loving these titles, which are named after the nationalities of the composers to whose music Jerome Robbins, the American choreographer they're honoring this season, choreographed his works.
So, the Russians:
First on on Wednesday night was "Andantino," a short duet, by turns cute and flirty, and soft and romantic, set to Tschaikovsky's First Piano Concerto, Second Movement.
(photo of De Luz by Paul Kolnick)
It was danced by Joaquin De Luz, whom I'm very happy to see again — he's been out for a while, I heard with an injury — and Megan Fairchild. No one dances with Megan like Joaquin, and I love how he can give a thrilling bravura performance that is still artistic. He can jump fast and leap high but you're not just watching spectacular athletic feats; he makes everything part of the character of the dance.

(image of another company performing "Opus 19, Dreamer" from here)
Next was one of my favorites of the night, "Opus 19 / The Dreamer," set to music by Sergei Prokofiev. I like Prokofiev so much I think because his music is full of dramatic tension, it can be very unsettling. It can go from dulcet and mellifluous to angst-filled and foreboding in just a few measures. In this piece a man, danced here by the very charismatic Gonzalo Garcia, looks rather lost but enchanted, trying to find his way to … somewhere … amidst a chorus of dancers, all in blue, who resembled to me at times, I guess because of the blue backdrop, Matisse's painting "The Dance."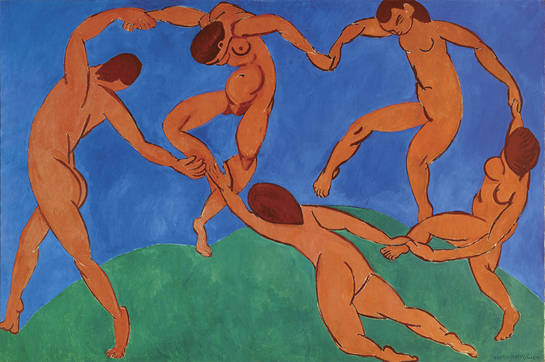 (image of "The Dance" from Culture Grrl)
Eventually Wendy Whelan emerges as their somewhat mischievous leader and he has some interesting pas de deux with her. She seems at times to help him, at times to taunt him. The end is, as Deborah Jowitt says in her program notes, "enigmatic," as they fall in each other's arms, but not necessarily in a romantic way. She could be holding him up, he's so exhausted. I felt there was a lot to this piece and there's no way you can thoroughly comprehend it on one viewing. It's the kind of dance you need to see again and again and every time you'll find something more than you saw before.
Oh, also, at the beginning of each evening, they're showing a clip of Robbins working with a dancer or dancers on one of the pieces performed in that night's program. Wednesday night they showed Robbins working with a dancer (who's name I didn't get — he looked like Baryshnikov but had a completely American accent) on Opus 19, and they repeated a section over and over again. When Garcia did that section you immediately recognized it and got so much more out of it. It was kind of funny trying to discern how well, Garcia, who's far too young to have ever worked with Robbins, did as Robbins had instructed the other dancer. I personally think he did well with the traveling steps, but the lunges were not entirely there 🙂 But I wish there would be more of this in the ballet world in general — allowing audiences to witness process.
(photo of "Piano Pieces" by Paul Kolnick)
Next on was "Piano Pieces," my other favorite of the evening, set again to Tschiakovsky. This work reminded me of one of Robbins' masterpieces, "Dances at a Gathering." It opens with an ensemble performing a cute Russian peasant-like polka dance, then the charming Antonio Carmena has an impish, quick-paced, high-jumping solo that looks near impossible to perform but of course he breezily pulls it off, followed by the first duet, "The Reverie" in which a man seems to try to comfort a day-dreaming woman. Next, Carmena returns for another frisky solo, followed by another couple, danced by some of my favorites Amar Ramasar and Abi Stafford, who do a flirty, Don Quixote-esque, Spanish-flavored pas de deux that I loved. Then there are some solos by each of the pas de deux dancers, some dreamy, some searching, some soft and forelorn, some high-spirited, and in the end, Carmena leads the whole cast in a final, fun, folkish polka.
(all photos of Ramasar — top, Stafford, and Morgan, by Paul Kolnick)
All I can say is whenever Amar Ramasar, Abi Stafford, and Kathryn Morgan are onstage, I become completely emotionally involved in their worlds. Amar pulls you in in large part through his superb dramatic abilities — he's a great actor. He's a great dancer too, but often it's his facial expressions combined with the way he moves that make me unable to take my eyes off him. The other two, I don't know what they have (and I don't always even recognize Abi right off the bat since from afar she looks like a lot of the other dancers, but I do once she gets into her solo!), but they just have a kind of expressiveness, everything they do has such thought and purpose behind it, it really pulls you in and compels you to stay with them. They're both so young too; it's amazing they have so much artistry this early on. I also feel this way about Andrew Veyette, but more in the Robbins ballets, which he strongly excels at, than Balanchine.
(photo of "Les Noces", Paul Kolnick)
Anyway, last on was Les Noces, a dramatic ballet with a narrative storyline choreographed to Igor Stravinsky. This is a ballet I have a feeling many will roll their eyes at because there's not a whole lot of pointe and traditional balletic movement, but I liked it. It was very very intense. It depicts the wedding of two young Russian peasants, a ceremony that seems to make marriage something more to be feared than enamored, like a very painful rite of passage. The aforementioned Kathryn Morgan is the poor young bride, Allen Peiffer her very teenage-looking groom. There is a chorus onstage, in back of the dancers, who sing beautifully. The piece begins when Kathryn's assistants load bundles of wrapped-up cord atop her shoulders, and, at the banging start of the music, a soprano screams out, as Kathryn releases each bundle her mouth open imitating the soprano, in immense fear and agony. The whole thing proceeds this way, with this same emotional undercurrent. Much of the folk dancing by the men consists of flexed-footed, bent-kneed jumps up and down, their weight creating a thump as they land. It's a perfect portrayal of masculine aggression and seems to forebode the wedding night.
Andrew Veyette danced the part of the groom's father here, and, as I said above, I think he is such the quintessential Robbins dancer. While most others look a little uncomfortable with some of the non-balletic movement — like these loud, weighty, thumping Russian peasant jumps, or the modern jazzy moves from New York Export Opus Jazz and the bravado swaggering walks of West Side Story Suite — he looks perfectly at home.
I generally liked better Russian night, but briefly, "French Cuisine" consisted of "Mother Goose: A Fairy Tale For Dancers" set to Maurice Ravel music (who, embarrasingly, I actually thought was American because some of his musical flourishes can sound a bit Sousa-esque), Robbins' very well-known "Afternoon of a Faun" to Claude Debussy, "Antique Epigraphs" set to the same composer, and "In G Major" again to Ravel.
In "Mother Goose" dancers in work-out clothes — leotards and tights — don different kinds of theatrical hats, as if they are play-acting a fairy-tale just for the fun of it. The story begins with a tutu-ed Sleeping Beauty being cursed to a life of sleep after pricking her finger while jumping rope. In her dreams, dancers enact three fairytales, Beauty and the Beast (Beauty was danced again by mesmerizing Kathryn Morgan), Hop o' My Thumb, and "Empress of the Pagodas." Eventually, Prince Charming wakes Sleeping Beauty and all is happy in the make-believe world the fooling-around dancers have constructed.

(photo of Janie Taylor and Damian Woetzel in "Afternoon" courtesy of New York City Ballet)
"Afternoon of a Faun" was originally choreographed by Nijinsky, but in his version, which takes place in a forest, a male faun is smitten by several wickedly enchanting nymphs. Robbins re-set the ballet in a dance studio. It begins with a male dancer fawning over his own reflection in the mirror, which looks out toward the audience (so the dancer is actually looking out at you, but seeing his own reflection, which he, amusingly, adores). A female dancer then enters, equally taken with her own reflection. Part of their self-interest lies of course in their being dancers, who are of necessity looking at themselves in the mirror to correct technique flaws, but I also see a lot of narcisissm. Jowitt says in her Playbill notes there is no self-absorption, but I see it. I think Robbins is perhaps saying a certain amount of self-obsession with one's physicality is necessary to being a dancer? Anyway, I actually think this piece is quite funny, as you watch the dancers, so absorbed with their own reflections suddenly notice another person is present and manage throughout the course of the ballet to engage in a kind of contact with that other. This was danced by the bewitching Janie Taylor, whom I love but seem to hardly ever see, and Damian Woetzel, who will be retiring later this season.
(photo of "Antique Epigraphs" by Paul Kolnick)
"Antique Epigraphs" consisted of several women, all dressed in nude-colored body-stockings covered with brilliant-sheened, diaphanous, ankle-length tunics. The dancers usually danced as a unit, often in sync, but at times would break off into a solo or duet. It looked very Greek, hence the name, I guess. This shortish piece really resembled a painting, or a group of Greek statues come to life. It retained that air of pieces of artwork come to life.
(photo of "G Major" by Paul Kolnick)
Finally, last night ended with "In G Major" a work from 1975, whose main appeal to me was the jazzy movement combined with the costumes and set, designed by the artist Erte. The background set is simple but stunning in its sharp lines. It depicts a sun, clouds and ocean waves, so the dancers are clearly at the beach. Their Roaring 20s-style beach clothes are dress swimsuits with the cute little skirts, which bear sharp large horizontal lines, some red, some blue (except for the main female lead, which is solid white); the men's costumes bear wavy lines, as you can see above. The dancing, often in pairs, is evocative of Twenties-style jazz and Swing, like a celebratory frolic on the beach.
In closing, I just have to say, hehehe, I think NYCB is becoming a bit like ABT — when star principal dancer Wendy Whelan, who danced the female lead here, made her entrance some people began clapping. But this is not customary at a non-star-driven company like NYCB, so others, confused, clapped, but then didn't know if they were supposed to but felt like they should follow the others' lead… It was hilariously confusing. People should just clap, IMO!
Anyway, much more ballet to come in the following weeks 🙂