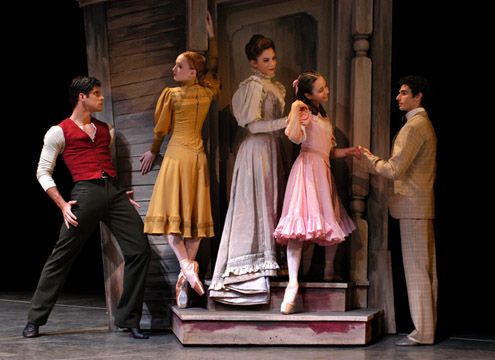 (photo of Tudor's Pillar of Fire from Artsjournal)
Last night I went to one of the best Works & Process events at the Guggenheim that I've been to in a long time. (By the way, I spent practically all weekend, despite a severe cold turned into sinusitis turned into a migraine episode, at City Center watching Morphoses, and despite said sickness had a pretty good time — promise to write all about that very soon!) Anyway, this Works & Process event, about American Ballet Theater's upcoming City Center season honoring choreographer Antony Tudor, was so excellent because:
1) three of my favorite dancers (excepting Marcelo that is — he never does Guggenheim sadly) were onstage working their magic only feet away from me. This included Jose Carreno (headshot above), Julie Kent and Veronika Part, the first and third of whom I've never seen at Guggenheim. And it was the best dancing I've seen there. Usually, with the space being so intimate, the stage so close and the dancers in workout clothes rather than actual costumes, everything just seems scratchy, like you notice all the little foibles the distance of the stage at the Met or City Center prevents you from seeing. But with these three: looked just like it does in the big opera house, completely smooth and polished and dramatic and intense and perfectly in character and just miraculous movement altogether.
Veronika I must say almost made me cry with her Leaves are Fading character, and she and her partner, Alexandre Hammoudi, only performed a short excerpt from the 4th pas de deux of that ballet. She's probably ABT's most dramatic ballerina; her mission is always to make you feel exactly what her character is feeling, to bring you to that same place and make you a part of that world. To do so she puts everything she has into a role and the results are always so rich. There are other wonderful actress dancers in ABT, but there's just no one on her exact level.
And the second reason I loved last night's program was that I found it really informative. I didn't know much about Tudor and I learned a great deal. Kevin McKenzie (ABT's artistic director) spoke, and he talked about him not so much as a director trying to sell people on his company's upcoming season but more as a former student reminiscing on how wonderful it was to be taught and coached by a genius.
(photo of Tudor by Kenn Duncan from ABT website)
Tudor created character-driven story ballets, and he gave his characters great psychological depth, as expressed, of course through movement. He'd develop a character through the walk, the way hands are held, through specific repeated gestures, spending hours and hours going over these things with his dancers, McKenzie said. Which is why I titled this post as I did. I'm just getting so tired of all these abstract story-less ballets with movement that doesn't seem to have any meaning (at least not literal) or where the point is to make beautiful music visible. If I want to bask in the beauty of music, frankly, I'd rather go to a symphony and close my eyes and drink it all in. Movement should be more; it should be something beyond music. I like dances that are more like plays with movement substituting for words. I want characters with real lives and issues and emotions and depth, that I can latch onto and feel for. I want to get caught up in their stories, and cry for them; I want their predicaments to make me think about the state of things.
We saw some little film excerpts of Tudor speaking. "Dance must change to stay alive. Life is change," he said. He wanted to modernize ballet, which is interesting because Christopher Wheeldon (Morphoses man who I'll get to soon) says the same. But Tudor's way of doing so (and most of his ballets were created from the 1930s through 70s; he died in 1987) was to make it more people-oriented, enable viewers to see the characters onstage as real people with genuine emotions, allow them to identify with those characters.
We saw excerpts of several of his ballets: his sweet Little Improvisations, a duet between a boy and girl; Judgment of Paris, a rather funny re-telling of three goddesses vying for the attention of one god but re-set in a bar with prostitute / 'dancers' subbing for the goddesses and a drunk patron for Paris; Pillar of Fire, a tragic portrait of three sisters, their relationships with each other, and their men; and The Leaves Are Fading, a sadly beautiful story of the life of one relationship.

(photo of Leaves are Fading by Rosalie O'Connor; Tudor profile by Cecil Beaton)
Anyway, I'm now very excited for ABT's Tudor season, upcoming at City Center at the end of October. Even if some of the ballets are a bit dated now (which we'll have to determine when we see them), they'll still be a welcome break from all the abstract shapes and movements that are supposed to evoke something … or not, and sometimes do, sometimes don't, and sometimes do but I don't care… I feel that the way to modernize ballet again today is to give us more, new, updated stories, but more on that later.
Sorry if this post is a bit loopy and rambling … I'm still suffering the after-effects of a week of Sudafed intake (and am kind of realizing the reason they put the drug behind the counter :S)