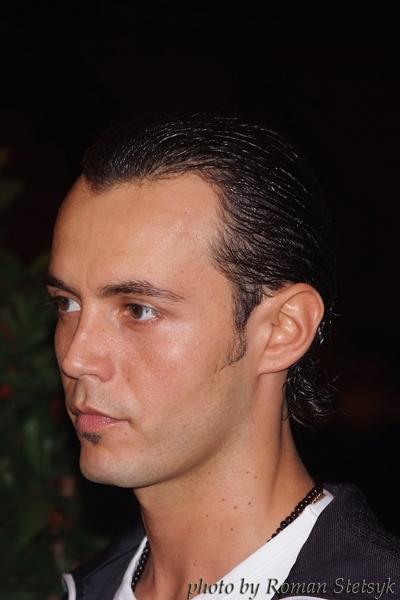 (photo by Roman Stetsyk, taken from here)
Yesterday I went to see a play about choreographer George Balanchine (which I'll post about as soon as I have time; I have about 10,000 things to write about and that's really not much of an exaggeration). My ballroom friend, Mika, came with me, which was wonderful because I hadn't seen her in a while and needed to get caught up on all the ballroom gossip 🙂 She's just returned from Internationals, held at Royal Albert Hall in London — so jealous; I really wanted to go to that this year. Anyway, we were chatting about the Latin results and she noted that Slavik Kryklyvyy (one of my two favorite Latin dancers; the other, Sergey Surkov, was unfortunately injured and couldn't compete), was there watching but still didn't compete with his newish partner, Hanna Karttunen. Word had it that he got cold feet; didn't feel up to it. He did the same in May at Blackpool, though. He wandered through the crowd, watching, with a forlorn expression that nearly made me cry, live competitions and videos vendors were showing of past competitions that included him and Karina Smirnoff. Funny, my friend even saw him stretching at one point, before competitors were called onto the floor. As if he were competing. People kept coming up to him and asking for photos, asking him if he would be dancing, and he just kept repeating, "Not this year, sorry," sounding sadder each time.
Last year when he and Elena Khvorova (who's now dancing with Andrej Skufca — the couple placed third at Albert Hall — for people who are interested) were a new couple, he did the same thing. But that year, they came to US Nationals and tried out their new partnership in the open to the world category. So, I thought he and Hanna might do the same this year, but they didn't.
I hope he gets up the nerve to compete soon because people, for one thing, MISS HIM (unless google analytics is lying to me, he's consistently been the way most new readers have found this blog. And, to my knowledge he's never been on any of the TV shows, so his fame comes just from his spectacular work on the ballroom floor) and, for another, are getting worried judges are going to start being dismissive, forgetting about him, making a comeback harder. And real-life ballroom judges, lord knows, unlike their TV counterparts, are completely immune from public opinion.
Anyway, happily, he doesn't seem to have an issue with showdancing. Here's a video of him and Hanna — video quality is not the best, but if you know ballroom, and if you know him, you can tell they look in great form. Also, commenter Shim alerted me that they are to dance at Columbia University's Big Apple Dancesport Challenge, on December 6th! I just hope that's not restricted to Columbia students…