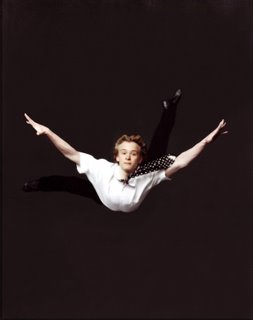 (Daniil Simkin, photographer unknown, taken from here)

(headshot from ABT)
Last night was the New York debut of ABT's newest star soloist, Russian-born, Daniil Simkin. He danced the Tico-Tico section of Company B, which I wrote about here, and which is going to be a dance I can tell will grow on me each time I see it. Tico Tico is probably the solo with the most bravura theatrics, and it suited him well. He has a small, compact body and can go very high on those jumps, really sail around the floor on those barrel turns. But the solo is also jazzy, and he pulled off the softer, subtler elements as well. At the solo's end he got huge applause from the crowd, and more whooting applause mid-dance (which rarely happens with dance crowds these days) in the very last ensemble section, when he went whizzing halfway up to the ceiling in a twisty turning jump. "That little one was sure something!" exclaimed a couple of women as we left the theater.
My only thing — and this goes for the whole cast, not just him — at the end of the male solos, each man falls to the floor. This is meant to show that they've died in war. It it only their spirits that are dancing; the duets are the memories of the women they've left behind; the solos are ghosts. So, the dance on its surface is fun and frivolity with jazzy music and pretty girls and the whole nine yards, but there's underlying tragedy, which gives the dance its power.
(photo, Company B, Andrea Mohin, from NYTimes)
On the way out of the theater a woman was complaining to her friend that the ABT dancers "aren't doing it right; it's not clear they've fallen," she said. And I agree. At the end of Daniil's solo, he raised his arms and pushed back from the waist while disappearing into the wings as if he was hit in the stomach by a bullet. But he wore the same happy carefree smile as he had throughout the whole solo (likely because the audience could tell he was finishing, the cheers were beginning to sound and he'd just finished his NYC debut), so you'd never know he'd been shot. But it wasn't just him — others in this cast did the same. I think the first cast, and especially Herman Cornejo, gave those moments more gravity and pathos. I still don't know if it was enough though — something tells me people missed the war leitmotif altogether — but it was more. Don't know how much is enough, really. I've never seen Paul Taylor's company perform it so it's hard to tell the choreographer's original intent. You definitely don't want to overdo it or it becomes preachy. It has to be subtle.
Anyway, I will look forward to seeing Simkin again next week in the Russian ballet, Flames of Paris (Ratmansky, woo hoo!) which I'm, obviously, immensely excited about. Simkin, by the way, keeps a blog; it looks like he updates his Twitter feed more often than the posts.
Also on were Antony Tudor's Pillar of Fire and Jiri Kylian's Overgrown Path. This was my first time seeing Pillar and I found it absolutely riveting.
(photo of Marcelo Gomes and Gillian Murphy in Pillar, taken from here).
The ballet's from 1942 and the story's dated — girl longs for good boy, good boy's into her sister, girl doesn't want to grow up to be spinster like older sis, so goes for bad boy who takes her virginity and "ruins" her, so that when good boy leaves brainless sis and comes around, she's damaged goods. This results in tragedy; she can now only have good boy in her dreams, in the moonlight. At least that was my interpretation.
The great thing about Tudor, dated as this story is, is that he's so dramatic, his drama comes from within, within the body. You can tell his dancers have to spend so much time working out the characters, and everything is made so clear not so much by facial expressions, but by body movement and posturing and gestures — which is dance, after all. David Hallberg as the good boy (I know, immensely annoying — good boy is shiny American blonde, bad boy is big dark Brazilian Marcelo; there are also "lovers of innocence" blonde and wearing white nightgowns and "lovers of experience" dark-haired and dressed in 'slutty' gypsy-like attire, but we won't go there for the time being) has this quick, rushed gait, so that he passes right by Gillian's heroine, paying no attention whatsoever to her body, contorted and hunched-over from the waist, cramp-like, with pain. Marcelo definitely notices her, and throughout he keeps doing this thing, rubbing his hands with the flat of his palms on both sides of his groin. It's so sexual and so sexy and so threatening. I kept bolting upright and leaning forward every time he did it, and had to keep reminding myself, this is City Center, you move a millimeter and you're blocking every single head behind you.
Marcelo was Marcelo, perfectly in character as always, and Gillian blew me (and the audience, judging by the substantial applause) away with her inner development and tragic portrayal of heroine Hagar. Only thing lacking (apart from the stereotypical casting and costuming), and just a smidgen, was David, in the beginning. His walk was perfect (Tudor concentrated greatly on gaits as a revealer of character), but he was a bit too severe. I couldn't really see how Gillian's Hagar was so enthralled with him. He seemed like a jerk the way he ignored her. Then, when he comes around to her, he slows it down, but then he has his regular pointy-footed, slightly hip-swaying, rumba-esque walks. It's quintessential sexy David, but I don't know if it's this character.

(photo of Overgrown Path by Andrea Mohin, from NYTimes)
The only piece that wasn't to my liking was Kylian's Path. They're putting it on this season because Kylian made it in honor of Tudor, who considered the Czech choreographer his artistic grandson, and the season is devoted to Tudor. It just seemed too one-note, too dreary, without a serious drama you could latch onto. It's meant to evoke sadness and pathos — is set to piano music by Leos Janacek, who composed the piece (On an Overgrown Path) not long after losing his son, then daughter, and you see a set of women who seem to be mourners, heads hung down, at times reaching out into the air as if in vain, and a young woman dances several duets with a man (Jose Carreno, who, weirdly, couldn't even save the ballet for me), then disappears into the curtains. I don't know, maybe I wasn't in the mood, maybe it'll grow on me, because I've certainly liked other things Kylian has done.
The company has a mini-website devoted to Tudor, where you can view videos and pictures here.