Thursday night, Cedar Lake Dance had their winter season opening. As usual, they had a big celebration, serving free champagne and wine and inviting all the bloggers, critics, and choreographers. Philip, Taylor and I enjoyed standing around during intermission sipping champagne and people-watching; it was kind of a who's who in the dance world, the most famous of the 'who's' probably being Baryshnikov, who was looking rather tiny, but snazzy in a beret.
I went a little early to take in some of the Chelsea arts scene, which was extremely happening. Practically every gallery from 24th through 26th streets, 10th-11th Avenues, was having an opening. Roslyn Sulcas from the New York Times apparently had the same idea as me! Anyway, I had more than a few glasses of (free) wine by the time I got to Cedar Lake, mid-way down 26th Street…
They had three dances, two of which were premieres. One, memory/measure, was by Italian choreographer Luca Veggetti. The stage was minimalist, consisting only of a white mat. Two male and two female dancers took turns walking around its perimeter as the others danced duets in the middle. The soundtrack consisted of industrial sounds (a helicopter, clanking, etc.) and a voice-over telling a story. Unfortunately because I was so taken with the movement — complicated, emotionally intense partnering; stunning, difficult-looking deep plies on pointe by Acacia Schacte, I kept forgetting to listen to the words, so I didn't get any "story." One thing that struck me was how the dancers each moved so differently around the perimeter of the stage. One would kind of creep around cat-like, one would have more of a bravado to his strut, one kind of tiptoed. I'm not sure if it was intentional or simply different dancers having their own style.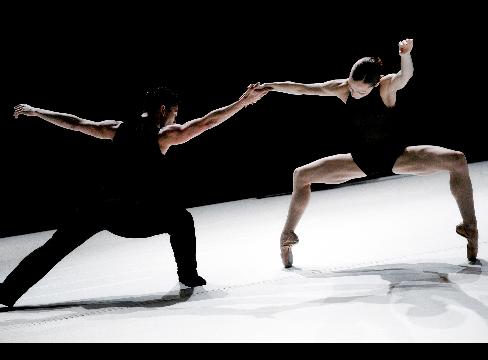 (photo of Acacia Schachte and Jon Bond by Julieta Cervantes)
My favorite piece of the night was Dutch choreographer Didy Veldman's "frame of view."
Several doors were set up around the perimeter of the stage; the audience could see on both sides of each. The soundtrack consisted of a variety of musical pieces and spoken word, and what happened during the dance — a series of little vignettes — was by turns funny, downright hilarious, cute, sad, mysterious, and frightening. Definitely kept you on the edge of your seat wondering what would come next. My favorite parts were:
1) when a young woman, the enticing Ana-Maria Lucaciu,
(photo of Lucaciu from Cedar Lake website)
seated on a chair and facing a desk, pushes the desk out to the middle of the stage, then to the song "Ne me quitte pas" (Don't Leave Me) frantically and desperately pounds on the desk, grabs its edges, reaches out and over it to the audience, dances on top of it. It's as if her lover has just left her and she's in horrible grief. It's so heart-wrenching. It actually reminded me a bit of this Mats Ek piece, danced here by the great ballerina Sylvie Guillem.
2) when a male dancer on one side of a door presses his face and torso into the top part of it. It's made of rubber and you can see his impression — very ghostline! A woman on the other side, the inside, rubs up against the outline of his body, longingly. Eventually, he turns the knob, comes inside, dances with her. But then he keeps pulling his turtle-neck shirt over his head, like he doesn't want her to see his face, he'd rather remain ghost-like to her, which is kind of funny, but you also get the sense there's an unbridgeable distance between them. She grabs at the shirt, trying to uncover his face, and eventually wrests it from him and pulls it over her own head.
3) when a group of New Year's Eve revelers party right on the outer side of a door, amid a shower of confetti, and a sole man sadly sits on the other side of the door, obviously overhearing them. It's as if he's jealous of their fun and wants badly to join them, but something's preventing him. He can't pull himself up and out that door.
4) a man and woman have a lover's quarrel, that same night, but in extreme slow motion. As the confetti flies above their heads, the woman ever so slowly scrunches up her face, curls her lips downward, making an intensely angry face at the man, who raises his hand to smack her. It's all in such extreme slow motion that it's funny, hilarious even. But when you stopped to think, it really wasn't so funny since the man — danced by the large, virile, somewhat threatening-looking Jason Kittelberger — was aiming at her face with his fists and if the action went in full speed, as in real life, she'd likely have had the wind knocked out of her.
(photo of Kittelberger from Cedar Lake website)
(photo, Julieta Cervantes)
and 5) later when that same man is about to walk offstage, but now a set of women has joined his "jilted girlfriend." One woman screams out, "Jason!" then begins to faint. He runs to catch her before she falls, barely making it in time. He sets her back on her feet, then, no longer needed, begins to walk off again. Just before he exits the stage, another woman screams, "Jason!" Same thing — he catches her / saves her just in the nick of time. Sets her on her feet, is about to walk offstage when third woman, "Jason!" etc. It happens several times. Finally, a woman screams for him, he catches her, but before he sets her upright, another screams, forcing him to carry two women at once, then another, three women at once — you get the idea. He ends up wobbling offstage with several unconscious women in his arms. It's hilarious. I have no idea how he lifted them all though.
Anyway, this is a very interesting, eminently entertaining piece. Veldman said in a pre-performance discussion with writer Anna Kisselgoff that she was interested in different perspectives, different points of view and how they're framed. To me, the piece ended up being about human isolation / solitude versus connection. Anyway, the season shows through January 18. Claudia's club is going this Monday and if you choose to participate in it, tickets are discounted to only $10.