(photo of Commedia by Erin Baiano)
(photo by John Ross, of Commedia)
Last weekend's Works and Process event at the Guggenheim focused on Christopher Wheeldon's recent ballet, Commedia, and the costume and set designers, Isabel Toledo and Ruben Toledo, respectively.
Isabel Toledo is of course best known for this dress: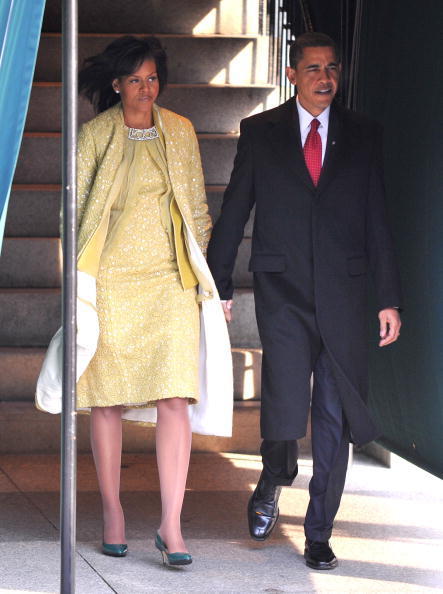 (photographer unknown, image taken from Huffington Post) — Michelle Obama's inauguration dress. Interestingly, we learned at the event that she found out Obama was wearing the dress just as Wheeldon's Morphoses was premiering the ballet at the Sydney Dance Festival in Australia. (she was with the company there; we saw some footage of that, shot by Wheeldon on his point and shoot).
Commedia, which I've wrote about briefly here, is a sweet ballet in the style of Italian Commedia dell'arte and involves a set of traveling performers. Wheeldon made it in honor of the centenary this year of Ballets Russes (you may have seen the excellent documentary on that company that showed here a couple of years ago and is now on DVD); Commedia will be performed again when Morphoses returns this fall to Sadler's Wells in London and then NY City Center. Commedia is set to a score by Stravinsky, which Michel Fokine had used for his ballet, Pulcinella, which Ballets Russes performed.
The Toledos designed the costumes and stage sets, and it was really interesting hearing the three talk about their collaboration. Isabel was very personable, very chatty, and though she's Cuban-born, her accent sounded perfectly American. She talked about how much more difficult it was than she expected to design costumes for a dance
company (her final products are in the pics at the top of the post). She originally wanted to make it look very "street" since the dancers here were street performers, but she had to be attuned to the fact that these pieces would need to be washed very frequently — like, after every single wearing (last thing that's going to up the dancer's confidence is putting on a sweaty, dirty costume). And she'd designed these gorgeous capes and frilly neck-wear, only to realize they weren't very dance-able (a cape would get caught over a danseur's head as he was trying to lift his ballerina, someone's neck-piece would nearly scratch a partner's eye out, etc. etc.) But Wheeldon loved the accessories, which is why, at the beginning of the ballet, all the dancers come out wearing them, then early on, take them off and dance in their non-frilly, non-problematic diamond-patterned unitards. Isabel then joked about the dilemma of getting the diamonds just right — dancers needed the large black shapes strategically placed, over hips etc. — presumably areas they were a little insecure about 🙂
We also saw Ruben Toledo's simple but stunning backdrops. Picasso did the originals for Ballets Russes, so he joked about having that to live up to.
Unfortunately, I couldn't find any images online of Ruben's designs. But below is a pic of the couple (they are husband and wife I found on the NYSocial Diary, here) His backdrops were in black and white, and consisted mainly of pairs of eyes — eyes of birds and other animals, eyes of people, some masked, some not — looking down, watching the dancers. It was a slight bit eery, like those paintings where if you look closely you see the eyeballs are actually moving, watching you — because there is a person behind them. Here of course, they were just paintings, but it had that same slightly unsettling but comical effect.
Here are a couple of Picasso's sets for Pulcinella, taken from here.
You can read a little about Picasso's collaboration with Ballets Russes here.
The program included the presentation of a couple of scenes from the ballet, danced by Morphoses dancers Beatriz Stix-Brunell, Rory Hohenstein, Jonathan Jordan, and by dancers Wheeldon borrowed from American Ballet Theater, Cory Stearns and Hee Seo, who danced a pas de deux. I have to say Stearns and Seo blew me away. Wheeldon did a little rehearsal period with them, which I thought would be really enlightening, since I've never been able to attend any of his open-to-the-public rehearsals before. Most of what he instructed them to do had to do with technique, or the look of something small — hold your head back more here, put your hand on her upper back, not neck, so it doesn't look like you're strangling her, etc. The only thing he said that was really about what he wanted in terms of the dance's meaning was to tell Cory at the beginning was that it should be romantic, he should be kind of dashing toward her, with longing.
What I loved about these two dancers — Stearns and Seo — is the small but significant embellishments. At one point, they each snap their fingers to a beat, and Hee Seo looked at her fingers, and watched them as she lifted her hand to the air, then gave a snazzy little snap, and smiled, as if it was a joke only she and Cory were in on. Things like that make all the difference in a performance. Wheeldon re-instructed her on what he wanted regarding the snap but it had more to do with the timing than the dramatics of it. I left really really really wishing he'd use more ABT dancers.
The event was moderated by George Steel, the new director of New York City Opera.
Next Sunday's event will focus on ABT's Ethan Stiefel, his new directorship of the University of North Carolina School of the Arts, and one of his first recipients of a dance residency there, the fabulous modern dance choreographer, Larry Keigwin. I'm ridiculously excited about this one, of course. It repeats on Monday, the 16th. Go here for deets.