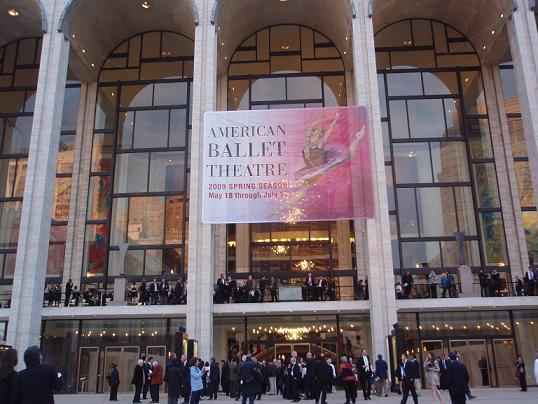 Yay, the season has offically begun! This picture was taken during intermission; that's why it doesn't look that crowded. I was sprinting in, nearly late, as usual, so didn't have time to snap some pics before the performance but fortunately it was still light outside during intermission.
Anyway, Michelle Obama (who served as one of the gala's honorary chairs) looked smashing in a sleek dark grey sleeveless, knee-length dress with tiny black ruffles lining the bottom. I'm sure there will be beaucoup des pictures seeing as how many blasted camera people there were; I'll be sure to steal some when they're posted on all the society websites 🙂 (Oh, look, here it is in the NYTimes already)
(photo Timothy A. Clary)
It was just about the craziest thing I've seen on the Met Opera stage: after Veronika Part's mouthwatering Mozartiana opened the show, artistic director Kevin McKenzie came out and thanked everyone who needed thanked — all the donors, designer Caroline Herrera who funds the gala, etc., and Senator Chuck Schumer came out and gave a little talk about the importance of funding for the arts, etc. Then, Schumer disappeared behind the curtain and moments went by. Everyone kind of looked around at each other like "what's going to happen next?!"
Soon, the curtain was pulled back to allow some people to carry out a podium with a banner "American Ballet Theater" draped over its front. The doors to the lobby opened and a flock of people bearing weapon-sized cameras blasted in. Several men dressed in black promptly rose from their aisle seats and followed the flock of weapon-camera-bearers to the front of the aisle, near the stage. Caroline Kennedy was announced. She came out, everyone applauded, and she mentioned that the school of ballet associated with ABT, the Jacqueline Kennedy Onassis School, would be performing on the Met Opera stage for the first time ever tonight. Everyone ooohed and aaahed. Then, she announced First Lady Michelle Obama.
The curtain pulled back again and out she came. Of course everyone gave a standing ovation. She smiled radiantly, then, after a moment, directed us to be seated. Then she gave a short speech. It was a little hard to focus on what she was saying with everyone — both professional photographers and audience members with cell phone and digital cameras alike — flashing away as they were, but she talked about the necessity of the Arts for a culture to flourish, the importance of arts education, etc. Then she introduced the Jacqueline Kennedy Onassis School students.
As soon as she disappeared behind the curtain, the auditorium remained still pending the exit of the flock of pro camera wielders. It's funny because there were all these non-dance writers in the press section. You could hear the sighs of relief, the sinking down into the chairs, and the putting away of pens and paper — and cell phones, which they'd used to light their writing paper during Mrs. Obama's speech, which would have been extremely annoying had it not been for all the flashing bulbs anyway. But it made me wonder how they'd ever survive as performing arts critics! I mean, who needs light to see to write!
Anyway, the students were excellent. They performed Le Defile (The Procession) by Raymond Lukens. There were three large groups of them, in three levels — the very little ones, a medium-age / level group, and the older, very advanced ones. The choreography was basically a showcase of classical ballet steps, much like a very advanced ballet class — jumps, jumps with changing feet, jumps with changing feet that went on forever performed by a set of advanced boys (which drove the audience to wild applause), jetes, chaine turns, multiple pirouettes, fouttes, etc., and then a bit of partnering. It gave the students a chance to show what they could do — and the advanced ones could do a great deal! Extremely impressive, and great fun.
Then on were Xiomara Reyes and Herman Cornejo doing an excerpt from August Bournonville's La Sylphide. This was the most dramatic I think I've ever seen Xiomara. I was sitting in the back of the orchestra and she really projected. She was really sweet. And Herman as always amazed with his virtuosity, his jumps, his razer-sharp precision, his astounding clarity of line.
The corps in both this, La Sylphide, and Swan Lake, later in the evening, were absolutely amazing, by the way. Not a head arched back more than the others, not a leg raised higher. They were all so on. When they work together like that, in perfect unity; it's really visually breathtaking.
Then was Balanchine's Tchaikovsky Pas de Deux danced by Ethan Stiefel and Gillian Murphy. Ethan and his strutting around stage, taking his own good time after their duet and before beginning his solo, making the conductor wait for him! And his high jumps with all miraculously many beats of the feet. I wished my friend Alyssa could have come so she could see he's not just Mr. Sexy; he's a superb dancer. And Gillian was radiant, and a perfect foil with her speed-of-light chaine turns. They enjoyed a long, slow kiss during the curtain call. The audience went mad!
Then was the hunt scene from Sylvia danced by Michele Wiles followed by a piece d'occasion (the first of two of the night), by Alexei Ratmansky, for Nina Ananiashvili, called Waltz Masquerade. It was set to the Waltz from Aram Khachaturian's Masquerade Suite and it was cute and comical. She was dressed in this long, red dramatic, Carmen-like dress with a sexy black lace overlay on the top. There were four tuxedoed men, each bearing a gold candlelabra, one at each corner of the stage. These men turned out to be: Jose Carreno at the front left corner; Marcelo Gomes, at back left; Angel Corella back right; and a blonde on the front right who I initially thought was David Hallberg (I was sitting FAR back from the stage!) until the fun began and he shook his head about like a sassy mop and I realized DH just does not have enough goofball in him to do such a thing, even if he tried. So, I decided it was either Ethan or Maxim Beloserkovky. Anyway, Nina's character was supposed to be dancing about the stage in a melodramatic solo — but it was purposefully melodramatic, and so comical. Like a silly, cartoon version of an upcoming swan song, really, which, is of course, what's coming up for her later in the season (and will be much more sobering when it does). At one point, she just passionately crashes to the ground and remains there, in a heap. Nothing happens. The men, obviously her servants, start looking at each other like, what now? They shrug, slowly walk over to her. Then, Marcelo starts imitating her melodramatic dance, but far more cartoonishly, and of course it's hilarious. The others join in. Max (I think it was Max, not Ethan) does his thrashing hair thing. I couldn't see facial expressions but I assume they were making fun of their master. Then she wakes up, catches them, and they're sent back to their posts.
After intermission was the balcony pas de deux from MacMillan's Romeo and Juliet, danced by Marcelo and Diana Vishneva. At first, Diana approaches her balcony with all the drama of a ballerina playing Juliet, rather than Juliet herself. I rolled my eyes. This is what I don't like about her. She's an excellent dancer but she's all about the pomp and circumstance and not about the character. Maybe it's a Russian thing, but I don't see that in Veronika Part or Irina Dvorovenko. Anyway, she eventually lightened up, thankfully, and I felt like I was watching not a prima ballerina being a prima ballerina but Juliet herself, falling hopelessly in love. When she runs around him one foot solid on the ground, the other on pointe, it's so girlish, so real yet so poetic. Those are the best — I don't know what to call them — runs around kneeling Romeo — that I've ever seen — not even Alessandra Ferri's were that sweet. Still, I felt some of the lifts lacked the beauty and magic of  those Marcelo and Julie Kent do together when they dance this scene. I don't feel she dances that well with a partner; she's more into herself. Marcelo's leaps around the stage and big high passionate jumps were thrilling. He got some good bravos for those.
Then were Paloma Herrera and Max Beloserkovsky in the Act II pas de deux from Swan Lake. I was hoping it'd be the Black Swan pdd, but no. I guess the program was pretty bravura-heavy already. I don't see him dance much, but Max is really quite good. He's really a character and he's the perfect Prince Siegfried, regal yet vulnerable and tragically in love. And he's a good partner.
Then was the mad fun of Le Corsaire, with Irina Dvorovenko, David Hallberg as Conrad, and Angel Corella as Ali. Except something happened at the beginning and I hope David's okay. The tallest guy in the entire opera house had to sit in front of me and I was trying to navigate my way around his enormous head just as a bunch of people up front went "Oooooooh!" When I was finally able to see the stage, Irina was standing in front of David, face toward the audience. She didn't seem to have any particular expression on her face, but, then, I was light years away from her. Then David did an assisted pirouette with her and everyone applauded, so it must have been a lift that didn't quite happen or something. Anyway, I hope he's okay; I know his shoulder sometimes comes out of socket. Anyway, all seemed to be fine after that: all three were brilliant. Of course. Angel astounded, as always, and I started giggling during his first solo and couldn't stop all the way through the second. I love Irina. She was radiant. She did those continuous turning kicks on pointe like they were nothing. She has the drama and the virtuosity when needed and the always beautiful, graceful lines. And David's leaps all over the stage were magnificent. I could see this goofy ballet over and over and over again, as long as no one gets hurt 🙂 Angel did not leap out from behind the curtain during curtain call, sadly.
Then there was another piece d'occasion. Herbie Hancock played piano, onstage, while first Jose Carreno, then Stella Abrera, danced to his music. This was cute and comical as well, and kind of reminiscent of Jerome Robbins's Other Dances or Suite of Dances, where the dancer(s) connect mainly with the musician. At one point, Hancock went nuts with the keys, obviously way too fast to be danceable, and Jose stopped in his tracks, looked over at him, and lifted his hands, like what gives, dude? He sat down near the base of the piano and just rested. The same happened with Stella. She danced, then stopped and gave Hancock a look when he began another little virtuoso section. She finally sat down beside him on the piano bench, and eventually, he ended on a romantic note, she snuggling next to him softly, sweetly.
The evening ended with the finale of Balanchine's Theme and Variations. The leads were danced by Sarah Lane and Daniil Simkin. It was a nice way to end the program, but with the likes of Simkin, I wondered why they only did that group finale, where he and Sarah are basically leading a processional, instead of some of the earlier bravura parts with all the corkscrew turns for the man. An opening night gala performance is meant at least in part to showcase the dancers doing what they do best, and he is best at the bravura stuff, not leading processionals.
Anyway, the whole night, as usual, was magic. Saw Sigourney Weaver and Kelly Ripa in the audience.
Oh, for my Dancing With the Stars readers, I taped the show, but for lord knows what reason it was somehow muted. I have no idea how on earth I managed to do such a thing, but it was pretty amusing watching the show in pure silence — no words, no music. Needless to say, I'll have to watch online tomorrow.
But now, dead tired, must sleep. Goodnight.