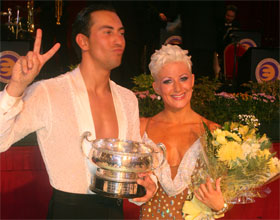 Joanna Leunis and Michael Malitowski won the Latin Pro Championship tonight at Blackpool (for the second year in a row now). Riccardo Cocchi and Yulia Zagoruychenko came in second, Franco Formica and Oxana Lebedew in third, Sergey Surkov and Melia fourth, Maurizio Vescovo and Melinda Torokgyorgy fifth, Markus Homm and Ksenia Kasper sixth.
Am fairly pleased with the results I guess… though unsurprising of course. At least Michael and Joanna didn't win across the board; Riccardo and Yulia placed first in Jive. I like Joanna and Michael and think they're an excellent pair; I just don't want the judges to make all others wait until they retire to advance.
photo of Leunis and Malitowski taken from here.
Expecting a bit of commentary from Eleanor and Becca soon!
Update: Eleanor says:
"Last night was the best comp I have ever been to! Although the result is never gonna be what I want it to, there is something that made me very happy! Riccardo and Yulia placed 1st in the Jive! If I were to have my way then Maurizio wouldn't be there but what can you do? The only other bad thing about the whole thing was that Riccardo and Yulia were in the same heat as Sergey and Melia so I usually had to choose between the two! Otherwise it was absolutely the best comp I have ever seen. Now I have to drag myself out of bed and hope I still have a voice. Xx Eleanor."
[I personally like Maurizio though he can be a real ham 🙂 Not my favorite, but I am always very entertained by him. I haven't seen him and Melinda dance in a while. And I don't think I've ever seen Markus Homm and Ksenia Kasper?… Also, I wonder what happened to Peter and Kristina Stokkebroe? I guess that's how Homm and Kasper got a place on the winners podium. Will be very interesting to see what happens next year when Slavik and Anna join the fracas!]