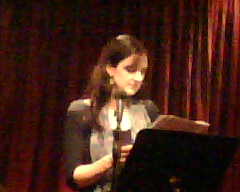 Last night I read from my new novel (which is still VERY much a work in progress) with the Writers Room at the Cornelia Street Cafe, and it actually went okay! Better than I expected! Several of my wonderful friends showed up to give me much-needed encouragement and support (maybe someday I'll be confident enough actually to post here ahead of time when I'll be reading…) and they all seemed genuinely to like the piece I read. And several people I didn't know came up to me afterward — including a filmmaker who gave me her card! — to tell me how much they liked it. One woman said she wanted to read it as soon as it was out! Though she told me the way she didn't want it to end. I assured her it didn't 🙂 So, I just have to write the rest of the book now…
But I was so worried because the subject matter is kind of controversial and the character whose piece I read from is a young black man with a certain kind of voice that my face and body certainly don't in any way fit, so I worried I just wouldn't be able to pull it off. And I am a horribly sucky reader and always will be — I'm just shy and I'm not an actress and that's just that. But people still got what I was trying to convey through the actual words, so I am extremely happy about that. That's all I can ever ask for!
Anyway, funny thing is that there was this guy sitting up front who looked just like Christopher Wheeldon. Seriously, just like him except about 10 years younger. And it really freaked me out because then I started thinking of this. And then I started thinking what if someone reacts to me like that! I mean, you can't please everyone of course, and there are always going to be people who don't like you, but, well, all I can say is that the more I write (and the closer my first novel gets to publication), I am feeling a lot less critical, at least of new works 🙂
Anyway, now that this all-too stressful event is over, I'll blog about the Natalia Osipova / Herman Cornejo La Sylphide at American Ballet Theater Monday night. She was good, he was insanely excellent. It's like with Kathryn Morgan the other night in NYCBallet Dancers' Choice — I don't know if there are words to describe him. If you want to see sheer perfection, go see him in something — anything. I can't imagine anyone better in all the world. I mean, every great dancer brings something to the stage, and he simply brings perfection, in the Webster Dictionary definition of the word: "an exemplification of supreme excellence." One of my Twitter friends (who's a very established ballet dancer) told me he's a "dancer's dancer," which I can totally see. He's a non-dancer's dancer too 🙂
Anyway, more tomorrow, I mean later today. I have to sleep now.