(Photo by Michael Popkin from DanceViewTimes, of Maria Kowroski as Titania, with Bottom, in NYCB's Midsummer Night's Dream)
Yesterday was stressful. Had to make a hard hard choice: whether to spend the matinee at New York City Ballet watching three of my favorite dancers — Gonzalo Garcia, Tyler Angle, and Janie Taylor — make their debuts in Midsummer Night's Dream, or at American Ballet Theater seeing Hee Seo debut as the title character in La Sylphide, with one of my favorite ABT dancers, David Hallberg opposite her. (Review coming very soon, along with earlier Sylphide cast, and two Midsummer casts — yes, I'm behind behind behind!)
I'd actually contemplated running back and forth across the Plaza, like I know some have done in times past, but the running times for the first acts were totally different and there was no way I was going to be able to see Gonzalo's Oberon in Midsummer and then make it to the Met in time for David and Hee in the first act of Sylphide. So, I chose my David, and the lovely debuting Hee. Ever so thankfully I talked my friend, author Michael Northrop, into covering the goings on across the Plaza.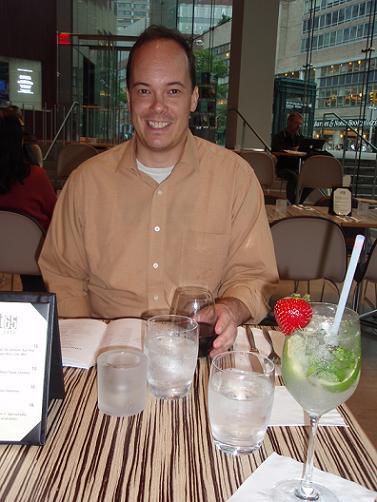 Afterwards, over drinks and food at the Alice Tully Hall Cafe (they have half-priced specialty drinks from 3-6 pm! And not watered-down at all! I nearly passed out after two sips of that mojito in front of me 🙂 ), he told me that Gonzalo did just fine with that crazy high-flying scherzo for Oberon in the first act (I knew he would!), and that he really liked Teresa Reichlin as Titania and Janie and Tyler in the second act divertissement, which received a lot of applause, which I can just imagine! He also agreed to write a little review, which I'll post in a minute. (If you don't know the story of Midsummer, read about it here — Balanchine pretty closely follows the Shakespeare).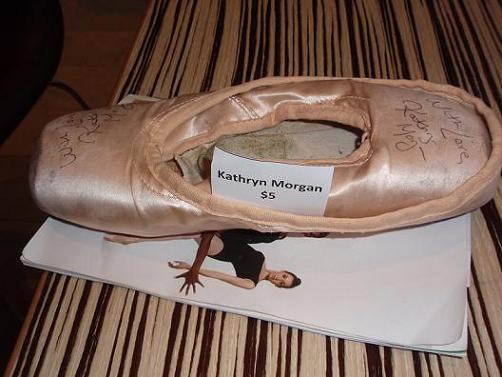 But first, it being Michael's last day at NYCB this season, he browsed the gift shop, and ended up with a pair of Kathryn Morgan toe shoes. He told me (and, apparently the amused gift shop attendant) he figured she wasn't going to be $5 for much longer 🙂 I guess their shoes cost a certain amount according to their status: principal ballerina shoes are $30, soloists are $15 and corps members $5. I didn't know all this. I've never wandered over to the toe shoes section. I initially wondered why, then realized, oh, my favorite dancers don't usually wear toe shoes. Sorry to be lewd, honestly, but I then couldn't help but wonder — just because of that crazy strong mojito that nearly put me on the floor — why they don't sell other kinds of used dancewear that my favorites *do* wear, alongside the toe shoes. Sorry! But can you imagine? Total alternate universe.
Anyway, here is Michael's review:
At Dunkin' Donuts, they sell munchkins 25 at a time. That's about how many you get at New York City Ballet's A Midsummer Night's Dream, as well. The squadron of young dancers from SAB added a nice dose of fun and energy to a matinee that already had plenty of both on Saturday.
Daniel Ulbricht didn't dance the role of Puck, so instead of gravity-defying antics, we just got antics. Corps member Troy Schumacher was announced as a late sub for soloist Sean Suozzi in the role, and there were some disappointed Ohhs around me. The thought: We're getting the third string. Schumacher did an excellent job, though. He moved with an appropriately sprightly energy and showed a nice touch with the comedic moments. When he realized his magical matchmaking mistake, you could almost hear the "D'oh!"
Teresa Reichlen was fantastic as Titania, displaying just the right balance of regal, playful, and otherworldly for a fairy queen. And Robert Fairchild, a very busy man this season, excelled in yet another role (albeit in a ridiculous Prince Valiant costume) as Lysander. His put-upon love interest was once again Sterling Hyltin. The leads from NYCB's Romeo + Juliet both showed they can handle Shakespeare's comedy as well as his tragedy. Hyltin, for example, dialed up a slightly manic quality to great effect.
And Balanchine's choreography tells the entire story in Act I, leaving Act II free for the divertissement. A quick wedding march and then Janie Taylor and Tyler Angle were center stage. They brought down the house.
Angle is a strong presence, but he defers so gracefully and lifts so effortlessly that he never soaks up more than his share of the spotlight. I noticed that when he partnered Tiler Peck in Mercurial Manoeuvres, and again on Saturday. Janie Taylor was both a delicate vision and a physical wonder, sometimes in turns, sometimes simultaneously. It's a complete oxymoron in print, but she pulled it off onstage. Amazing.
The final scene was especially poignant for me, because I knew this was the last performance I'd see this season. Fireflies flickered around Puck against the dark backdrop of, yes, a midsummer night. It was the kind of night you don't want to end, and the kind of season.
And here is Oberon's (I mean Philip's) review of the same cast.
And this just in! Another review (I'm interested in what he says of Gonzalo Garcia) — the one (by a pro critic who doesn't say things are good when they're not, and with great detail and specificity) that I've been waiting for 🙂 I knew Gonzalo'd nail it! I knew he'd be brilliant! I knew it!
Photo by Paul Kolnik, from NYCB website.