(Photo by Paul Kolnik, of Gonzalo Garcia, Darci Kistler and cast, taken from Oberon's Grove)
Last week, I saw two Midsummer Night's Dreams at New York City Ballet. This was my first time ever seeing Balanchine's version of the ballet and it was really sweet. It follows the Shakespeare pretty closely: Theseus, Duke of Athens is to be wed to Amazonian queen Hippolyta and Hermia is to be wed to Demetrius. But Hermia doesn't love Demetrius, she loves Lysander, but her father insists she obey him and marry Demetrius. She and Lysander elope and wander the forest. But first, Hermia informs her friend Helena of her plans. But Helena is in love with Demetrius, a love he doesn't return. He is in fact quite rude to her. So she decides to try to win his favor by telling him of Hermia and Lysander's plan of escape.
Meanwhile in the land of the fairies, King Oberon and Queen Titania are fighting because Titania refuses to give Oberon her boy servant, which Oberon badly wants. So Oberon arranges for his friend, the devious Puck, to apply a magical potion to Titania's eyes while she's asleep that will make her fall in love with the first person she sees on awaking. After turning a man from the wedding entertainment troupe into an ass, Puck applies the potion to Titania and arranges for her to fall in love with the man/donkey when she awakes, which she does.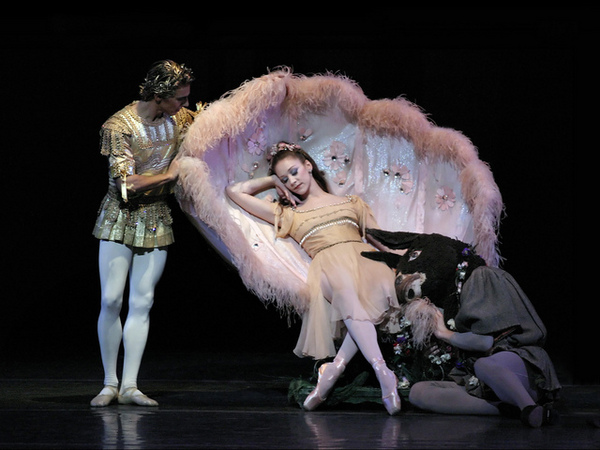 (photo of Maria Kowroski and Joaquin De Luz as Titania and Oberon, by Paul Kolnik, taken from ArtsJournal)
Angry about Demetrius treating Helena badly, Oberon also instructs Puck to put the potion on Demetrius's eyes so that he will fall in love with Helena. But Puck mixes up Demetrius with Lysander and Lysander falls in love with Helena, to Hermia's obviously great dismay. The two women fight, and the two men fight over Helena. Puck eventually realizes his mistake, rights his wrong, and Demetrius ends up with Helena, Lysander with Hermia. Eventually, he changes the entertainer back into a human and Titania and Oberon make up, she giving him the servant.
The story's told entirely in the first act, the second consists only of a celebratory divertissement of a three-way wedding between Theseus and Hippolyta, Lysander and Hermia, and Demetrius and Helena.
On my first night seeing this, Faye Arthurs and Abi Stafford most stood out to me as Helena and Hermia respectively. Abi in particular danced with more emotion that I've ever seen before from her. I really felt sorry for her when Lysander ran off with Helena and she ran through the forest, searching desperately for her lost love, and scared like a child. Sometimes she disappears to me in the story-less Balanchine or Robbins ballets, which makes me think maybe she needs more roles like this, where she can really delve into a character, because she really blew me away. I haven't seen much of Faye Arthurs, but she was really hair-pullingly tormented by Demetrius. I really felt for her too. Give these two wonderful women more acting roles, Mr. Martins!
My first Oberon was Antonio Carmena, who danced the role very very well.
Photo by Paul Kolnik, from Oberon's Grove.
There's a very difficult Scherzo (a humorous section of music with a typically very fast tempo) with lots of high jumps with the fluttering bird-like beats of the feet and multiple turns, and he pulled it off very well. He was a rather nice Oberon, seeming to ask Maria Kowroski's spectacular Titania nicely for the boy-servant and for Puck to commit his mischief (rather than to demand those things of them).
Andrew Veyette was my Oberon the second night I saw the ballet and I loved his interpretation. Andrew's a more virile dancer and he made all the demands Antonio's Oberon did not. Overall, Veyette was probably my favorite dancer in the whole two nights.
Photo by John Ross, of Veyette dancing another ballet, taken from Ballet Co)
Andrew's Oberon was a deliciously pissed off fairy god, a real match for Teresa Reichlen's stunning Titania and Daniel Ulbricht's over-the-top Puck, directing the two of them all around this way and that. Daniel Ulbricht as Puck was of course an excellent jumper, as always — and he did these moves where it looked like he was running in the air. Others do more of a cute scampering hop, but he's able to really run in the air because he attains such height on those jumps. He's a true gymnast, you can tell from his body when he's not in tights! But critics have noted that he tends to take over, make Puck the central figure of this ballet when he dances it. Not here. At least not in my mind. Andrew's Oberon was most definitely the main character. He has too much virility and command to ever let anyone else take over, whatever he's dancing.
One other thing about Ulbricht: audiences really seem to love him. I'm not a sucker for the high jumps and the pyrotechnics unless they're necessary to character (though, looking back, I admit I was more of a sucker for that kind of thing when I first started watching ballet). I think audiences go completely wild for that though and I think they expect him to be cast as Puck and when he's not, they feel cheated. When it was announced he'd be subbing for an injured Sean Suozzi the audience went wild with applause, making me feel sorry for Suozzi. If I was Peter Martins, I'd try to cast Ulbricht as Puck for every single performance, if possible, so as not to upset audiences. Seriously.
Robert Fairchild, making his Lysander debut Thursday night, was cute in the role, as always, as was Sterling Hyltin as Hermia. And Henry Seth was a cutely funny Bottom. He had the slurred-footed "donkey" moves a little more down pat than Adrian Danchig-Waring on the previous night, and you could practically see through his donkey head his hilarious inner conflict over whether to go for that grass or the beautiful Titania.
Savannah Lowery really stood out to me Thursday night as the huntress Amazonian queen Hippolyta. She did her multiple whipping fouette turns like no one's business. She's a very strong dancer. An excellent performance.
And Jared Angle did really well as the leading man in the divertissement adagio, which he danced Thursday night with Jenifer Ringer. He strikes me as a very good, very caring partner who will really take care of his lady. And he's well cast in these noble roles, like his brother Tyler. I think Sebastien Marcovici is likewise a very good partner and he always makes sure he saves his woman before worrying about himself. He worked very hard Wednesday night in that divertissement adagio and big huge kudos to him. The ballerina he was partnering was having a real struggle with her nerves out there — it was visible, and I felt very sorry and nervous for her. It made me wonder whether there's anything dancers can take for their nerves, to calm them down without making them so relaxed their dancing suffers? I don't know, is there? Anyway, there are lots of very good, strong male partners in New York City Ballet.
Ariel and I thought we spotted actor Jeff Goldblum in the audience on Wednesday night.