Photo by Gene Schiavone, taken from his website.
Hee Seo and Cory Stearns made their Met debuts in the R & J leads last Thursday night and if it isn't clear from what I've blogged and tweeted before, and by this post's title, I was completely blown away, particularly by Seo. It's so hard to describe what you really love about a dancer, but I think with her it's that she combines what I love about Diana Vishneva with what I love about Veronika Part. She dances the steps — particularly the bourrees, as Marie noted, in her own particular way that shows why the choreographer put them there in the first place (I'm thinking mainly of the tip toe steps first away from Paris, shunning him, then, in the following scene, toward him but ever so cautiously and completely without desire, then in a criss-cross pattern toward the bottle of fake poison). And she's also a powerhouse of an actress, really taking you there with her, always in the moment, never being the least bit melodramatic, never "acting," but always completely real. She's somehow able to say so much just with her eyes, without even widening the lids without even making any kind of frown — just by having definite, intense thought that is somehow readable to the audience. And even though she's so subtle, she somehow projects out to everyone. It's really amazing — I really don't know how an actress or a dancer does something like that.
There were places where I loved Irina Dvorovenko (at the very end — she doesn't run around that crypt like a drama queen with her head cut off; instead she approaches the corpses, covers her mouth in fear, trips over Romeo, crumples into a ball and bawls — what anyone would do), and places where I loved Diana Vishneva (at the beginning, when playing the lute for Romeo, falling in love with him, especially the balcony scene). But I loved Hee Seo in every scene. There wasn't a place where she wasn't so completely in the moment and where she wasn't able to make you feel exactly what she was feeling.
Photo by Samuel Zakuto, from TONY.
Her Romeo was Cory Stearns, who I liked but thought was very very nervous and let it influence his dancing. I know from David Hallberg via the Winger message board that this is the hardest role for a male lead, and it's clear just from watching all those pas de deux how true that is. All those crazy high lifts, particularly the very last scene, where she's limp as a rag doll. I can imagine having your Met debut must be terribly nerve-wracking for any man dancing Romeo, particularly a young one. I could tell he was shaky up front on the jumps — some of the landings were not so steady. He did seem to calm down, though, and kind of let himself get into the role, and he seemed to be doing much better by the second act (I think getting through the balcony pdd without any mishaps must always be a big relief!) But he also just seemed generally shy throughout, not wanting to take up space, not wanting to be seen, kind of relegating his Romeo to the corners of the stage. And that's not good. Romeo needs to be aggressive to get his love, to avenge his friend's death; Romeo needs to stand out.
And then during the curtain calls, same thing. They only took one. But people were going nuts with applause and were tossing bouquet after bouquet up there. They (Cory mainly, since he was leading her) just kind of walked away from the flowers and went back behind the curtain, as if hiding, and didn't come back out again. I'm sure it was just nerves and awkwardness and not really knowing how to take all the applause, but I felt sorry for him because he didn't really seem to understand how much people loved their performance. The company was also having a celebration for Frederic Franklin (who still plays Friar Laurence and who turned 95 in June), and I'm sure he was conscious of them wanting to start those festivities as well. But still, they could have taken one more curtain call!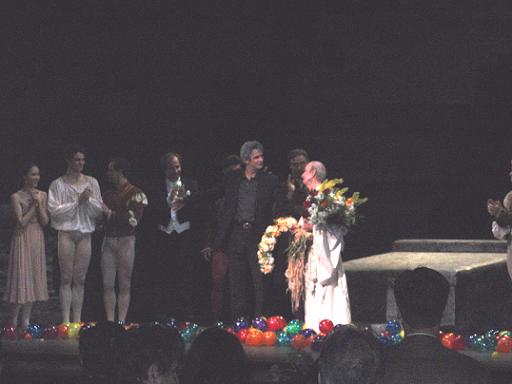 Franklin was so cute! My pictures didn't turn out too well because of the dark stage but here he is amid the balloons and surrounded by the cast. Seo and Stearns are to the far left, and ABT artistic director Kevin McKenzie is patting him on the shoulder. When he first came out onstage as Friar Laurence, everyone gave him so much applause that he had to come out of character, and walk out to the front of the stage to take a bow. He wore the sweetest little smile! We should all be like this at 95. And beyond.
One other mention: Daniil Simkin danced Benvolio, my first time seeing him in this ballet. I loved him, of course. In her post, Marie reminded me of that extra jab of the sword he took when dancing the mock-sparring scene with Romeo and Mercutio before the three crash the Capulet ball. If I remember correctly the jab was at Romeo and when Cory turned around, Simkin made clear he was just joking. It was a moment of playful camaraderie and I remember thinking these three — Simkin, Stearns and Craig Salstein as Mercutio — made, of any of the casts, the most believable trio of young friends. I also thought though it was a bit of foreshadowing of what was to come. So, I loved that he made that choice. I think Daniil is such a character, such a good actor as well as obviously a good dancer, I wasn't sure why McKenzie didn't cast him as Mercutio at all this run. He seems like the quintessential Mercutio and I saw every performance but one and am pretty sure he never danced it.
So, in the future, I would love to see Simkin dance Mercutio, and I would also love to see Hee Seo dance with Marcelo Gomes or Roberto Bolle as her Romeo.