Sorry I am so late with this post, now that it's been two weeks since MDC. Once again, ballet season kind of took over…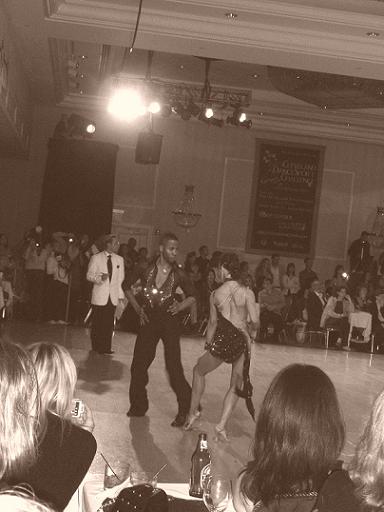 One of the biggest highlights for me this year was Emmanuel Pierre Antoine dancing with his new partner, Lianna, in the Pro Rhythm championships (pictured above). I like the way the pictures came out in sepia better than color, but if you want to see dress colors, etc. you can see all the color photos here. Emmanuel is a longtime favorite of mine and I always enjoy watching him. He has such character and his routines are always quite original. He and Lianna placed second in all dances, behind the champions for several years now, Joanna Zacharewicz and Jose DeCamps, but I actually thought they outdanced Jose and Joanna in a couple of dances, particularly with their expressive, jump-heavy Mambo and their Bolero, which was really beautiful with some nice spins. Dance Beat felt the same. But, as I've said many times before and I'll say again, it's definitely not unusual for the judges to give the top award (with wins in all five dances no less) to the same couple year after year, until that couple retires.
Other highlights, as always for me were the Pro Latin and Pro Standard events, which Riccardo Cocchi and Yulia Zagoruychenko won rather easily in the former,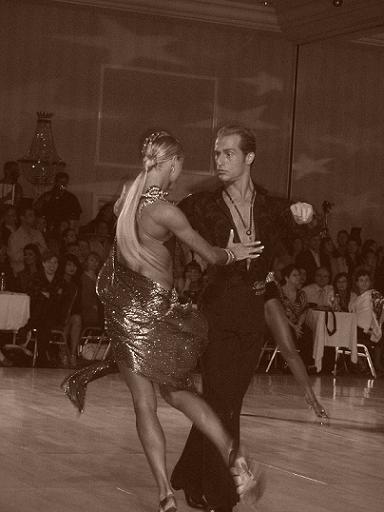 and Katusha Demidova and Arunas Bizokas even more easily in the latter.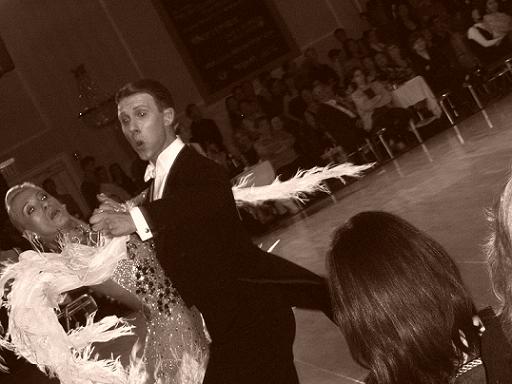 Both couples who normally place second in these events didn't compete: Anna Mikhed and Victor Fung in Standard didn't attend, and Eugene Katsevman and Maria Manusova (photo below of their heated Paso) showed but had to withdraw after the first round because of an injury (hers I'm told).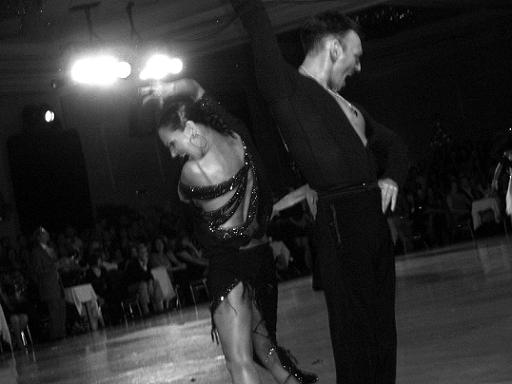 A shame since I always love watching Eugene and Maria.
Arunas and Katusha danced really really beautifully, as always, and according to Dance Beat, received perfect scores. Such an elegant couple, their dancing so radiant and rich and luxurious and full, you just can't take your eyes off of them no matter what they're doing, even when simply getting ready to take off.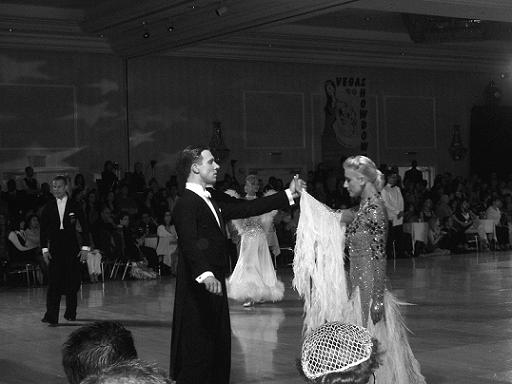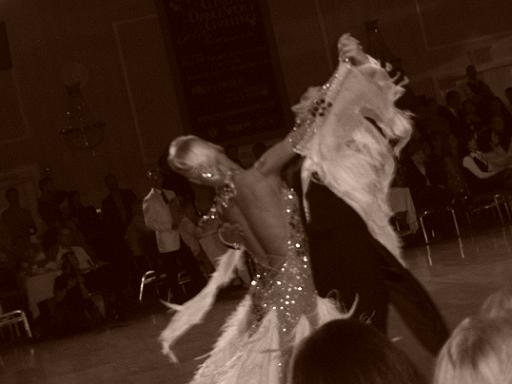 And Riccardo and Yulia are so much fun. His Jive is to die for, as are her Rumba walks.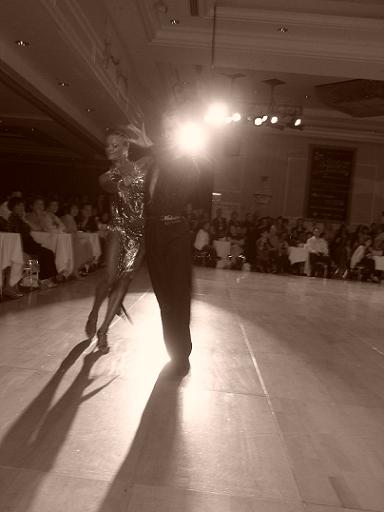 I kind of like this picture even though the light is obscuring Riccardo's face because to me it shows the excitement of a competition, with the couples making full use of the floor, kind of darting across and seemingly coming right at you as such, no matter where you're sitting. I think they're doing Samba promenade runs here. Riccardo is a bit of a flirt, I noticed, flashing his cute smile, with raised eyebrows, at women sitting in the front seats. I think it's an Italian thing, though. Maurizio Vescovo does the same thing (he dances for Hungary and so doesn't come to these U.S. comps but I've seen him at Blackpool) and our fancy new ABT ballerino Roberto Bolle winks at audience members during curtain calls.
Speaking of Samba, interesting but Riccardo and Yulia actually messed up during the finals. He pushed her a little too far out at one point and she tripped. She didn't fall but she was noticeably taken off balance. She recovered easily though and the judges apparently didn't take any deductions, or else they did and it didn't matter.
Second place couple was one of my favorites, a tall, thin pair from Bulgaria, Delyan Terziev and Boriana Deltcheva. Delyan is a really charming dancer and very personable too — he often wins awards for best teacher. And Boriana has such long limbs, she makes these really gorgeous, spidery lines. And, in my mind, she always wins the award for best costume 🙂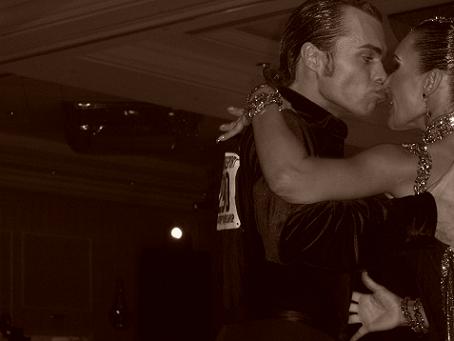 Even though it's not centered, I like this picture. They're married, they're cute 🙂
Other highlights were JT Thomas and Tomas Mielnicki, always snazzy, winning Pro Smooth, with the very popular Mazen Hamza and Lisa Vogel placing right behind them (wow, did they get lots of applause).
(JT and Tomas above; Mazen and Lisa below)
And of course the Amateur Latin was as always a blast. Valentin Chmerkovskiy and his new partner Daria Chesnokova took first, and I loved them. I'd liked his old partner Valeriya Kozharinova, but I always thought he was significantly better than she and that it looked like she wasn't as emotionally involved in the dance as he (as if she was just going through the steps). But Daria is not at all like that — she is more his equal. I think they're going to go far.
And placing second were a couple I've long liked, Oleksandr Althukhov and Oksana Dmytrenko, who I've watched coached at my old studio, Dance Times Square. At first I didn't recognize their names, since I've always heard him called Sasha 🙂 Russian nicknames!
Other highlights: Event founder (and former U.S. National ten-dance champion) Gary McDonald, dancing with two other guys, did a fun tribute to Michael Jackson complete with moon walks and floor spins. They also played Michael Jackson music in between the heats and during awards ceremonies, which was nice.
Photo from DanceBeat.
Judges and scorers and just people in attendance included Tony Dovolani, Mayo Alanen and Anna Demidova from Dancing With the Stars, which made me think of my friend Sharon Balik, who passed away several weeks ago and who I still think a lot about. She loved that show, especially loved Dovolani, and she so would have enjoyed this competition. Also partial to Maks Chmerkovskiy and so always very interested in hearing how his little brother placed, she would have loved to know how well he and his new partner are faring. I'm still so sad about her.
Tony giving Jose DeCamps and Joanna Zacharewicz their trophy, photo taken from DanceBeat.
I missed watching Pavlo Barsuk — whose intensity is always mesmerizing to me — now that he has broken up with Anna Trebunskaya, but I saw him in the ballroom watching. I'll look forward to seeing him and his new partner compete, when they are ready. I also saw Andrei Gavriline and Elena Kruschkova in the ballroom watching. They're former US National Latin champs, now retired, and I miss watching them. And another favorite Latin couple of mine — Vaidotas Skimelis and Jurga Puplyte — he reminds me of my favorite ballet dancer, Marcelo Gomes — this is the second year they haven't shown up for this competition. I know they're based in California and traveling is expensive, but c'mon man, when am I going to get to see them again? I guess I really do have to go to Blackpool next year.