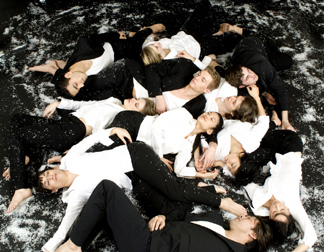 Photo by Mary Ann Moy, of TAKE Dance Company in Footsteps in the Snow.
A few things to do this week and next if you're suffering post-ballet season boredom:
This Thursday evening, TAKE Dance Company, a small modern company I like, founded by former Paul Taylor dancer Takehiro Ueyama, opens at Dance Theater Workshop in Chelsea. I've seen some of the works on the program before (and saw parts of Footsteps, which they're premiering, in rehearsal). I've always found his work mesmerizing and I'm excited to see Footsteps in full. They show through August 2. Go here for details and to see a video; also visit Oberon who has been covering the company's rehearsals.
This Friday night, Rioult, Pascal Rioult's wonderful little modern dance company, is performing at Central Park's Summerstage along with Germaul Barnes's Viewsic Expressions. Two of my favorite dances of Rioult's, his sexy version of Les Noces and his gorgeous Views of the Fleeting World, are on the program.
This weekend, Saturday and Sunday evenings and Sunday afternoon, Merce Cunningham Dance Company are to perform a collection of Cunningham's work, past and present, in Rockefeller Park as part of the River to River Festival. Those performances will of course be all the more momentous (and heartbreaking) in light of the choreographer's recent death.
Finally, Burn the Floor, the ballroom show by Jason Gilkison (of So You Think You Can Dance fame, and a former Australian ballroom champion) officially opens on Broadway next Tuesday. It's in previews right now. I saw it last night and loved it (review coming soon). It's great fun; makes you want to dance home 🙂 I'm tempted to say it's worth it just to see Peta Murgatroyd — WHOA. She's a ballerina-turned Latin dancer and she just combines the best of everything… Try to go to a performance prior to August 16th so you can see Maks Chmerkovskiy and Karina Smirnoff in the cast as well. Maks is an absolute hoot to watch live!
(photo above by Tracy Martin, taken from Broadway World)