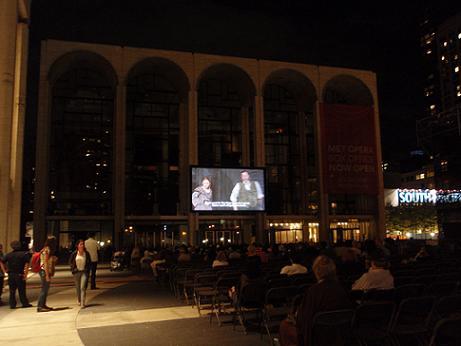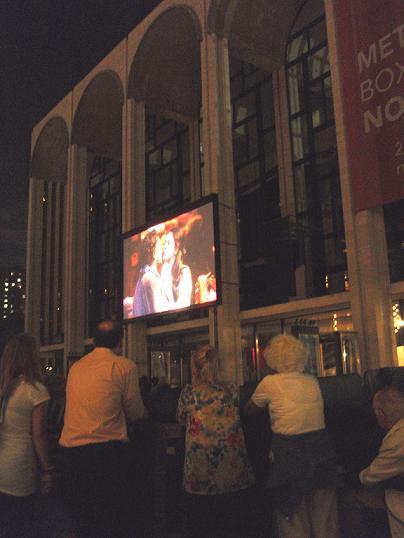 For the past few evenings I've been partaking of the Met Opera's outdoor Summer HD Festival on Lincoln Center Plaza. The first night I went was Benjamin Britten's Peter Grimes. It was on a week night and the plaza was about half full. I'd bought a sack pique-nique dinner from Bar Boulud across the street — which was delic by the way (chilled gazpacho soup, baguette of brie and fresh fig spread, waffle chips, bittersweet chocolate tart, and bottle of Pellegrino). But when I took a seat in the back and began to unwrap my brown bag I realized what a commotion I was making, how dead silent it was. I waited until a noisy helicopter buzzed around above us for a few seconds to tear into my sandwich. I absolutely loved the quiet, but figured it must be because this opera was so serious and esoteric — only true opera-manes would go.
But then last night, Puccini's far more popular La Boheme was the same. Plaza was packed. I mean, every single seat was taken (both of the fold-out variety set up by the event organizers and make-shift seats like construction cones aligning Avery Fisher Hall), there was hardly a square foot of ground to stand on all the way to the street — people were even camped out atop the temporary Koch Theater ticket trailer (until police came around telling them to get down). But once the music began, there was the same dead silence. Everyone stared up and the screen, completely captivated. It was even quiet around the food and liquor stands, where people were basically whispering their orders. Children (the few that were there) behaved, dogs (the many that were there) behaved. Well, dogs usually behave in a crowd, actually… But even the little kids seemed to know it was important to try to concentrate on the screens.
The noisiest part of the evening was when South Pacific, showing next door at the Vivian Beaumont, let out. But once the theater-goers realized there was something important going on out on the Plaza, they shushed each other and ventured up to watch — in total silence — as well.
Such a complete contrast with some of the outdoor dance festivals — Lincoln Center Out of Doors, the Downtown Dance Festival, site-specific summertime events, sometimes SummerStage. I've heard from several people now that the Saratoga Performing Arts Center where NYCBallet has their summer season, is much the same, making me honestly not all that excited to go up there. I mean, kids are running around, parents yelling, people talking to their friends at the same pitch as if they were in a noisy bar, people unwrapping food, opening soda cans, popping gum.
So what gives? Do people just think opera is mainly about music and so to enjoy it everyone must be able to hear it above all else, whereas dance is more visual — so you can make all the noise want and not bother people because they can still see? Maybe it's about the children — people are much less inclined to bring small kids to the opera, but they somehow think their two-year-old is going to have a deep appreciation of Balanchine or Karole Armitage or classical Indian dance. Maybe they equate outdoor dance performances with outdoor social dance events like Midsummer Night's Swing, where you're hardly going to disturb social dancers by talking. Or maybe there's something about a big ole screen being up there.
I wonder if it would be different if ABT would have a summer HD festival and show outdoor broadcasts of some of the spring season's ballets. Probably not… although the crowds were pretty quiet for the David Michalek Slow Dancing exhibit two years ago (once Midsummer Night Swing ended anyway)…
Anyway, tonight (Saturday) is Mark Morris's Orfeo ed Euridice. I mean Gluck's Orfeo ed Euridice but Morris produced and choreographed. We'll see how it goes when there's some dance involved… The Met outdoor HD festival continues through Monday night, ending with Anthony Minghella's production of Puccini's Madame Butterfly.