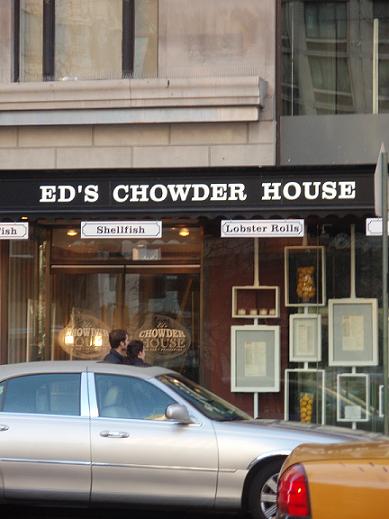 So, after NYCBallet's Nutcracker Friday night (review coming soon), my friend Mika and I discovered a new place for after-ballet drinks and interesting foodie things — Ed's Chowder House (located right across the street from Lincoln Center, two doors down from PJ Clarke's and at the bottom of the Empire Hotel).
The dining area is nice, but the bar room (where you can get less expensive a la carte items — mostly fresh fish and chowders) is what really rocks. My friends and I always used to go to PJ Clarke's, which is a bit cheaper, but it was always so crowded — both bar and resturant, the bar stools have no backs and are extremely uncomfortable, and the wait staff is always so pissy about seating you at a table if your party is not fully arrived or if you're only getting appetizers or desserts — even if you get an expensive cocktail (or three) and a couple appetizers to share (which comes out to be far more money-wise than if you order one entree and a non-alcoholic drink). And then once you are seated the wait staff makes it their sole mission to get you out of there as soon as humanly possible, nearly opening your mouth for you and shoveling in the food. I once nearly had to smack a waiter on the hand for repeatedly trying to take my plate away… Plus, I was in there nearly every night last season, and could the hostess's face ever register any recognition?…
Rosa Mexicano around the corner is lovely, but for me, it's best in summer so you can sit outside. The bar is too cramped (though the chairs do have backs) and the restaurant area is not very interesting, imo, though the little swimmer guys diving down the waterfall-covered wall aligning the stairway are very dancerly and cute.
Anyway, we were extremely excited to find an excellent alternative in Ed's! The bar area is spacious and there are multiple little tables behind the actual bar. Bar is made out of very cool material by the way — hard to describe — we weren't sure if the objects underneath the glazed covering were sea shells, but they were very cool — do check it out! The restaurant area can get a bit pricey, but the bar serves really good a la carte items — oysters, various chowders, seafood appetizers like lobster rolls, scallop ravioli and mini crab cakes, and individually-ordered fish steaks and interesting sides like chili-glazed spinach and horseradish mashed potatoes. And they have a nice cocktail list and a pretty good wine selection. They made the best Tanqueray martini – which I now call the "Laura Jacobs martini" since she introduced me to it a few weeks ago when she and James Wolcott took us out for after-ABT dinner at Shun Lee — and it's the best I've had since that evening.
And they have bowls full of chewy saltwater taffey on the way out 🙂