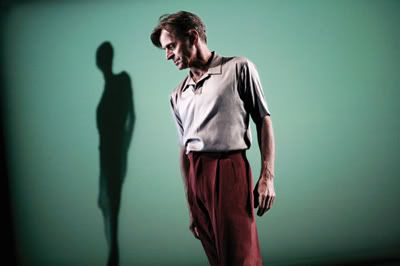 Here's an interesting preview by Joel Lobenthal of Baryshnikov's return to the stage, which happened at BAC this Wednesday. He danced three solos, along with two other men — Steve Paxton and David Neumann. Program was called, aptly, "Unrelated Solos." I went last night, and particularly loved the last piece for Baryshnikov, a work in progress by Susan Marshall, which, to me was a meditation on how dance is meant for an audience, a performer must have a viewer or s/he is not a performer. It left a lump in my throat at the end. The other two solos for Baryshnikov were by Benjamin Millepied and Alexei Ratmansky – the Millepied another rather sobering reflection on a life spent in dance and the aging process, and the Ratmansky a rather funny retelling of composer Mikhail Glinka's obsession with an aristocratic woman that made me realize how great an actor Baryshnikov was and made me sad that his and Ratmansky's eras didn't really intersect. I'd think Ratmansky could have come up with a lot of very clever, humorous work for him.
Both of the Neumann pieces were highly entertaining and witty, and the Paxton reminded me of Sara Rudner and the dance for dance's sake / Judson Movement where the emphasis is more on the inner awareness of the dancer than strictly on the "performative."
Anyway, don't have much more time to write about the program right now but plan to write more this weekend. But read the Lobenthal article. And here is Macaulay on the program.
Photo by Julieta Cervantes.