Wow, this year's Blackpool Dance Festival has already come and gone. Funny how priorities change; I used to look so forward to this every year. But this year I was so caught up in book stuff, and BookExpo America, that it didn't even register the competition was underway until I received my registration packet for next year's in the mail (the organizer always sends them out so that your packet is waiting for you when you get home – which is nice; it makes it not so sad that your vacation is over with the reminder that next year is just around the corner…)
Anyway, according to Dance Beat, it seems the big news is that the U.S. has Standard champs for the first time ever — in the form of Arunas Bizokas and Katusha Demidova (pictured above, photo from Dance Beat).
Poland's Michael Malitowski and Joanna Leunis won the Latin championship again, but our Yulia Zagoruychenko and Riccardo Cocchi placed first in one dance – Jive.
The U.S. won again, for the second year in a row, in the team competition. And after that event, our second Latin couple – Eugene Katsevman and Maria Manusova, of whom I've long been a big fan, announced their retirement from competition. Sad, but I'm sure they'll still be around to perform for years to come. I wonder who will take their place in next year's team comp for the U.S. I'm so ridiculously out of it I don't even know who our second best Latin couple is now…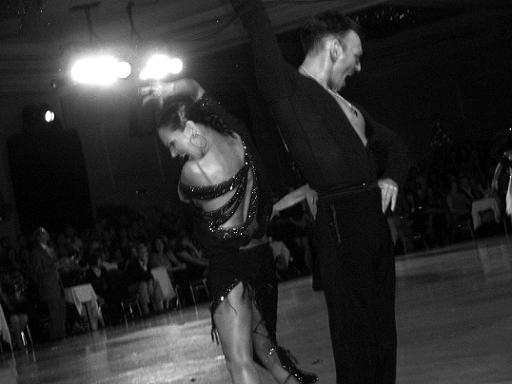 Photo of Eugene and Maria, by moi, from this post.