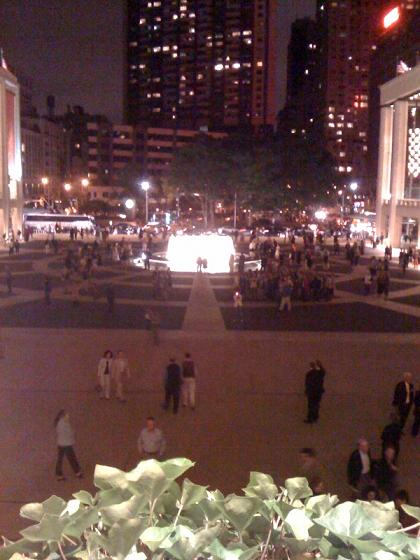 Last Saturday I had my first crazy ABT day where I spent the whole day at Lincoln Center, seeing both matinee and evening performances. I'll do the same tomorrow with two Sleeping Beauties – can't miss Alina Cojocaru (who I've never seen before) guesting from the Royal Ballet in the lead, and then in the evening the spectacular Natalia Osipova.
Anyway, last Saturday the matinee was their All-American program; the evening was the All-Ashton. The All-American opened with Twyla Tharp's Brahms-Hayden Variations, which I'm sorry to say is the first Tharp that's bored me. I just couldn't connect to it. It had none of her trademark thrilling throws and lifts and clever partnering or dramatic, actable parts, and none of her enlightening contrasts between ballet and other forms of dance. Not that I saw anyway. I think the excerpt the company performed during the opening night gala was the only part I liked. There were good dancers – Marcelo Gomes, Stella Abrera, Herman Cornejo – but they didn't seem to have that much to work with. It was just kind of lyrical gaiety. Like Mark Morris.
Then was Paul Taylor's Company B, which is always fun – especially when Craig Salstein dances the hotly dorky guy in "Oh Johnny Oh" and Herman Cornejo the flashy "Boogie Woogie Bugle Boy," but somehow it lost some of its magic on the large Met stage. I don't know – I think it plays better at City Center – you somehow miss the silhouettes in the back at the Met, or you don't connect them to what's happening center stage as well.
And last was my favorite of the day, Robbins' Fancy Free, this time starring Sascha Radetsky (image above, from here) as the cocky, sexy Latin sailor, Carlos Lopez as the dreamier one, and Daniil Simkin as the little acrobatic one. The two main women were Maria Riccetto as the girl in yellow whom the guys originally approach, and then Isabella Boylston as the girl in pink who momentarily gets interested in hot cocky Latin guy. Well, Sascha Radetsky completely took my breath away here. Before he had his momentary hiatus in with Netherlands Ballet, I'd always thought he was cute and a very solid, precise dancer, but he couldn't act. I think he must have taken acting lessons in the Netherlands because he's just so much better now. I really believe him in each role I've seen him in. And he really inhabited this sailor. He was really so compelling to watch; I couldn't even focus on Daniil and his crazy sky-high jumps with Radetsky on the same stage.
Hehe, but one thing that really stood out for me was Isabella Boylston's back-leading! All throughout ballroom training we were yelled at ad nauseam  — not just me but all the women — for constantly back-leading. And that's because grown women generally pick up dance steps a lot faster than grown men (not necessarily true for girls versus boys but definitely true for men vs women for some reason). Anyway, it's only now I really know why. It looks horrible. I know this is ballet with choreographed steps and not ballroom, but their characters are doing social dance so it really had to look like he was leading her in the steps, not like she was anticipating what he'd so and then turn herself or make the move before he led her to do it. It ended up looking like she was in control, and he's supposed to be seducing her here. I'm sure they'll get it with more practice, it just looked obviously wrong and out of character. But maybe that's just my ballroom training talking because they definitely got the most applause.
The Ashton program opened with Birthday Offering (image above from Dance View Times), which ended up being my favorite piece of the night. Absolutely gorgeous costumes (by Andre Levasseur) and what lovely variations with fast, fancy, very original footwork for the women. Stella Abrera, Simone Messmer, and Gemma Bond in particular stood out to me. Hee Seo (my favorite Juliet) danced as well – not in love with the choreography for her variation as much but she has the most beautiful Alessandra Ferri feet. She and Veronika Part both!
Then came the Thais Pas de Deux, which was performed by Jared Matthews and Diana Vishneva. I can't wait to see Hee Seo and Sascha Radetsky perform this at the end of the month. I saw them in rehearsal and they really took my breath away. They're so sweet together, and they really bring out the beauty of the choreography in a way that Diana and Jared as a partnership just didn't, in my mind. Diana and her melodramatic curtain calls really crack me up. At first they annoyed me but I'm beginning to accept that they're part of the performance for her and they're just her. Who knows, maybe someday I'll find it endearing.
But as far as her dancing, she's hit or miss with me. I haven't gotten around to writing about it yet, but I absolutely loved her in Lady of the Camellias. She brought so much more to the role than Julie Kent had the day before and she really brought me into the drama of it all – she and Veronika Part both (who danced the Manon role). And her dancing was gorgeous. She and Marcelo were excellent in that. A performance to see again and again (if ABT would only make a DVD of it…)
Then was The Awakening Pas de Deux from Ashton's Sleeping Beauty, danced by Veronika Part and David Hallberg. It's funny but choreography can look so completely different on different bodies and it looked like a wholly different piece than when Paloma Herrera and Cory Stearns danced it on opening night.
Finally, was The Dream, Ashton's version of Midsummer Night's Dream. Honestly, I was getting really tired by this point and I'll have to see it again. I did really like Cory Stearns as Oberon. He is another dancer who's a hit or miss with me but I found his Oberon was endearing while still being rather demanding with Titania up front. He did a good job, and he dancing was beautiful. Alexei Agoudine was a lot of fun as Bottom (who's on pointe here, unlike in the Balanchine version and has a lot more to do), and Daniil Simkin was Puck. I enjoyed his Puck but found myself unable to get Daniel Ulbrich's Puck out of my mind. I've been told I have to see Herman Cornejo in this role. And so I hope to before the season ends.
In between performances I had ice cream in the park behind Lincoln Center cinemas, where I saw Blaine Hoven and Marcelo, and then I went and had a glass of wine in the outside patio area of the newish Alice Tully Hall cafe. It's nice out there when it's warm, which it was for part of the time. So far we seem to be having another chilly summer. Tomorrow I have two friends who, happily, are as crazy as I am, so I will have people to hang with instead of just my book 🙂