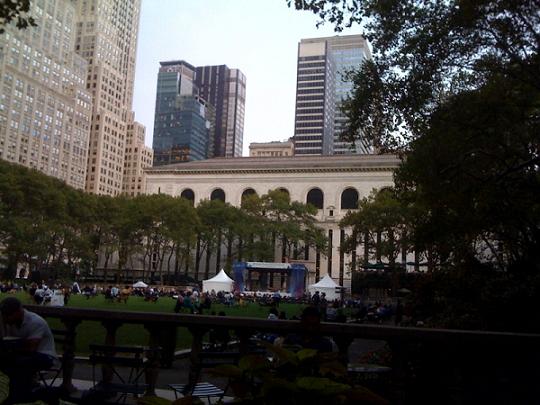 After hearing via Gothamist that New York City Ballet was opening the first Bryant Park Fall Festival, I trekked down to the park last night, scored a perfect seat at the Southwest Porch – well, maybe not perfect; it's a little far from the stage, ordered a drink and snack and waited for my friend to show up and the public rehearsal / performance to begin.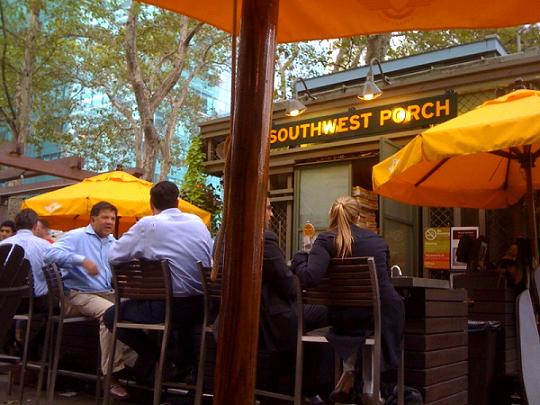 Unfortunately it never happened. About ten minutes before 6, the waitress came rushing to my table, asked me if I could pay now as it was about to thunderstorm badly. Thunderstorm? At the beginning of the day, there was no such thing in the weather forecast. I almost didn't believe her until about two minutes later a man came out onstage and announced that, due to the weather, the performance would be canceled. And the waitress and announcer were right: about five minutes later the thunder erupted, the rain began. New York weather has been crazy like this for a while now, like the past two / three years. I guess it's the ozone. You just can't plan an event outdoors anymore.
Anyway, I did get to see Wendy Whelan and Sebastien Marcovici (I think) rehearsing Christopher Wheeldon's After the Rain (I guess, in retrospect, an apt title), which is one of the ballets they were supposed to perform. And NYCB begins their first ever fall season tonight, inside, at the Koch Theater.
I do really like Southwest Porch during the summer. Their ginger margaritas are excellent; their S'mores are a lot of fun (though you usually need to ask for extra graham crackers). But I discovered last night that I am not a fan of their flavored popcorn. I had the ancho chile / lime flavor and it was just way too much seasoning. You couldn't even taste the popcorn. My mouth was on fire.