So for after-ballet drinking and snacking, here are three new Lincoln Center-area places I've recently found: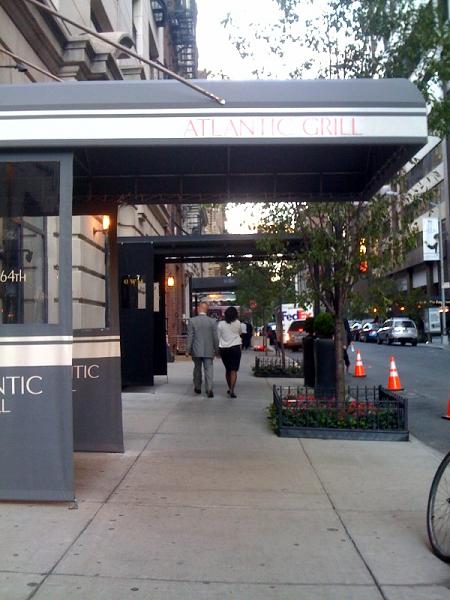 First is Atlantic Grill, on 64th between Broadway and Central Park West, which has taken over the old O'Neals – which was there for 46 years and it's a royal shame it's gone! I mean, really, 46 years is a pretty long time and that place was legendary. Anyway, Atlantic Grill is pretty good. I actually like the bar area better than when it was O'Neals. They have tables and chairs surrounding the whole bar instead of that back-looking bar across from the regular bar that O'Neals used to have, which I found awkward and tended to make it very crowded. They still have two TVs in the bar area. The dining room decor is a bit different but layout's still the same. The food is very different though. Generally a bit pricier and menu is comprised mainly of fish, raw oysters, seafood, sushi, and even caviar. And, most importantly, decent cocktail menu, although the bartender tried to sell me on their version of a cosmo. And I don't drink cosmos.
Expensive though their main dishes are, I find their reasonably-priced appetizers very filling. I had a poached shrimp salad one night and small plate of cavatelli with clams the other, and both of them filled me right up. I couldn't even finish the pasta.
I guess I don't often eat oysters because this was the first time I'd heard of the Naked Cowboy.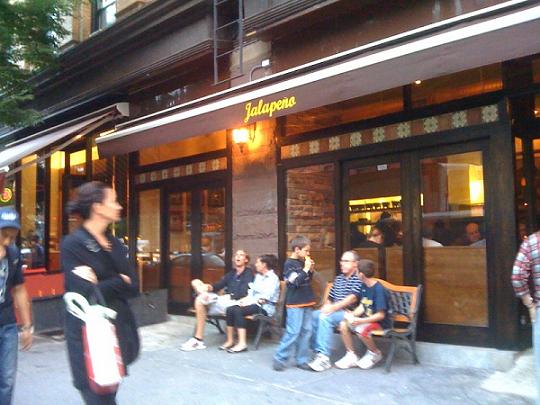 A bit farther up Columbus, Jalapeno, a Mexican restaurant, just opened (I don't always keep track of cross-streets but I think it's between 68th and 69th). I was raised on Mexican, and I declare Jalapeno one of the best Mexican restaurants I've found here in NY. Prices are totally inexpensive too.
I had this enormous chopped beef burrito and this huge frozen drink (whose name or contents I now can't remember – sorry) and my bill came to barely $20.
They have a small bar and one TV, on which, the night I was there, they were playing a Yankees game 🙂 Not many bars and restaurants do that, especially after football season has started, so it made me extremely happy. It's small, but pretty cozy if you can get a table along the window. And a serious Mexican cocktail menu.
Papacito in Washington Heights is still by far the best Mexican in the city, hands down, but for the price, location and margarita list (and attention to baseball), Jalapeno is very good.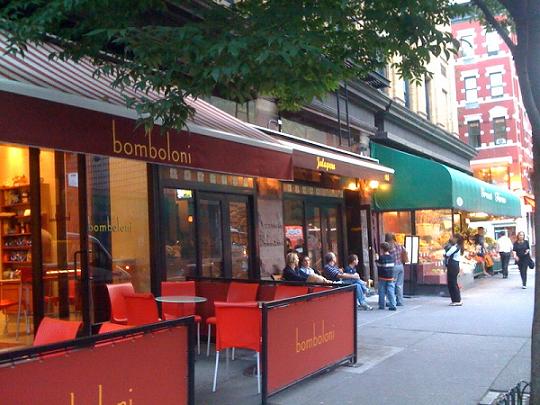 And right next door to Jalapeno is Bomboloni, which specializes in Italian gelato (they usually have about six flavors) and bomboloni (which are small, very delicious donuts). And real Italians work behind the counter 🙂 They recently added this charming little sidewalk cafe. Definitely my favorite dessert place since Cafe La Fortuna sadly closed a couple years ago.