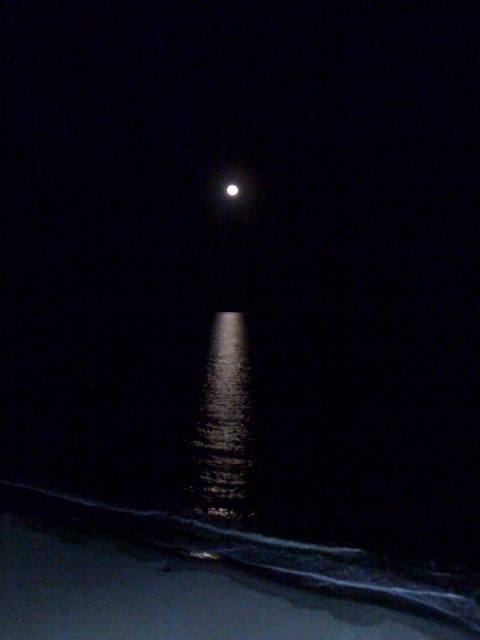 Happy President's Day everyone! I'm spending the week in South Carolina at my cousin's timeshare – I needed a few days away from New York and the ocean is  my favorite place. (If I ever have money, I'm definitely buying a beach house somewhere.  I could never be one of those New Yorkers who buys a country home up in the mountains. I don't understand those people. Who wants to risk a run-in with a bear or coyote or jaguar? Not to mention deal with permanently cold temperatures…) Anyway, the light from last night's full moon on the ocean was gorgeous. My iPhone is not so good at taking pictures at night, so you'll have to take my word for it 🙂
The condo's wireless connection is a bit off and on, plus, it's unexpectedly nice weather here – 71 degrees today, plus I'm supposed to be working on my novel, so I don't know how much time I'll have to blog. But here are a few items of interest:
Roberto Bolle makes his Hollywood debut;
John Epperson talks about his role as "Jaded Piano Player" in Black Swan; and
Our friend Benjamin Millepied is now getting hounded by the tabloids for working too hard and not paying enough attention to Ms. Portman
Also, here are some photos I just received of the magnificent Sara Mearns debuting as the Siren (opposite Sean Suozzi) in Balanchine's Prodigal Son a couple weeks ago at NYCB:
Finally, if you haven't seen Natalia Osipova dance yet, next Sunday, March 6th, will be your chance. She'll be dancing Kitri in Don Quixote with the Bolshoi, in a performance that will be live-streamed direct from Moscow via Emerging Pictures' Ballet in Cinema series. NY performance time is 11:00 a.m., at the Manhattan Big Theater, and she'll be dancing opposite Ivan Vasliev. This is the role that made her famous, and she owns it, so try not to miss it if it's showing at a theater near you. Check Emerging Pictures' website for times and locations.
Okay, that's all for now. Happy holiday everyone!