Here are some photos, all by Paul Kolnik, of Lynne Taylor-Corbett's play-ballet, The Seven Deadly Sins, which premiered last night at New York City Ballet's Spring gala performance. Above is Patti LuPone, who guest-starred with the company (performing the singing role of course!) and Wendy Whelan, who danced the lead. The top photo is from the "Prologue" of the play-ballet (or ballet chante as the program calls it).
This is from the second part: "Pride": Patti LuPone and cabaret dancer ensemble.
Also from "Pride." Wendy Whelan is in the middle.
And this is from sixth part, "Lust," probably my favorite over all. Craig Hall and Wendy Whelan are the dancers in the photo. Craig Hall and Sara Mearns (who danced the role of "Latina Diva" in the "Anger" section, and who I don't have a picture of unfortunately), most stood out to me, as well as Vincent Paradiso as the Count in the "Greed" section. I think those dancers most stood out – at least Mearns and Paradiso – because they seem to have some kind of acting training. Maybe they don't, maybe they're just natural actor-types, but the more actor-ly you are, I think the easier this kind of role would be. Wendy Whelan said in an interview with Roslyn Sulcas in the New York Times that she was used to expressing herself with her body and her lines, that she was used to Balanchine's dictum "don't act, don't think, just dance," and that she found this kind of role challenging. As much of a NYCB star as she is, and as stunning as she is in Wheeldon and Balanchine's more modern, angular-lined ballets, I just wonder if she was mis-cast for something like this.
Which isn't to say that she didn't dance very well last night. She danced a really beautiful pas de deux with Craig Hall, which is what made "Lust" my favorite section. And LuPone sang in a gorgeously powerful voice. The dancing was all superb. But something just didn't work to me.
Balanchine choreographed the original Seven Deadly Sins, set to libretto and score by Bertolt Brecht and Kurt Weill, in 1933. The Balanchine version was revived in 1958. According to the Times article linked to above, both the original version and revivals received very good reviews. Since the Balanchine version appears to be largely lost now, and Peter Martins wanted to revive the ballet, he commissioned new choreography from Taylor-Corbett.
Maybe it was that the new choreography didn't really express the story, which follows Anna, a woman whose various life experiences each represent one of the sins. It wasn't really a full story, but one composed of scenes, each of which dramatized a sin (and LuPone and Whelan portray different aspects of Anna). But, I didn't feel the scenes always worked well at doing that. For example, in my favorite section, "Lust," I thought the Hall/Whelan bedroom scene was really beautiful, very romantic, but nothing said lust, as in sinful lust, to me. I almost felt like Whelan's Anna had a loveless relationship with her husband, danced by Allen Peiffer, and she was really in love with Hall, and her leaving her husband and running into Hall's arms was an urgently needed escape.
In my other favorite section, "Anger," Sara Mearns is a kind of sexy, but rather humorously so, Copacabana dancer. She gets angry at Whelan's Anna for something – I'm not quite sure what – maybe Anna stole her lover or took over Mearns' role as head diva, drawing too much attention to herself…  Anyway, Mearns twists her face into a look of utter anger, then points at Whelan, who runs off crying and is then stripped down to her underwear by a group of men. But I thought it was done rather cartoonishly. So it was more funny and cute to me than a dramatic representation of the tragic consequences of anger.
In the "Greed" section, a count and a senator vie for something and end up in a duel, both of them getting killed. But it didn't have any tragedy or pathos to me. Instead, it felt a bit like Balanchine's Slaughter on Tenth, which made me want to giggle – probably the fact that it was Paradiso playing the role of the Count.
I don't know. I guess I was expecting something with more tragedy and pathos and weight, and I felt like I saw a version of Slaughter on Tenth but without a through story-line. Maybe that was the intent. I'm going to see it again over the weekend, and maybe my opinion will change.
Did anyone else see it yet? I'm interested to hear what others think. Has anyone seen the Balanchine version?
After intermission,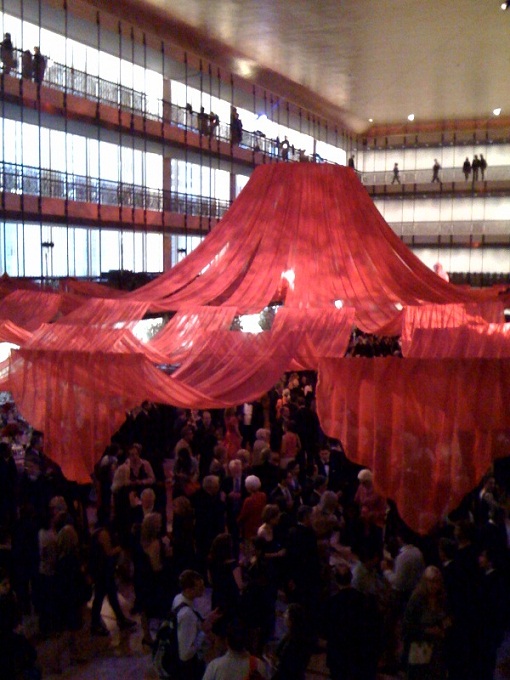 — here's my photo of the promenade – Balanchine's Vienna Waltzes was performed beautifully.
Photo by Paul Kolnik.
All of the dancers were very good, but I particularly liked Megan Fairchild and Joaquin DeLuz in the fast-footed, playful scene in the forest, "Fruhlingsstimmen," and Maria Kowroski and Charles Askegard in the last, beautifully ballroom-y section, "Der Rosenkavalier."