Thursday night at the Met, Jose Manuel Carreno, a longtime favorite of mine, gave his farewell performance with American Ballet Theater. (He will dance a few more performances with the company as they tour Los Angeles and Japan later this month, and he ended up filling in unexpectedly for an injured dancer in Saturday's matinee, but Thursday was the night ABT celebrated his illustrious career).
He danced Swan Lake with Julie Kent as Odette and Gillian Murphy as Odile. Of course Odette and Odile are danced by the same ballerina but this was a special performance and so he chose to have not one but two ballerinas he's often partnered throughout his career as alternating white and black swans.
Above photo is of the white swan pas de deux with Julie Kent. Below is of the black swan pdd with Gillian Murphy. All photos are by Rosalie O'Connor.
And below, of his curtain calls.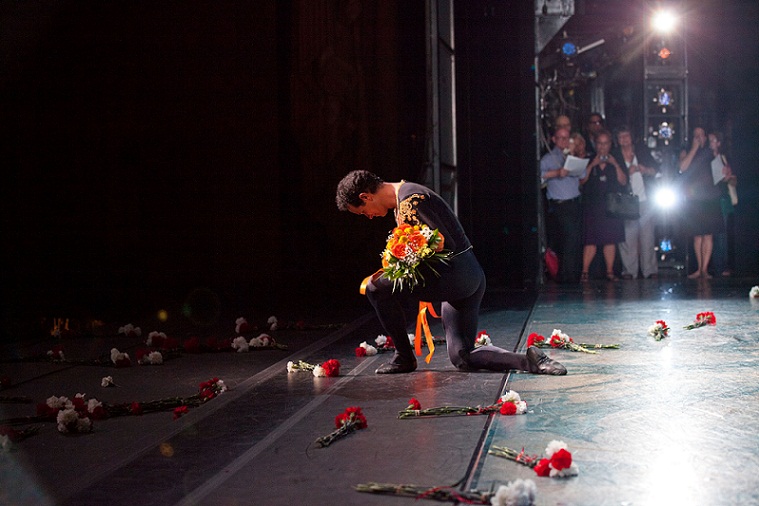 The performance was spectacular but not flawless. Jose danced wonderfully. I've personally been more moved by his performances in Romeo and Juliet and Manon, but then I'm more a fan of modern ballet choreographers like MacMillan, than classical ballet. I wish he would have danced one of those as his farewell but I totally understand why he chose Swan Lake – it's only the quintessential ballet after all 🙂
The best part was Act III, with Gillian as the black swan. It was just amazing feat after amazing feat. I swear I'm pretty sure I saw Gillian put a quintuple pirouette in between her fouettes; there were definitely quadruples in there. I wonder sometimes if Natalia Osipova has not substantially raised the bar for this kind of thing. I feel like everyone's trying so hard to do as many athletically stunning things as they can. I honestly almost screamed when she threw in the quintuple. Can you imagine someone actually screaming in the audience in the middle of the performance? Glad I managed to hold it in 🙂 Suffice it to say Gillian was definitely a thrill, and Odile is her forte. She did have a tiny stumble toward the end, coming out of the fouette sequence, but I'm not one to care about things like that. I personally care more that a dancer takes chances than plays it so safe she fails to move or wow the audience (as I think I've said a few hundred times by now on this blog). Then Jose followed her crazy fouettes with a turn sequence of his own, with more multiple pirouettes thrown in. It also seemed that some of their assisted pirouettes went on for, like, five minutes! At the end of the pdd, the applause went on for quite some time.
I should say, every time Jose did any kind of solo, no matter how small – a few turns, a few jumps, anything – the audience went crazy with applause. As they did when his Siegfried first entered the stage. I thought for a minute the orchestra was going to have to stop the story for him to take a bow, but he kept on going with the action, in character.
So, Julie Kent's white swan: well, I think she is an absolutely beautiful dancer, and she does things that Sara Mearns and Veronika Part and other ballerinas I love as Odette either can't or don't do – like the fast tiny fluttering of the feet that really make her look swan-like, or the super quick changes of the feet between her traveling passees that make it look like she is really a swan about to take off in flight. Her legs and feet are super strong and she can attain really surprising speed and precision at certain points. And I was sitting in the back of the orchestra and I could still see that incredible footwork. And yet somehow I'm not nearly as moved by her as by Sara and Veronika. She doesn't make me feel her pain or take me into her world the way they do. Maybe she's just not as powerful an actress, although I thought she was very good in Lady of the Camellias. I thought Jose generally partnered Gillian better, which is interesting because she's a larger ballerina. He lifted Julie high above his head just beautifully, but then there were some moments that the assisted pirouettes that went on forever and a day with Gillian were more problematic with Julie. At one point, Julie veered sharply to one side and I worried she'd fall. But she didn't.
Still, it was a beautiful performance all in all.
This was my first time seeing David Hallberg as von Rothbart. (You can see him in one of the curtain call photos above, in the purple). He's a beautiful, beautiful dancer. Seriously, I don't think any man can dance as beautifully as David Hallberg, and I'll go to any ballet with him in (with good choreography for him of course), just to see that. But. I like Marcelo Gomes better. I know that's controversial, and I've been thinking a lot about how I'm not really a fan of classical ballet partly because of this (judging by the difference of opinion between myself and my classical ballet-fan friends), but I just don't like black and white. I prefer sexy, charmingly dangerous von Rothbarts, not pure evil von Rothbarts. And David was evil. The way he masterfully whipped around that purple cape, the way he worked his facial muscles into a hard hard look, the way he approached the queen and each woman at the ball with intention, the way he pointed straight at poor Siegfried when he first arrived with Gillian. He scared the hell out of me. And I guess if you think von Rothbart is pure evil and should be portrayed as such, then there's no one more perfect than David to dance him. The evil is tempered a bit by David's beautiful dancing, which made him the second best von Rothbart in my opinion, just because it added a nuance that otherwise wouldn't have been there. But Marcelo's v.R.'s sexiness, his irresistible charm, his deviousness, make him so much more deliciously dangerous.
I was a slight bit disappointed in the curtain calls. I think I was spoiled by Julio Bocca's farewell being my first at ABT. That man was such a prima, his curtain calls went on forever, ending with him in underwear (well, tights), taking his time drinking a beer, then dousing himself with it. Or was it champagne he poured all over himself? (Will have to look back at my old blog post.) Anyway, it was all as if to say, I've had a blast here, I've worked my arse off, and now I'm so so ready to let loose. This all would have been inappropriate for Jose though, especially since his two daughters came out onstage with him at the end, sharing his bows. So sweet. But yeah, no getting plastered and prancing around in underwear for him. Marcelo, David, and Cory did hoist Jose over their heads, as David and Marcelo did Julio.
A couple ballerinas from the past – Alessandra Ferri, Susan Jaffe – presented him with bouquets. And Julio himself was there as well. He walked out onstage toward Jose doing a hip-shaking little rumba. Almost all the principals were onstage at the end – Paloma Herrera in particular was dressed to the nines, which was sweet since she was one of his main partners. I didn't see Diana Vishneva or Natalia Osipova or Michele Wiles. I was hoping Carlos Acosta might show, but no such luck.
Jose's daughters are really beautiful. Afterward some friends and I went to Ed's Chowder House for drinks and snacks and we were debating whether the older one was his stepdaughter with Lourdes Novoa or biological daughter. Does he have one stepdaughter and two biological daughters or one of each? Anyway, the littlest daughter looks to be a teenager now. She's really beautiful. But she was just a baby not so long ago. I guess time does go by when you're not paying attention. The audience didn't seem to want to say goodbye. Finally, the curtains went down and the lights went on, management making clear it's over, folks, go home. But people kept standing there kind of dumbfounded.
Well, I'm really going to miss him. I'm going to miss him as Basilio in Don Quixote, I'm going to miss him as both the harem owner and Ali the slave in Le Corsaire (like Marcelo, he's endearing in every single role he has – how can one be an endearing  harem-owner? I have no idea, but just watch him), I'm going to miss him as Des Grieux in Manon, I'm going to miss him as Albrecht in Giselle (I think he was the only one who still did the Baryshnikovian brisees in his near dance to death scene instead of the entrechats), I'm going to miss his sexy cocky Latin sailor in Robbins' Fancy Free, I'm going to miss his sexy cocky leading man in Tharp's Sinatra Suites, and most of all I'm going to miss his Romeo. In most recent years, he's been the oldest dancer in that role, and somehow the most boyish, the most innocent, the one who's made me cry the most times at the end in that crypt with his Juliet draped lifelessly over his arms.
Well, I still have memories. And YouTube videos 🙂