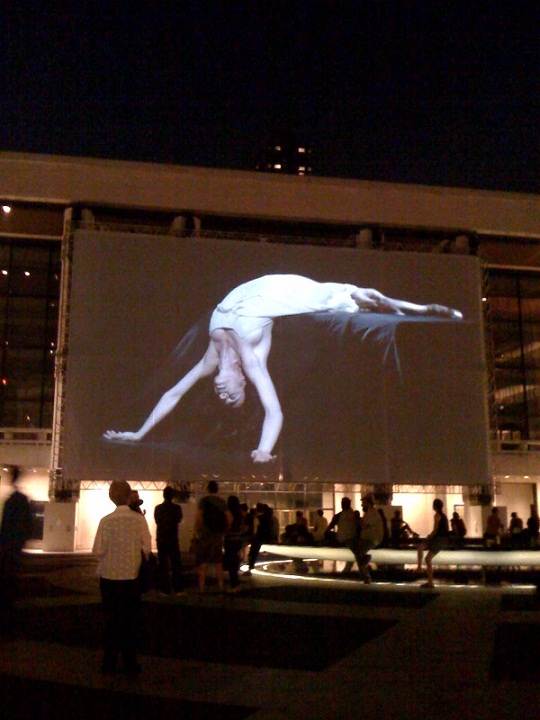 Here are some photos I took of David Michalek's current installation, Portraits in Dramatic Time, shown nightly on the facade of the Koch Theater at Lincoln Center Plaza. Above is (SLSG favorite) ballerina Alessandra Ferri, apparently in the ending scene from Romeo and Juliet. Commissioned for the Lincoln Center Festival, Portraits is similar to Michalek's earlier installation from a few summers ago, Slow Dancing, which I wrote about here.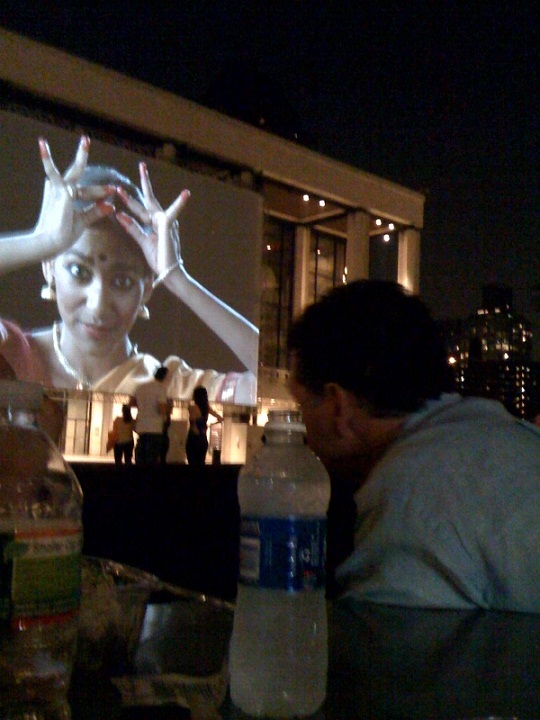 Unlike Slow Dancing, the only two dancers (at least that I've seen) in Portraits are Ferri and classical Indian dancer, Savitry Nair, above. To me, Nair was the most mesmerizing, I think because of the intricate (and to me exotic) movements she was making with her hands, but also because of the intensity of her eyes. Patti Lupone (below) was a close second.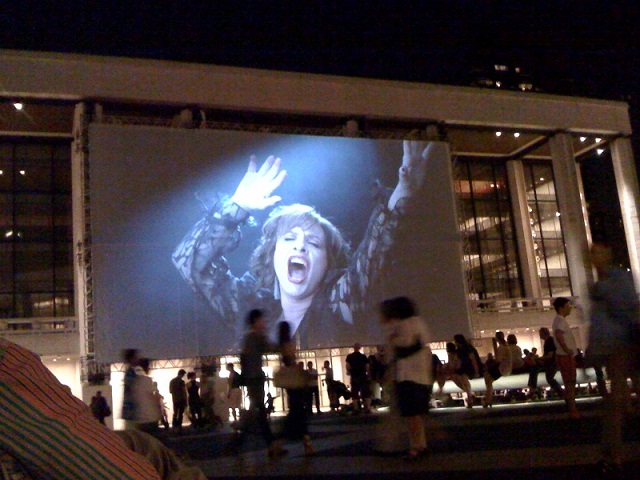 Besides the two dancers and one diva, the others seemed to be all theater actors. Like, Slow Dancing, Michalek filmed the actors in a short scene, then slowed the movement way way down for greater dramatic effect. At least that was the intent. I've only watched a couple times, and plan to go more, but, as with Slow Dancing, I have mixed feelings. I think Portraits may be able to attract a larger audience than Slow Dancing due to the greater fame of the stars filmed, and Michalek did for the most part choose dramatic scenes, such as the one below of Alan Rickman throwing a glass of water in anger.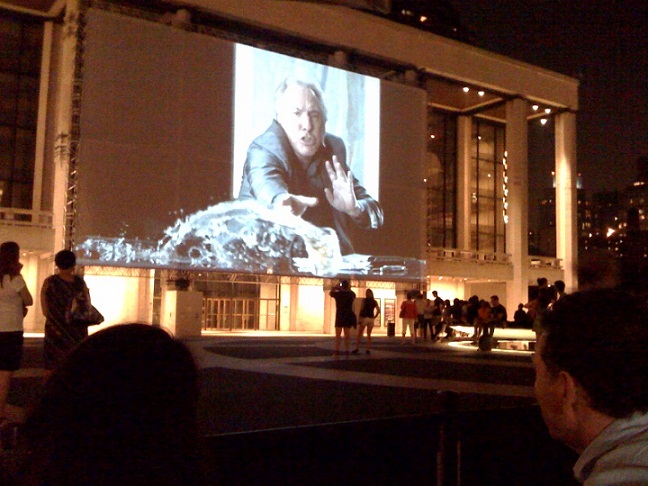 Not all of the scenes are quite as action-packed. You're often looking more at the intricate changes in facial muscles as the actors go from one emotion to the next. I felt like watching Marianne Jean-Baptiste read a letter and Lili Taylor converse with her daughter provided real lessons in acting.
But in other scenes, even if there was some kind of drama, I didn't always understand what it was about, or the characters' relation to one another, and consequently I failed to be as captivated by the mini narrative as I would have liked.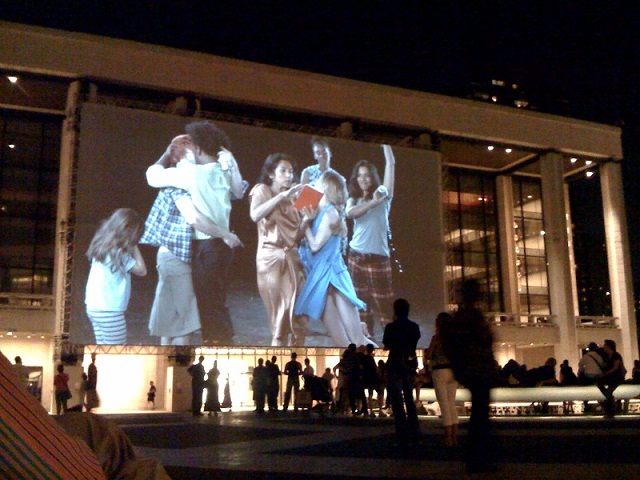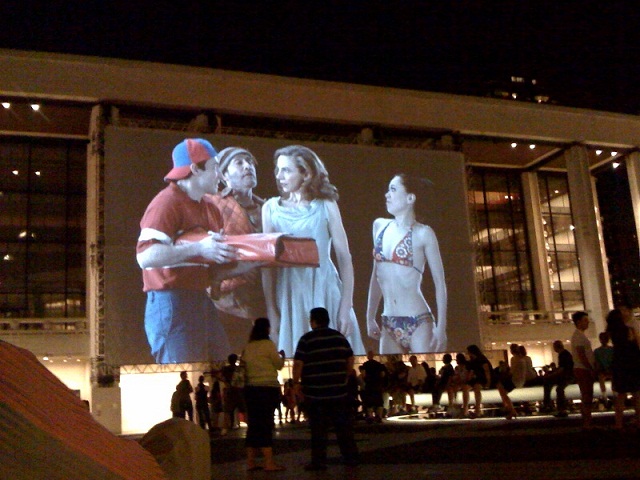 Watching and listening to others on the Plaza, I felt like I wasn't alone in that thought. The big screen captures your attention but oftentimes fails to keep it. Of course I really wanted to shout at people who were only glancing at Alessandra before passing!
I said this with Slow Dancing, and I'm pretty sure these films are moving faster than the original Dancing films, but I still think they're going just a bit too slowly. It would also provide variety to rotate more between performer-types – like dancer, actor, diva, dancer, actor diva, etc. But as I said, I saw mostly actors here. I also noticed, though, that there are many performers listed on the show's website that I didn't see, and I've gone on two different nights so far and have seen many repeats, so I don't know if all of the listed performers are appearing right now…
Anyway, imperfections aside, it's always wonderful to have something to go to Lincoln Center for and now that ballet season is over, it can be depressing around there. So I'm very thankful for this installation. Perfect for summertime, sitting near the fountain or at the little cafe in front of Avery Fisher Hall, sipping wine or eating Gelato. This is the best part of living in NYC, imo.
Portraits shows nightly through the end of July. For more info, go here and here.