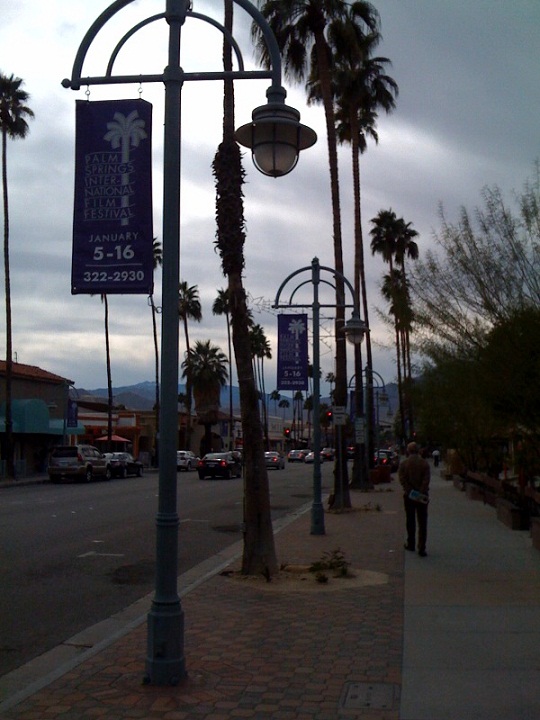 I spent this past weekend with my dad in Palm Springs. He came down with a group and invited me to meet them, which, now that I'm in L.A., was pretty easy. It was the last weekend of the two week-long film festival there, so we caught a few movies. Unfortunately, I wasn't able to see either of the two dance films showing. One was Pina, by German filmmaker Wim Wenders, a biopic – in 3D – about Pina Bausch, which I know is coming to L.A. and which I definitely plan to see. The other was a Russian movie called My Father Baryshnikov, about a Soviet era student at a strict Russian dance academy who pretends that his father is Baryshnikov. It looks like that one toured the arthouse film circuit in N.Y. in October, but that was my moving month, so no wonder I missed it. Did anyone see it?
But I did see a film that involved dance – namely Allegra Kent. Bert Stern: the Original Madman is a pretty good documentary of the photographer, who is most known for having taken the last pictures ever shot of Marilyn Monroe (for Vogue). He photographed numerous famous women, like Audrey Hepburn, Elizabeth Taylor, Kate Moss, Twiggy – the list goes on and on and on… and Allegra Kent, to whom he was married for a time and with whom he has three children (two of whom were interviewed in the film, along with Kent). He is also, I guess somewhat infamously, known for taking those Marilyn Monroe-esque photos of Lindsey Lohan for New York Magazine a few years ago. Finally – and most interesting to me – he's also known as a great innovator in advertising for some now iconic photos he took for Smirnoff Vodka, mainly of the Egyptian pyramids, very coolly reflected upside down through a martini glass.
I guess it's no surprise that Allegra Kent was attracted to him – he came across in the film as a huge womanizer, much like Balanchine. He calls women saints and man their slave. How Balanchine is that! And his womanizing is of course what led to their divorce… He says in the movie that the moment he saw Kent, he thought she would make a wonderful mother, and she did indeed become the mother of his only children. But he didn't really want the children, he later admits. He didn't know what to do with children.
He also admits he was greatly drawn to the beauty of the women he photographed, and wanted to have sex with (or "make out with" as he called it) the vast majority of them. But he admits he seldom wanted anything more; he never wanted to marry them, or be more to them than a lover. This is what, he says, made him the photographer he was.
It's a very honest film. A very straight depiction of a man who seems very shallow emotionally, but was an artistic genius.
Anyway, I tweeted a bit about the film, and one of my friends, who's a dancer, said he's reading Allegra Kent's biography and, according to it, Stern is a horror. I can believe he must have been a horror as a husband. But interestingly Kent says only nice things about him in the film.
It's really Stern who makes himself look bad regarding Kent. When she confronted him about his relationships with other women, he remembers, he threw it back on her saying she let men (in the form of dancers) touch her all day. When she finally asked for a divorce, he thought how dare she; she couldn't do that to him.
Their oldest daughter tells the filmmaker (Shannah Laumeister, formerly one of Stern's  models as well) that she is really a daddy's girl, and her daughters – still small children – echo her, giggling that they are grandpa's girls too. But the younger daughter, who also seems very genuine, and a bit more shy than the other daughter, tells Laumeister she never really got along well with her father. She had a bit of a weight problem, though I still thought she was a lovely young woman. But I wonder if that has something to do with her father not getting along well with her, given the way he seemed to think about women.
Anyway, very interesting film and definitely worth seeing if you have the chance. I found Stern to be annoying, shallow, and very unlikeable as a person, and still a genius, an artist and an innovator.
I also saw Haywire, Steven Soderberg's latest, starring Gina Carano, Ewan McGregor, Michael Douglas, Antonio Banderas, Michael Fassbender, and Channing Tatum. This was almost the complete antithesis of the Bert Stern film. Women here are all powerful but not because of their looks. I loved loved loved this movie! Finally, a female James Bond! And Ms. Carano supposedly did all her own stunts! But I don't think I will ever stop loving Ewan McGregor, even when he plays the "bad guy." 🙂 This one's opening all over the U.S. very soon.
Finally, I saw a Belgian film called The Invader, by visual artist Nicolas Provost. I joked on Twitter that it was one of those European films filled with gratuitous nudity, gorgeous cinematography and no plot whatsoever. A friend from graduate school promptly reminded me via Twitter that those were exactly the kinds of films I used to love (and would make her watch ad nauseam with me). I do still love them! It's kind of funny though because now that I'm a writer (or trying to become a writer or whatever) I wonder how one pitches that kind of thing…
Seriously, I really enjoyed The Invader – about an African immigrant trying to create a new life for himself in Belgium, and meeting women, and having fantasies (I think) and getting into fights with men who were trying to manipulate him (the outcomes of which may or may not have been fantasies), etc. Beautifully shot, which I guess makes sense since Provost is a visual artist. And the actor playing the main character, Issaka Sawadogo, is absolutely captivating.
Anyway, Palm Springs itself was really lovely – it was the first time I've actually been there, though I've driven by many many times on Interstate 10. Here are some photos (it was a bit overcast, so they didn't come out all that well):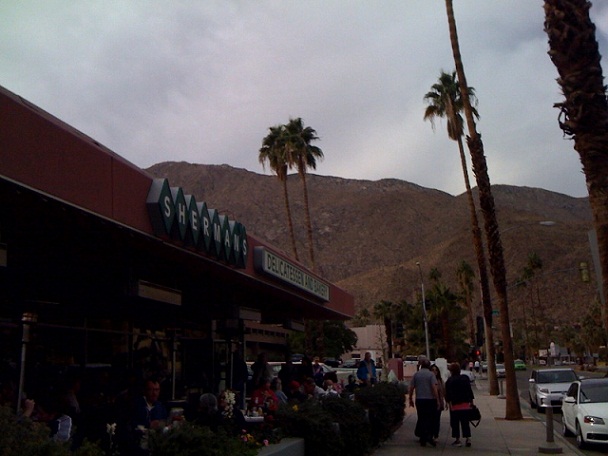 A very popular diner called Sherman's near the main theater and festival center.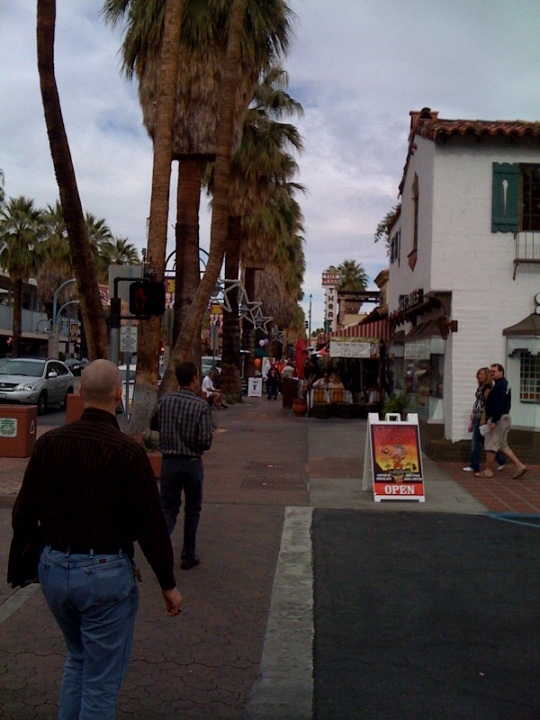 The main street – Palm Canyon Drive.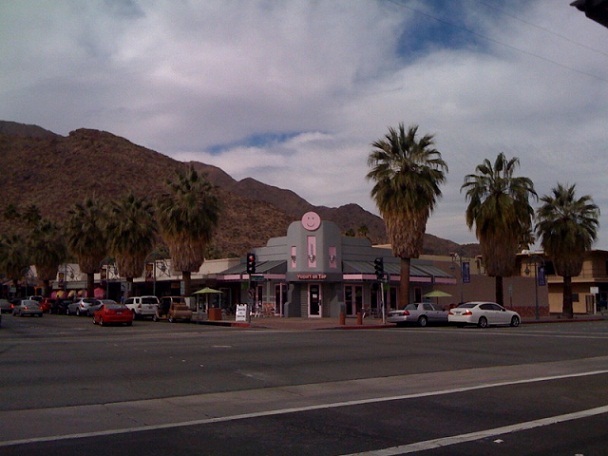 I was very attracted to this cute little smiley face atop a yogurt restaurant.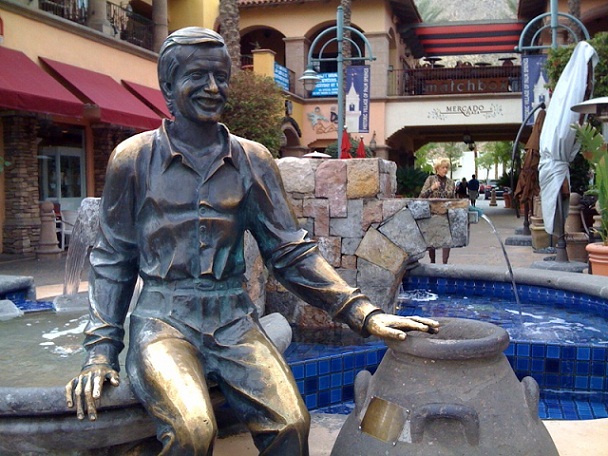 Sonny Bono was the major of Palm Springs. Here is a statue of him on Palm Canyon Drive.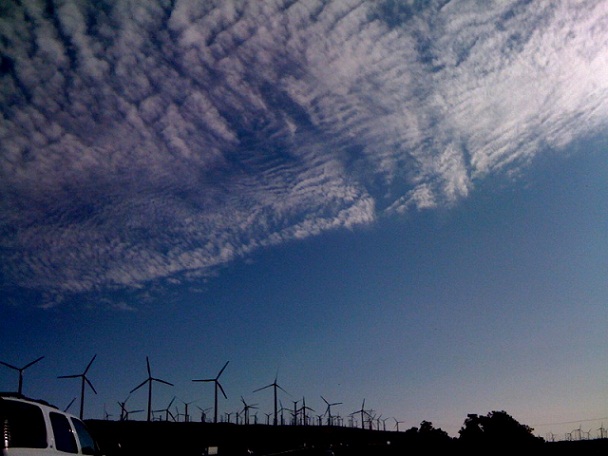 You can tell you're getting close to Palm Springs when driving on I-10 because you begin to see these modern windmills.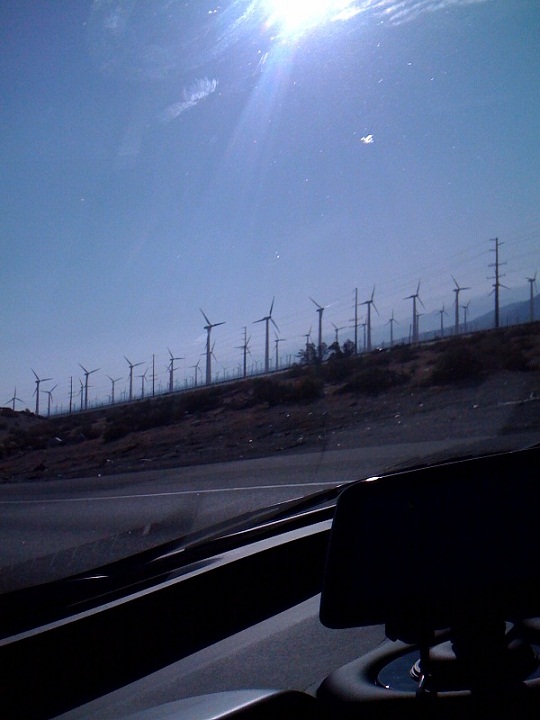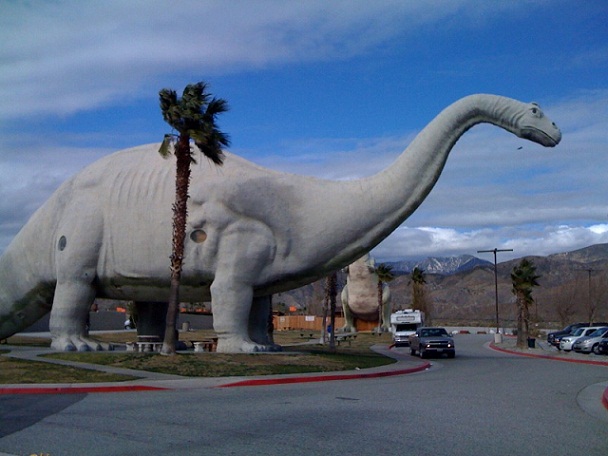 On my way back to L.A., I couldn't help stopping at Cabazon, a town just west of Palm Springs that boasts the largest dinosaur replicas in the world, designed by Knotts Berry Farm sculptor Claude Bell. I remember Dinny, the apotosaurus above, so fondly as a child. We took many vacations to L.A., Anaheim, or San Diego, and on the drive over from Phoenix, I'd always be on the lookout for him. Whenever I saw him, I knew we were almost there.
Inside Dinny's belly there's a little gift shop.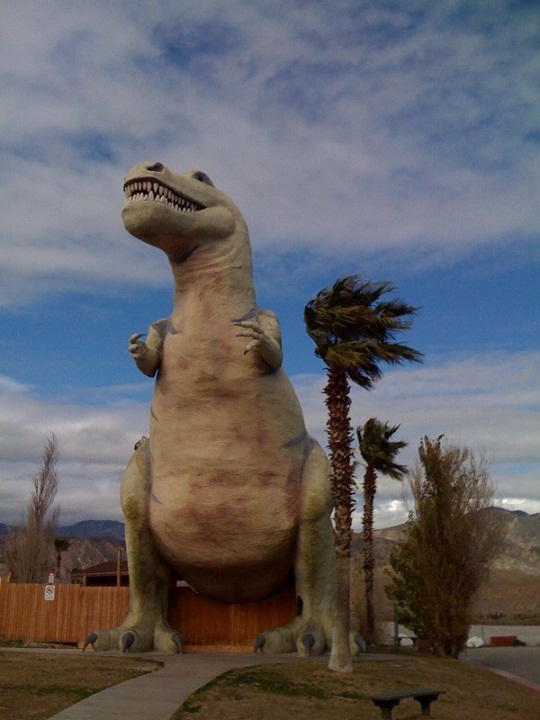 Mr. Rex was built years later, so I don't remember him. I think he might have scared the wits out of me as a child though.
When I tweeted photos of the dinosaurs, a friend told me they were featured in the movie PeeWee's Big Adventure, which I haven't seen.
There's also a creationist museum off to Mr. Rex's side, which I didn't have time to visit. A strand of creationism postulates that dinosaurs co-existed with humans.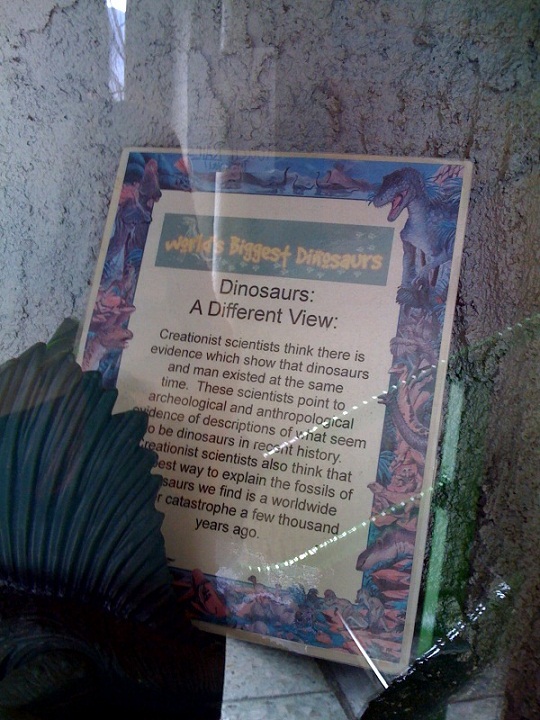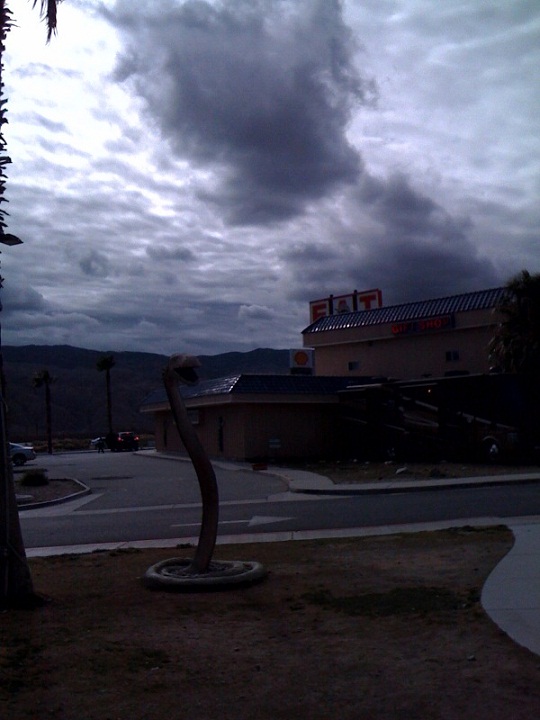 And there's a little place to eat in front of Dinny. Ominous-looking clouds, huh? Unbelievably, I didn't hit any rainstorms on the way back to L.A.