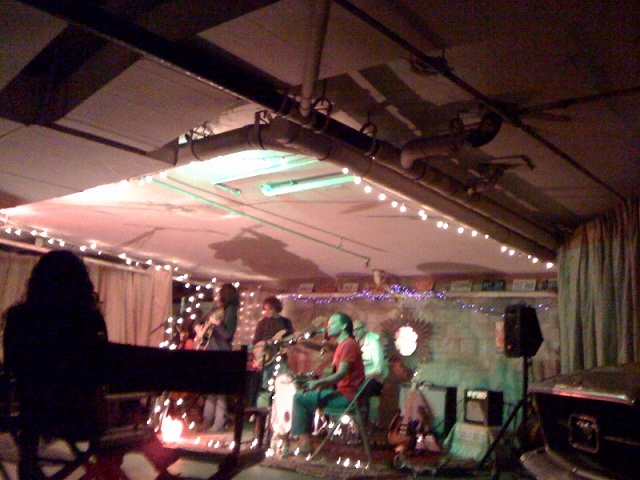 I had a cool L.A. experience last night that actually felt rather New York-ish. I drove out to Santa Monica to see a band called We Are The West perform in a parking garage below an office building on 7th Street and Santa Monica Boulevard. Above is a photo of one of the two warm-up bands, Zenda Marie, who were also really good and whose lead singer was a charming guy who once lived in N.Y as well (I'm finding a lot of New York transplants here). With the candles, cozy seating, and decorations (including a Mustang, whose front bumper you can kind of see in the lower right corner of the photo), it was a pretty cool venue. Felt very underground.
We Are The West is a two-man band – Brett Hool and John Kibler – whose music I find very poetic, which makes sense since Hool was in Columbia's MFA program where he focused on poetry. (I know him through a New York artist friend, and he invited me to the event via Facebook). They seem to have a very loyal following and have played in upstate New York and the Netherlands as well. Below are a couple of videos, the first shot in that same Santa Monica garage a few months ago, and the second in the Netherlands.
New Haven by We Are The West from kristopher Kasper on Vimeo.