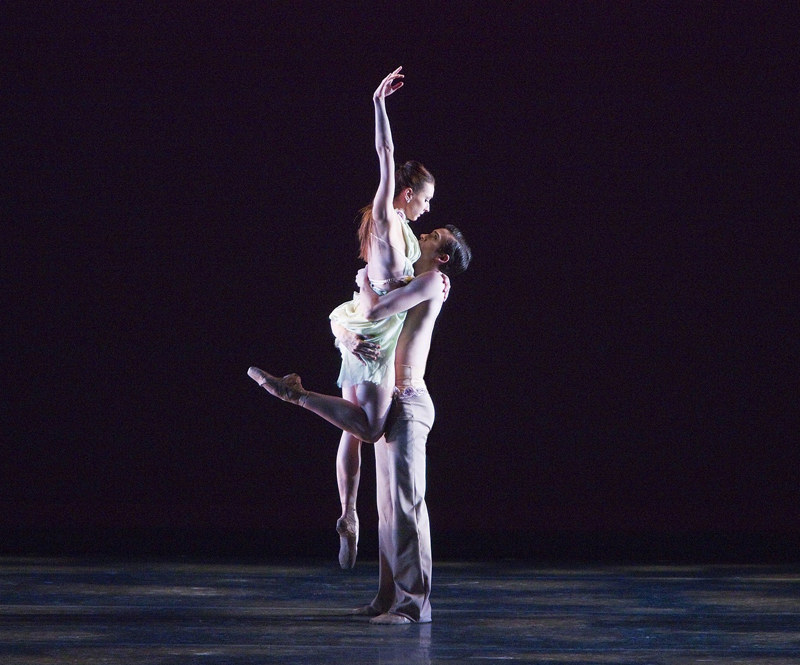 Last weekend my friend Christopher McDaniel (a fabulous dancer with Los Angeles Ballet!) invited me to Santa Monica to see the company's "Next Wave L.A." program. There were four pieces by four contemporary choreographers – including two who regularly choreograph for So You Think You Can Dance. I really enjoyed the whole program. I think contemporary looks very good on this company.
The first ballet was Colony, by Kitty McNamee. McNamee is the artistic director of Hysterica Dance Company, a Los Angeles-based company. She's choreographed for Julianne Hough, Margaret Cho, Vanessa Williams, Anna Netrebko, and the women of The L Word among others. All of the ballets were on pointe, which happily surprised me, since much of contemporary ballet seems to eschew toe shoes. But other than that, Colony, about a group of men and women who seemed at times at war, at times at peace with each other, bore little resemblance to ballet, instead seeming more modern, with sharp, staccato movements and angular lines. The women wore white, flowing gowns and I found it interesting how the lyricism of the clothing and the women's free flowing long hair were sometimes at odds with some of the sharp movements.
The second piece was called Duets in the Act of… and was by Sonya Tayeh of SYTYCD. This one was my favorite overall, and the photos posted here (courtesy of Los Angeles Ballet) are from that dance.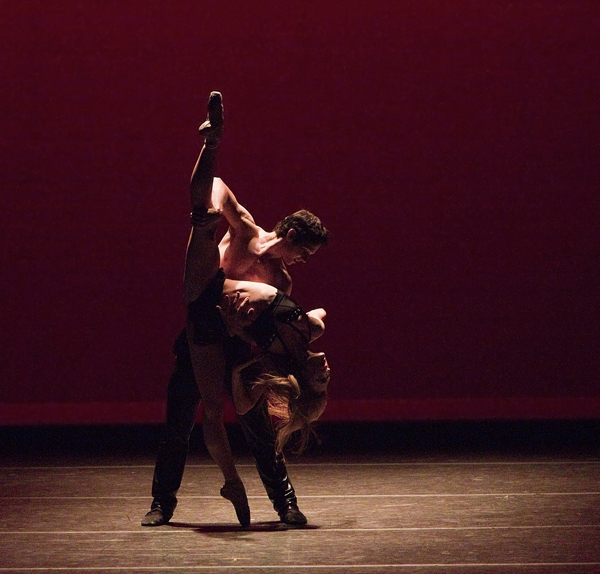 There were four duets: "Cold Desperation, "Artificial Seduction," "Fleeting Nostalgia," and "False Ego." Each was lit differently (by Ben Pilat) which helped contribute to the changing moods and tones of the relationships. "Artificial Seduction," my fave, was replete with lots of snaky, sinuous, seductive moves. I also liked "Fleeting Nostalgia," where we saw some of Tayeh's more signature shapes that manage to be simultaneously sad and funny, ethereal but human, like two dancers doing backbends over each other, then walking that way, a bit crab-like. Tayeh is always so original and clever, and intense.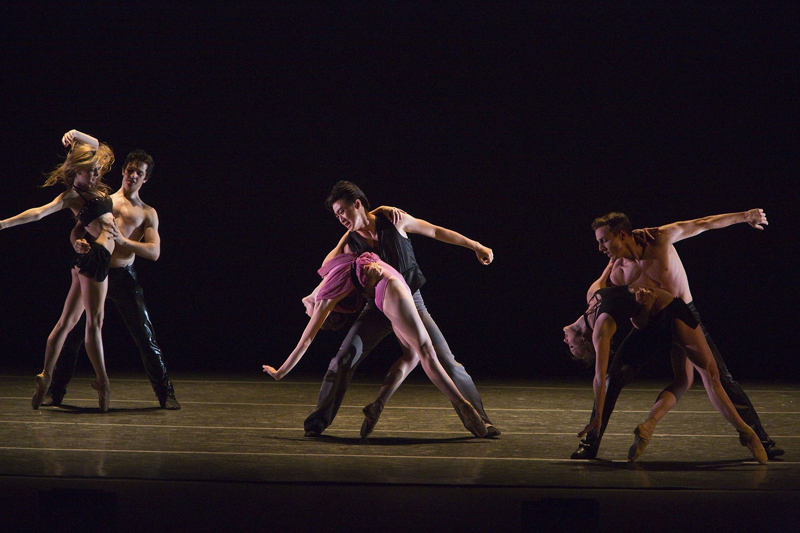 Third on was Sirens, by Josie Walsh, a former dancer with the Joffrey and the Zurich Ballet, who has choreographed for a lot of TV and opera, particularly rock operas. The sires here are those Odysseus encounters, except the men are dressed more modern, in garb that reminded me of cowboys. This piece was really beautiful, with some lovely music by Paul Rivera Jr. that gave it a bit of a new age-y feel.
Last was Be Still by Stacey Tookey, another SYTYCD alum. Hers was a study on time, on the ways it can pass so quickly, how we sometimes want it to, and sometimes long for it just to stand still. There were many literal evocations of time here – like two men swinging a ballerina's leg back and forth, like a metronome – and many more metaphorical. There would be "fast" dancing – like a group of men doing high corkscrew jumps, long jetes – interspersed with slower, calmer movement, like women standing in place doing port de bras, or very slow-moving floor work.
A Facebook friend, Leslie, asked me if I knew of any videos, particularly of Tayeh's work with the company. I found a few of the company's Next Wave rep on YouTube. Here's one of the season overview:
And here's one of Tayeh rehearsing with the dancers:
You can find more on YouTube on LA Ballet's channel, here.