Thursday night marked the first of three "sneak peeks" of Benjamin Millepied's new L.A. Dance Project at MOCA – the Museum of Contemporary Art – in downtown Los Angeles. Millepied danced with Amanda Wells in four different galleries in the museum. At times they were accompanied by a live violinist, who played classical music, and at times, they danced to a voice recording by L.A.-based artist Mark Bradford, who was also there. Natalie Portman was not, or at least I didn't see her.
Here are some of my photos.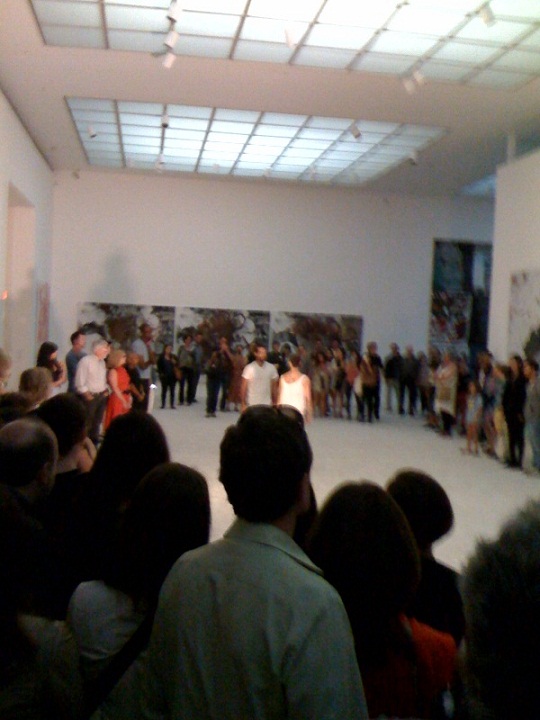 The performance, called FRAMEWORK, lasted about half an hour, and was pretty good. The biggest problem was that it was hugely crowded, as probably anticipated, and it was very hard to see much, at least in the first three galleries. Even if you arrived early and got a good viewing spot in the first gallery, the second the dancers darted to the second room, you were going to now be behind a mass of people. Some people gave up and left. Others ended up turning their cell phone cameras on, and, holding their cell phones above the mass of heads in front of them, watched through the viewer. It was really the only way to see. There were early warnings from security guards that no pictures were to be taken, but either they meant no photos of the art on the walls, or else they realized that was the only way people could see, because soon the warnings stopped.
From what I could see in the first three galleries, the dance was lyrical, balletic, classical. The violinist played classical. But then came Bradford's voice-over. Bradford is an African-American artist, his work mainly abstract. I don't remember the soundtrack word for word, but I remember Bradford mentioning that race played a role in his art and that he strove to push boundaries. At that point, Millepied and Wells, two white dancers, were dancing fairly classical western dance to classical western music. So, I found that to be an interesting juxtaposition.
I, and I think everyone around me, enjoyed the performance much better in the fourth gallery, where Millepied broke the fourth wall and began dancing in and around and among the crowd, dancing with us in a way. At this point in Bradford's voice-over, he spoke about how difficult it sometimes was for him to manipulate a crowd, partly because of his height – he's a tall, tall man.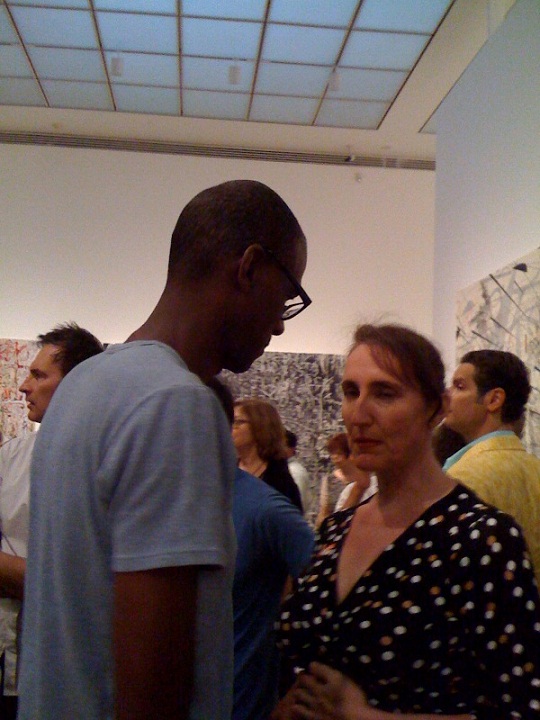 Here he is after the performance talking to an audience member.
Millepied was most playful here, and he interacted with the crowd very well, weaving around people, making eye contact, smiling, not touching. People were giggling and having fun with it.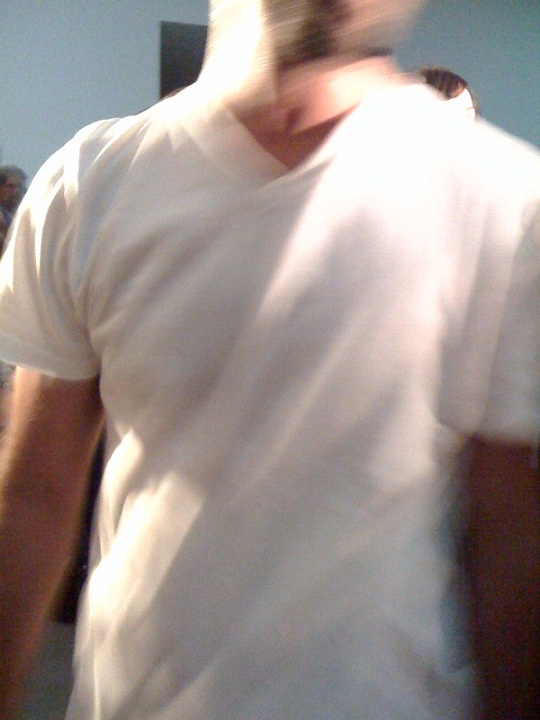 Here's an up-close photo I got of his torso.
Back in the middle of the floor, he did a few corkscrew jumps and multiple pirouettes and the audience was very impressed. I think he is a mini-star here!
He also interacted with Bradford's visual art. He stood in front of a large-scale abstract painting and, as Bradford's recorded voice said something about how he studied a scene before painting it, Millepied stood squarely in front of the painting and contemplated it.
It's a short program, definitely worth seeing. It shows on two other Thursdays, which are the nights when the museum is open free of charge: August 2nd, and August 9th. Go here for details.
In September the company has its much anticipated first regular performance in the Walt Disney Music Center hall.