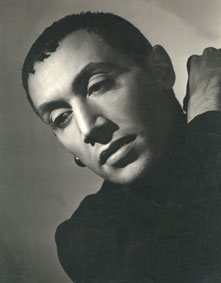 On Monday September 10th Turner Classic Movies will devote an evening to the movies of Hollywood jazz choreographer Jack Cole. The presentation will be hosted by my friend, Los Angeles Times dance critic and founder of the blog, Arts Meme, Debra Levine, along with TCM's Robert Osborne.
Cole was born in New Jersey and actually began his career as a Denishawn dancer. He was an early dancer at Jacob's Pillow. He choreographed for Broadway (Man of La Mancha, Something For the Boys, etc.) before moving to Los Angeles to choreograph for film. He worked on many huge films, including Gentlemen Prefer Blondes, Some Like It Hot, On the Riviera, the list goes on. Yet, strangely, many have never heard of him. Why?
Here he is with Marilyn Monroe: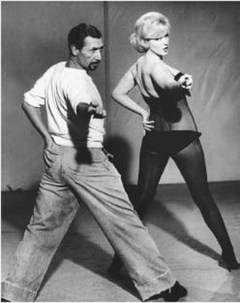 So, on September 10th, beginning at 8 pm ET (5 PT), TCM will show four Cole-choreographed films: Tonight and Every Night (1945, starring Rita Hayworth), On the Riviera (1951, starring dancer Gwen Verdon, later famous for being Bob Fosse's main muse), Gentlemen Prefer Blondes (1952, starring Monroe and Jane Russell), and Les Girls (1957, starring Gene Kelly).
I've heard Debra give several talks about Cole, the latest of which occurred at UCLA's Hammer Museum a few weeks ago when the museum showed a rather hilarious film called The I Don't Care Girl starring Mitzi Gaynor. Several dance sequences, which I found brilliant, were choreographed by Cole. Gaynor was there, looking gorgeous I might add – I have no idea how old she is now – and she entertained the crowd with her tales of working with Cole, of learning to dance, and of her film career, with loads of dirty jokes thrown in. She can be quite lewd! But sweetly so.
Anyway, Debra is hugely knowledgeable on Cole. You'll learn so much listening to her talk about him on TCM. It's tragic he's so little remembered now when he worked on such classic films. I hope she writes a biography of him someday. Please tune in!
Here's a sneak preview of Debra speaking with Robert Osborne:
And here's a clip from The I Don't Care Girl:
Go here for more information on the exact TCM schedule, and go here and here for more info on Cole.