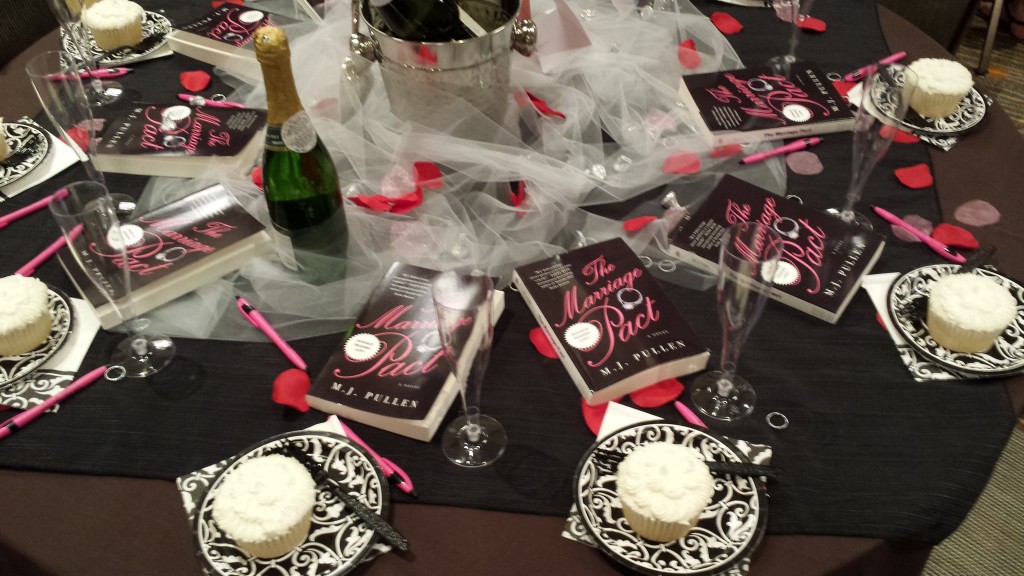 I just got back from the Romantic Times Booklovers Convention in Dallas and had a spectacular time! It was my first RT, and I've decided this is one I'll always try to go to every year, no matter where it's held. I saw many of my favorite authors – Emma Chase, Alice Clayton, Sylvia Day, Julie James, and Abbi Glines – to name just a few, and I also met many writers who are new to me – Sonali Dev, Tara Pammi, Delores Fossen, Michelle Madow, and M.J. Pullen – whose novels I snagged copies of and can't wait to read! I came back with far too many books to count, most of them free. There were parties held by publishers and literary agencies, panel discussions on the craft and business of romance writing, a big awards ceremony, and a giant book fair. And then there were more parties 😀 The photo above is from one of the many said parties, where the author featured at my table – M.J. Pullen- served delicious cupcakes and champagne!
If you're a serious romance addict, I can't recommend this convention highly enough. Next year's is held in Las Vegas!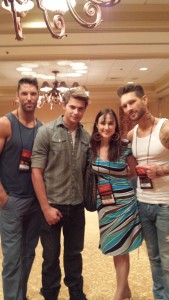 Speaking of Vegas, I will be signing copies of my Fever series at another conference, the Romance Novel Convention, at Harrah's Resort and Casino on June 24-28. The book fair I'll be signing at is held on that Saturday, the 27th. This is a super fun convention with lots of parties and workshops, but also focuses heavily on the male cover models, or casanovas. They have things like a casanova bingo (where the models strip!), "pin the heart on the hunk" contests, and a casanova cabaret where the audience votes on the best cover model. There's lots of entertainment, basically! This year they also have a special night out in Vegas, where you can see one of the shows on the Strip.
The photo on the left is of me with last year's casanovas. The guy on the right, Weston, was the overall winner. See more of him here.
I also have a couple of upcoming readings. I'll be reading from the first book in the Fever series at Lady Jane's Salon in Anaheim, CA, on Monday, July 13th. And, later that week, on Thursday, July 16th, I will be one of the featured authors at Book'd in Burbank. I'm really excited about all of these events! I hope to meet you at one of them. I know it's still early, so I will post many reminders 🙂