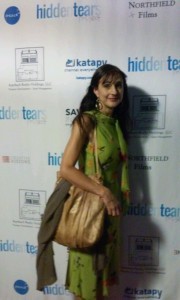 Last night, a filmmaker friend and I attended a launch party and fundraiser for The Hidden Tears Project, which is a group comprised of filmmakers, producers, and actors working to create a documentary series about the world of sex trafficking. From what I learned, there are to be a dozen or so episodes and it will likely air on a cable network. So, I'm thinking it will be like HBO's Vice.
There were tons of people there. It was held at the Sofitel Hotel, L.A., which is gorgeous. I'd never been inside before though I've passed by it often. There were excellent musicians – including an amazing violinist, entertaining speakers, and really beautiful artwork for auction and sale.
For people who've read my Fever series – possible SPOILER ALERT – you know that one of the characters has a backstory involving this issue. It's always been something I've cared about greatly. So, I really hope they raised a lot of money and the series will be made!
For more information, visit their facebook page or website.