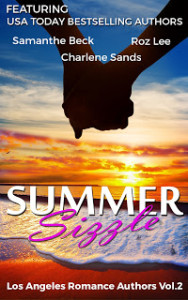 Hey everyone,
I am super honored to have a short story included in the new anthology, SUMMER SIZZLE, put out by the Los Angeles Romance Authors chapter of RWA. My story is called "Lead Me" and is set in a ballroom dance studio. Of course!
There are lots of great romance authors in the collection as well, including best-sellers Samanthe Beck, Charlene Sands, Lynne Marshall and Roz Lee, and some newer but really good authors like Mia Hopkins, Claire Davon, Ophelia Bell, Beverly Diehl, Kara Winters, Karen Ehrenberg, Shelby Ellis, etc. etc. etc. There are all subgenres of romance. There's a story involving a dog  — and I am always a sucker for stories with animals 😀
For more info, a nice interview with the collection's curator,  and for the chance to win a copy, go here!
Save