I started a new Tumblr blog focused on books about animals. It's called "To A Mouse: An Animal Literature Blog." I had been writing a Tumblr called "Literary Aperitif," in which I paired a cocktail with a book. But I started to get migraines every time I went near alcohol 🙁 So I couldn't really keep that up. But I love animals, and I love books, and I am finding myself reading so many books involving animals – both nonfiction about animals, and fiction featuring animals as main characters. And I am trying to write a mystery series starring animal sleuths (along with a human investigator :)). (I am still writing the dance romances though!) So I figured I'd change my blog to center on where my passions lie.
I also realized how much I've missed blogging since I moved out of New York and stopped writing "Swan Lake Samba Girl." Novels take me so long to write, and I don't like to be away from readers for so long 🙂
Here is the link to To a Mouse. And I've copied and pasted my first post below.
Lily and the Octopus by Steven Rowley is a fitting starting book for my new blog! I found this book at my favorite local mystery bookstore, the Poisoned Pen in Scottsdale, AZ, even though it's not a mystery. I'm a sucker for anything with a dog on the cover – and anything blurbed by Garth Stein:) So, I snatched it. And so glad I did. It became one of my favorite books of last year … well, one of my favorite books ever, actually.
It's kind of hard to describe – mostly realistic with a slight bit of fantasy thrown in. Ted is a gay man living in Los Angeles, approaching middle age, his writing career is not going so well, he's broken up with a long-term boyfriend, he's not tremendously close to family. And then, his dog, Lily, his best friend in the world, becomes sick with cancer – the "octopus" which he finds one evening on her head, with its tentacles creeping down over her temples, taking root. It's a rather fitting image of cancer. The book is basically about his dealing with this horrible impending loss.
I found myself relating to so much of Ted's life. I'm not a gay man, but I am a writer and I lived in LA and I know too well how it feels to be stuck in your writing career, to not be in a relationship, and to have your pets be a huge part of your world, even if it's largely a world of your own human-centric creation. Ted and Lily have movie nights, pizza nights, they have lively discussions of actors and actresses. My dog and I have different kinds of discussions – we talk about passing scenery and prior travels when we're on road trips, people when we're at outdoor cafes, books and news and Facebook friend updates when we're lazing on the living room couch. She goes practically everywhere with me, she sits at my side when I read or write, we eat together, sleep together, we experience the world together. I can't imagine losing her. It physically hurts to think about it. Everyone can relate to this book because everyone has someone they share their life with, whom they can't imagine living without.
The book is about love, the deepest friendship imaginable, about surviving grief, and about surviving death. Ted is an agnostic throughout most of the book, but at the end, he comes to believe that Lily will experience the afterlife. He tells her to look for her mother up in heaven; she will take care of her. And, later, when he embarks on a new (human) relationship, he tells the new man the story of Lily, making Lily very happy. So, Lily will survive, as we all will, through story, though art. This book is ultimately about the power of literature, which, as the owner of Gatsby Books in Long Beach, CA, once said, connects us all through time and place.
Rowley recently toured to promote the paperback. So fabulous to meet him at Changing Hands in Phoenix!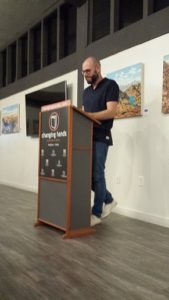 Save