Tonight I'm seeing Swan Lake performed by these two above — my favorite Marcelo Gomes and the ballerina EVERYONE'S talking about, Diana Vishneva. I'm so excited — my first time seeing them dance together 🙂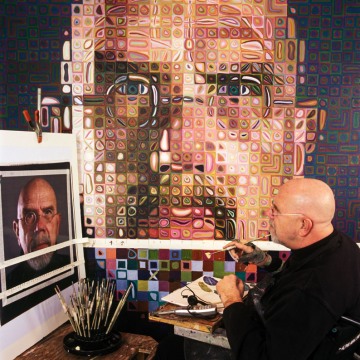 [Image above taken from Walker Gallery] Also, I'm so excited about this. During their upcoming Fall season, American Ballet Theater will be premiering a brand new ballet by Finnish choreographer Jorma Elo set to Philip Glass's piece "A Musical Portrait of Chuck Close," with set designs by that oh so iconic artist. I just love Chuck Close and I've loved everything I've seen so far by Elo, and of course Philip Glass is Philip Glass — this is going to be a HUGE collaboration between three spectacular artists from three different fields and is one I just can't wait to see!
They've also got a bunch of other very fabulous stuff on the Fall agenda, including another premiere choreographed by NYCBallet dancer Benjamin Millepied, an ABT premiere of another Balanchine I haven't seen, and revivals of some of my favorites, including Tharp's Sinatra Suite 🙂 Robbins's Fancy Free 🙂 Stanton Welch's Clear and Lar Lubovitch's Meadow. Go here to see it all.