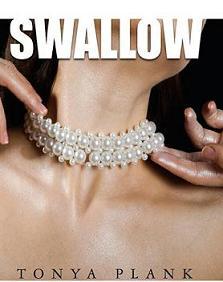 Gold Medal, 2010 Living Now Book Awards
Gold Medal, 2010 Independent Publisher Awards
Finalist, ForeWord Book of the Year Awards
Finalist, National Indie Excellence Awards
Amazon Best Seller
"Swallow … hooks you from the opening pages with its breathless urgency and captures what it's like to live in NY now, with money worries and ambition and myriad obligations breathing down your neck, and none of it written in cutesy chick-lit'ry. So give it a try." —Vanity Fair Online, James Wolcott, January 15, 2010

"Plank has a knack for combining philosophical opinions, hard-luck family stories, discount shopping triumphs, and gently slapstick humor into a book that makes readers laugh, think, and swallow hard in sympathy." —ForeWord


"Keep an eye on Plank." –Eva Yaa Asantewaa, arts journalist

"Highly recommended for native New Yorkers, fellow transplants, and anyone curious about what it's like to carve out a life in NYC." –Michael Northrop, author of Gentlemen and Trapped

---
Sophie Hegel is a shy New York lawyer from small-town Florence Arizona, known not for the Renaissance but for housing a large prison. She's just graduated from Yale Law School and landed her first job when, one evening she feels a fist-like ball form at the base of her throat. Diagnosed with the psychological condition Globus Sensate, this "fist-ball" wreaks havoc on her life, causing difficulty eating, speaking, and eventually breathing.
With a cast of characters that includes a pornographer father, a sister with a knack for getting knocked up by denizens of the town pen, a tough-talking fashion maven, a painter of male nudes, an eccentric Sing Sing-residing client and a bevy of privileged Manhattan attorneys and judges, Swallow is a dark comedy about the distance that can separate fathers and daughters, and about a young woman's struggle to survive in a world of pedigreed professionals for which she has no preparation.
Kindle edition currently only $2.99
Also available at:
Barnes and Noble (paperback)
Barnes and Noble.com (Nook store)
Smashwords (e-book, all formats)
Kobo
Powell's Books
Books a Million
Apple iBookstore
Chapter 1 Excerpt
It was like something out of a Freudian case study — the result of a repressed memory of choking on Herr so and so's semen at six months of age or something insane. But as a lawyer, I'd always operated in the realm of logic; never cared much for the repressed memory thing, or for the idea that everything is sexual. Which is why I was so nervous about seeing a shrink. They weren't all Freudians, I tried to reassure myself — it's only the psychoanalysts, right? It didn't matter anyway; I was rather desperate at that point. Just focus on the "positive," I told myself: with a food neurosis and a psychologist, in your measly nine months here, you're on your way to becoming the consummate New York woman, Sophie Hegel.
It was early 2001. The World Trade towers were still standing, the economy was crazy strong — I'd never seen so much exorbitant spending in my life as I had in my first few months in New York — and I was still in a rather continuous state of nervous excitement about: 1) having managed to graduate from Yale Law the prior May; 2) having managed to win from said school a public interest fellowship with the NYC Public Defender's Office as an appeals attorney representing indigent defendants; 3) taking and actually passing the New York State Bar Exam; and 4) moving to the city and into the unsettlingly posh Upper-East-Side apartment of my boyfriend, Stephen, whom I'd met in law school.
Anyway, two weeks after it emerged — "it" being the ball, as I'd call it, or the fist-ball, FB for short — I stole into the office library and surreptitiously filched the medical insurance directory, chose a random name under "mental," and ended up with Dr. Ames.
Dr. Ames seemed decent. He didn't mention semen or repressed memories, although he did elicit a clarification when I'd told him I was having problems swallowing: "Food, you mean?" He was fortyish, a bit pudgy, with a round cherubic face that emanated contentment like a white beluga whale. And he had an eye like Sartre's — I always forget the exact term — lazy eye, deviating eye? I resigned to call it his "Sartre eye." At first it threw me a bit because it didn't seem like he was looking directly at me when he talked. Then, for that very reason, it began to make me feel more at ease. Like he wasn't staring me down or sizing me up.
I told him about FB. It was a seemingly normal Saturday evening. Stephen had surprised me with a phone call from work. A senior litigation associate trying to make partner at one of the biggest firms in the city, the man was always at the office, and reminding me ad nauseam when I objected to full weekend hours, that they didn't pay him half a million a year for nine to five. I wondered why he couldn't ask them for a quarter of a million for a normal life, but, I don't know, I guess I was young and naive and unschooled in the ways of New York meta-firms at that point. Anyway, he wanted to take me out for a nice dinner — nothing special; he was just in the mood for some "bistro" food, meaning his favorite, Cafe des Artistes, a capital-lettered entry in the Zagat's guide, whose poshness sometimes unnerved me but that did have splendid food. He told me to wear a dress with a wide neckline or strapless; said it would nicely complement a "tiny little something" he just picked up for me at — Tiffany's of all places.
I knew something was up. Stephen could have moments of ostentatiousness, but Tiffany's was definitely out of the ordinary. So there I was, a tangle of nerves in a pink discount slipdress I'd bought at a Woodbury Commons outlet, sitting at our usual candle-lit table below a mural of a blonde Tarzan beating his chest for a naked blushing nymph, opposite my ocean-eyed, urbanely bald, chiseled-jawed former "judge."
I'd met Stephen a couple years earlier, in law school. We weren't students together; he was 37, 11 years older than I. At the end of my first year, I was required to give this horrendously nerve-wracking oral argument for my Appellate Advocacy class. I was a pretty hysterical wreck throughout my entire first year, throughout my entire time, at Yale. They wanted people other than the familiar profs on the mock judicial panels, so Stephen, who'd graduated years earlier, returned to his alma mater and sat as a "judge" on my "court." Well, my trembling voice and jittery stance made it quite clear I was vomitously nervous throughout the entire thing. It didn't help that I was assigned the conservative side, and had to argue that protestors against the NYPD's treatment of African Americans didn't have a Constitutional right to hold a candlelight vigil for a slain innocent suspect in a public park after dusk. Of course the whole panel was dead set against me. Not that I could blame them; I was pretty dead set against myself as well. But the "presiding judge," one of our Family Law professors, didn't have to heckle me so!
Afterward, Stephen went out of his way to approach me in the hall. Told me not to worry; I was simply on the unpopular side. But my analysis of the case law was quite astute, my marshaling of the facts cogent, my presentation very well-articulated; I just needed a little more confidence, and, would I like to go out for a drink so he could give me some pointers?
I found him brilliant. He had a spectacular education — Harvard undergrad, Princeton grad school, and Yale law. He talked on and on about John Rawls' theory of justice, agreeing with the philosopher that if the makers of the social contract were hidden behind a veil of ignorance regarding their position in society, things would be much more egalitarian. And then he went on to deconstruct historian Joan Scott's feminist deconstruction of the "equality versus difference" binarism, before launching into a comparative analysis of Catherine MacKinnon versus Drucilla Cornell on pornography. I'd just never met a man like that before who spent so much time ruminating, ideating, analyzing — especially about all of the same issues that had so intrigued me. Suffice it to say, not many of the guys back home were very intellectual. I'd learned so much in that afternoon just listening to him. And he kept telling me how intelligent I was and how extraordinary that Yale accepted me, and how I really owed it to myself to be so much more self-confident. He made me feel really smart, like no one, especially a man, had. I was lonely and didn't feel I fit in very well at Yale. My closest friend and mentor on the gender and law journal, Samia, being older, was gone by my third year. Stephen became a big part of my life.
Back to dinner: after the waitress served us our Frangelicos, Stephen gave me my "little something" — actually two "little somethings" — the first was a red herring. I lifted the box's velvet lid to find a very pretty strand of pearls. At full length it would dangle nearly to my midriff, but could be doubled to hit just above the breast and probably even tripled into a choker. He knelt next to me, cramped though we were at the Lilliputian table, tripled it around my throat and affixed the clasp. Then he told me to close my eyes, began kissing my neck and breathing lightly into my ear — slightly embarrassing given the crowd, but sweet. No one was paying us any mind anyway. Thought he was just about to start unzipping the silly dress, when I suddenly felt something soft and round and slippery skinned slide into my lap.
"Open your eyes," he whispered.
I looked down to see a small, blood-red, leathery-looking — thing perched between my thighs. I just stared, unsure exactly what it was.
"Open it, honey," Stephen laughed.
Oh of course; it was a case… and oh, in the shape of a heart, I now saw. I turned it around, fingered the crack, pried it apart, and saw the ring.
"Ms. Hegel, my beautiful, brilliant intellectual heiress," he whispered in my ear. "Marry me."
The intellectual heiress thing was a joke of course. I'm no relation to the philosopher. Stephen was being sweet. He didn't know about my dad; knew he was some kind of filmmaker, but didn't know the type of films. I'd told him they were small independents — which wasn't a lie. Stephen had met only Mom at graduation. Dad was filming and Bebe was in labor with — can't remember, one of them. Stephen had found Mom "charmingly bucolic"; said I should be exceedingly proud of myself for having come so far.
The trouble began when we went to discuss the wedding over dessert at Serendipity — my favorite eatery. I could be little girlish at times, which I think was part of my initial appeal to him. I ran to the ladies' room to make sure I didn't look like a raccoon from tearing up in the cab, and when I returned to the table, my usual Chewy Chocolate Marshmallow Mudslide Delight was setting across from Stephen's slice of carrot cake.
I gazed into Stephen's deep blue eyes. "So when and where are we going to have it?" I gushed.
Stephen looked bemused for a moment before flashing a devilish grin. "I hadn't really thought about it yet, Sophie," he snickered, boyish dimples spreading across his virile face. "Let's be wholly unconventional."
"Well, I don't know how unconventional this is," I giggled, "but I was thinking Central Park, since, you know, I'm a, quote unquote, real New Yorker now! They rent out the zoo for private affairs."
"Private affairs' — I think that means private children's parties, honey," he laughed.
"Not always. Francie's office had their holiday party there. Come on, we can have the altar by the polar bear. He's on Prozac; he needs some festivities," I semi-joked. "And afterward we could take a horse-drawn carriage to the Plaza?"
"Yes, sweetie, I can see the sea lions barking their mating call to the violins as you walk down the aisle," he said with a smirk, before going on about thinking outside of New York: Tad had his at a seaside resort near home in Hyannis, but Stephen's not his brother, hence, we'd be having ours nowhere remotely near the Cape; we could do an elegant Caribbean island or, how about a beautiful European town like Bruges or Krakow, or maybe somewhere warm – the Venezuelan Riviera… I had to ask myself what in the world I thinking suggesting the Park.
Stephen's been nearly everywhere the planet over. Family vacations consisted of world travel and deep sea dives. He'd been to the Sistine Chapel, the Taj Mahal, and the Great Wall, all before his tenth birthday. And they went on dives all over the world: the South Pacific, French Polynesia, even the Great Barrier Reef. That worldliness shone through every time I gazed into his eyes, which seemed to have taken on the color of the sea itself. Not that I knew which sea; I didn't exactly share his background. My childhood travels consisted of a couple short trips from Arizona all the way to Los Angeles to visit my dad, and pastimes a few pre-divorce ballet classes then free local girls' softball. Yes, I should leave the wedding venue to Stephen, I was thinking, when he interrupted.
"Honey?" he said, sounding strangely far away.
I looked up at him.
"You're going to be wearing that in a minute." He pointed to the melted mess that had become my sundae.
Oh, my cup overfloweth. I scooped up as much soupy, marshmallow-covered ice cream as would fit onto my oversized spoon and topped it onto a chunk of brownie. Just as the first bite neared the back of my mouth, I peered into Stephen's eyes. I began to feel a lump form in the base of my throat. The chewed food was so close to my pharynx that my swallowing reflex pushed it on down, where it met the lump and merged into a larger ball. The lump-ball was about the size of a fist; it was like a fist had grabbed the food. I couldn't move either up or down. Stephen continued jabbering blithely about — I think — sun, water, Cunard…
With the food stuck in this fist-ball, I began to panic. I tried to calm down, breathe through my nose. But either the ball or the panic exacerbated the blockage and I couldn't get any air through.
"Or we could be really venturesome…"
Good, I thought, the horror in my eyes wasn't apparent to Stephen. I knew this was lunacy and all I had to do was talk myself out of it. I knew there was really nothing there. I knew that because I'd felt this ball before, three times to be exact. I'd willed it away then; I was sure I could do the same now. I simply needed to force myself to be calm. It's okay, it's okay, I repeated in my head while Stephen talked.
It didn't seem to be working.
Stephen's mouth was busy, but in my panic I couldn't hear what was coming out. If I focused on what he was saying, I might be able to take my mind off the ball and it'd disappear. So focus I did. I picked up on something about removing something from something else — could have been wedding from family, honeymoon from country, or multi-state trademark violation lawsuits from state to federal court — he'd been working like a loon on those damn briefs. But listening required looking into his eyes — his omniscient, uber-sophisticated ocean blues — his most intense physical feature, and the one that originally most drew me to him. Not only did they emanate wisdom and savoir-vivre born of good-breeding, they were just so arresting, focused, trenchant, and above all penetrating. Very penetrating. When they stopped and fixed on me, sometimes I got all tingly, sometimes a bit queasy, usually a combination of the two. And they were capable of the most amazing peripheral vision — always catching a subtle expression on my face or the way I'd be slouching, even when they didn't seem to be concentrated at all in my direction. Looking at him looking at me, expecting me to listen and converse like a normal, refined, educated adult, and not a nutter afflicted by some bizarre problem emanating from a screwed-up childhood experience, just made me all the more aware of the fist-ball.
The second Stephen's eyes shifted from me to the waitress to motion her for more coffee, I opened my mouth widely and gasped in as much air as I could, so as to force the ball down with air. It didn't work; the air still couldn't get around him. Don't know why I was thinking of him in the male gender but I was. I tried coughing him down, but still nothing. I was starting to feel light-headed.
© Swallow is the copyrighted material of Tonya Plank.