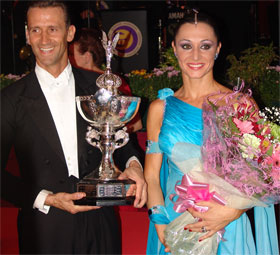 So, predictably, last night Mirko Gozzoli and Alessia Betti from Italy took the final Blackpool championship, the Standard (above photo from BlackpoolDanceFestival.net). Our Arunas Bizokas and Katusha Demidova came in second, Britain's Jonathan Wilkins and Hazel Newberry took third, the US's Victor Fung and Anna Mikhed fourth (good placement for them; they're moving up every year!), fifth were Italy's Roberto Villa and Morena Colagreco, sixth Domenico Soale and Gioia Cerasole also from Italy, and seventh Britain's Warren and Kristi Boyce.
Eleanor says:
"Yesterday was fantastic — went to the Chrisanne party which was packed as usual — then the main highlight was the comp. Last year I was so tired I don't remember much but this time I really enjoyed it. Top three was pretty predictable but I think I prefer Domenico to Roberto and would loved to have seen Paolo (Bosco) and Silvia (Pitton, from Italy) in the final — instead they made only the Semi in a few dances. Also managed to come away with a massive poster of Katusha! Can't believe I'm on my way home now. 🙁 "
I don't follow Standard as closely as Latin and only really know the top four couples, all of which I like very much. Still disappointed Arunas and Katusha didn't at least get a win in one dance. Those Chrisanne parties are always packed — and sometimes dangerous 🙂
See more results here.