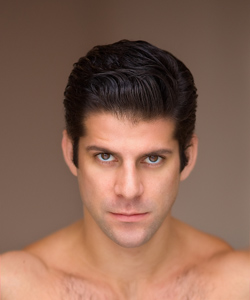 Haha, I don't even think this book has been optioned yet for film! It should be though – it's very cinematic. All throughout reading it, I kept "seeing" Romeo – and always as one of my favorite male dancers who's danced the role. Roberto (top left) is of course the natural choice since he's Italian and the book's set largely in Italy. But I feel he may not have enough of the delicious cockiness in him; Roberto's too nice, at least onstage. Ditto for Cory (top right). Marcelo of course would probably be best … although I don't know if he has acting skills required for a speaking role in a film. He's definitely a good stage dancer/actor.
I'm being goofy. I'm sure they would cast Andrew Garfield or Louis Garrel or someone.
Anyway, Anne Fortier's Juliet, which I recently finished, is a really interesting read, especially for fans of Kenneth MacMillan, and I guess … Shakespeare 🙂
It's part historical fiction, part romance, and part mystery / suspense and it shifts back and forth between the present day and the Siena, Italy of 1340, when the two people Shakespeare based his characters on – Romeo Marescotti and Giulietta Tomolei – actually lived. Of course in Shakespeare's version, the lovers were from Verona, but according to this book, early stories – and there were many tales of Romeo and Juliet; Shakespeare's was only one of many – had all the action happen in Siena.
The novel starts when 24-year-old American Julie Jacobs receives an inheritance after the death of her great aunt Rose, who raised her after her mother and father were suspiciously killed when she was a child. The inheritance is simply a key to a safe deposit box in Siena, which her mother had originally left with the aunt. Julie is told by her aunt's butler and his lawyer that it contains a treasure, which she must go to Italy to find. So she sets off for Siena. There she encounters other, less savory types, who are equally interested in her treasure, and so begins the suspense part of the novel.
Julie soon discovers that at the time her mother died, she'd been researching the history of Romeo and Juliet, or Romeo and Giulietta. Julie's mother's last name was Tolomei, and it turns out Julie is related to the original Giulietta. I don't want to give too much away, but the contemporary part of the story consists of the suspense and romance of finding the treasure – which is related to R&J – as well finding Romeo's descendant.
Julie finds in her mother's belongings in Italy the earliest version of the story of Romeo and Giulietta, and her reading of that accounts for the historical half of the novel, which was the most compelling and poignant to me. It's different from the version we all know through Shakespeare. The warring families are the Tolomeis and the Salimbenis, with the Salimbenis being far more vicious and far more financially powerful. At the beginning of the historical story, the Salimbenis have just raided Giulietta's house and murdered everyone but her. (She was in church at the time.) In a nutshell, Friar Lorenzo is able to sneak Giulietta out to her uncle Tolomei's estate. Romeo, who is a Marescotti – a historically highly respected military family with connections to Charlemagne but who currently has no financial power – is a hopeless playboy. But once he sets eyes on Giulietta's portrait, while he is having his own Marescotti-family portrait done, he is in love.
The artist tells Romeo that Giulietta resides at the Tolomei castle. He goes to a ball there in search of her, finds her (she's a Helen of Troy type and stands far out from the crowd), and follows her into her chamber. She's still traumatized by what's happened to her family and so is immune to his flirting. She does tell him though that he can have anything he wants from her if he brings her the heart (or was it the head?…) of the master of the Salimbeni family, who ordered the execution. Romeo's a bit taken aback, but tells her he'll do anything.
The next day Friar Lorenzo brings Giulietta to the Marescotti estate and she tells Romeo she doesn't know what came over her the other day to ask such violence of him; she doesn't want him to get hurt. He kind of plays with her a bit, she softens, and over the course of this and several other meetings, they fall in love.
Romeo talks his father into asking Tolomei for her hand in marriage. For Romeo I mean. The father is reluctant because he doesn't want to be seen as "getting involved" in the Tolomei / Salimbeni feud. But seeing how in love his son is, he agrees.
But just as he goes to approach Tolomei that night, old Salimbeni, smitten with Giulietta whom he spies in the distance, reveals that he wants her for himself. This will end the violence between the families once and for all, he claims. The whole crowd gasps, since Salimbeni is old enough practically to be her grandfather, not to mention married (although everyone also knows his wife will soon be dead, as he is starving her, as he's done to prior wives… Medieval society must have been so lovely…) Of course Tolomei has no choice but to say yes – the Salimbenis are far more powerful – both physically and financially. Saying no to Salimbeni would be family suicide.
Poor Giulietta nearly collapses upon hearing she's to be the wife of the man who slaughtered her family, and she begs Tolomei not to let the marriage happen. Tolomei refuses. Romeo declares that he will beat Nico, Salimbeni's son, in the Palio (a Medieval-style horse race that continues to this day), and, if he does, he will win Giulietta's hand.
At the Palio the following day, Romeo does win, but during the course of the race, Nico kills Tebaldo, Tolomei's son, but with Romeo's dagger, making it look like Romeo is the murderer. This is how Romeo gets banished. Although Romeo sneaks back to town with Friar Lorenzo and marries Giulietta in the back of the church where she is at worship, Salimbeni finds them and, well, things don't go too well for Romeo…  Salimbeni's wife finally starves and he marries Giulietta, then keeps her a prisoner in his country castle.
I should stop there! But the story goes on and there are all kinds of twists and turns. It's a fascinating narrative and you can see all the same – or many of the same – elements Shakespeare included. But the theme in Shakespeare is the warring families or factions, gangs, what have you – and how innocent individuals get unfairly, tragically caught up in the fighting. In the original, it's more about the viciousness of one evil, all-powerful man. I found it interesting to see how a great writer manipulated facts to craft a story with themes that would reach far beyond the time and place in which the story was set. I mean, Shakespeare's version also contained beautiful poetry of course, but his basic story is more powerful and far-reaching than the original. The original does give you a sense of how violent and how absolutely awful Medieval society was for women though.
Anyway, the novel's very good – at least the historical part. I highly recommend it for that. The contemporary part is cute romance-wise, and definitely suspenseful, but in my opinion not nearly as powerful from a literary perspective as the historical.
Funny, I didn't really think of who would play Julie / Giulietta. Diana Vishneva or Veronika Part would be good – she has to be Helen of Troy beautiful! But they both have Russian accents and I don't know if that would work… Hmmm, who else?…
(Photos above, clockwise from top left: Roberto Bolle, taken by me; Cory Stearns, from ABT's website; and Marcelo Gomes, from ABT's website.)