So what did you guys think of it? I tried to find a YouTube video but couldn't find a free one. Interesting that companies are going to start charging for subscriptions for that kind of thing… Anyway, I love that she thanked and named all the professional dancers who trained her this time, and that she expressed how wonderful and enlightening it was to work with them all. She honestly elevated the film with her speech in my opinion.
And how sweet was it for her to try to bring Millepied up with her onstage! I watched E!'s red carpet show – mainly to see her – but she arrived last and seemingly without Millepied (since she was interviewed alone). I was like, where is he?! But he was there, of course.
Speaking of the red carpet show, I loved Mila Kunis's dress.
And Scarlett Johansson's, though it didn't seem to go over too well with Kelly Osbourne and the other woman who was hosting the show: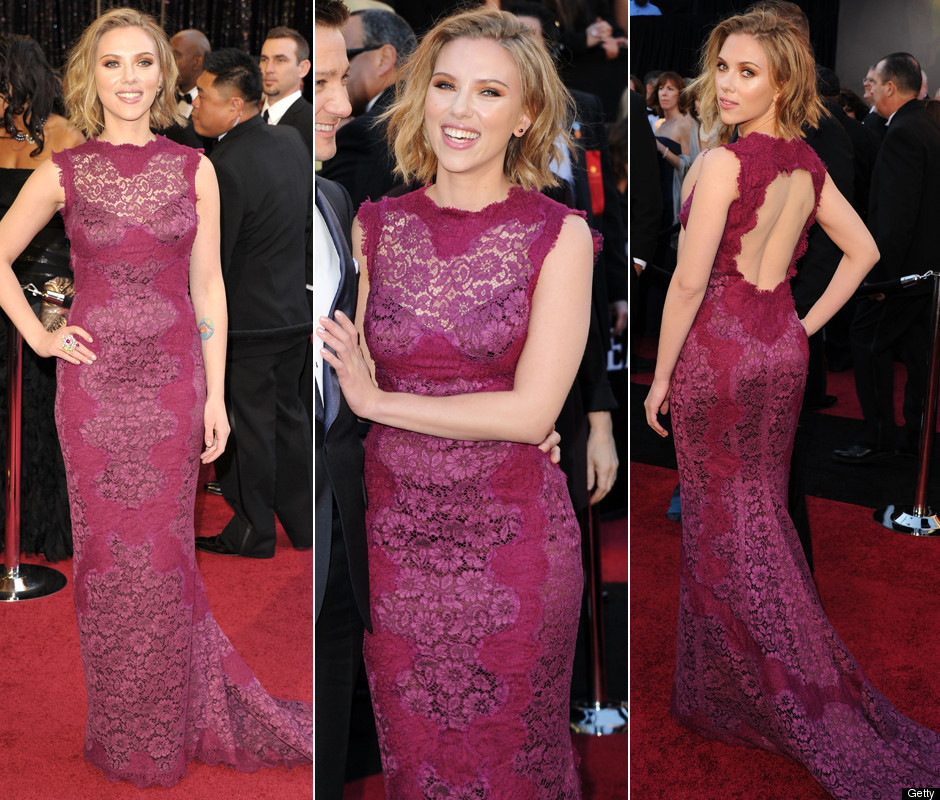 And Helena Bonham Carter noted that her dress was by Colleen Atwood, who is the costume designer who ended up winning best costume design for Alice in Wonderland. She said she preferred to celebrate the movies rather than fashion on this night:
I thought all of the best actor and best supporting actor speeches were good. Loved Colin Firth's, loved him in King's Speech, but still love Jesse Eisenberg as well. Love that in her excitement, Melissa Leo used profanity. How'd they bleep that out so quickly? And did Kirk Douglas actually grab her butt? Someone on Twitter said they thought they saw that. He was kind of acting in an antiquated sexist kind of way, with all his flirting with Hathaway and all, so I totally believe he may have. He would have made me so nervous if I were Leo. Poor Leo, I thought. This is her moment, not his. Interesting (and proper) move, to include Douglas as a presenter, because Anne Hathaway and James Franco seemed to keep sending the message that they were invited to host because they represented the young, hip generation. Is that true? She seemed like a big, clumsy, awkward goof – probably the nerves, and he seemed to have taken a bit too much Valium (or something else) to calm his. Does Hollywood feel the need to pander to the young 'uns too? Like ballet and the opera? How odd – movies are generally for the younger generations, I'd thought… Anyway, they bored me, those hosts. And Kirk Douglas scared me. Isn't there, like, someone in between, who's not too unsophisticated to take on that kind of role but who can also keep from violating current-day boundaries?
Anyway, overall a decent night. The end of the evening speeches made up for the poor hosting. Kind of.