Yes – I finally have a decent, stable internet connection and can blog! It's weird but here you have to kind of figure out what internet speed you need and pay your cable company accordingly. In New York I remember there being only one speed. Weird. Anyway, I think I'm okay to blog now, but I'm still kind of settling in and haven't seen much in the way of performing arts. I'm hoping that will change this weekend.
Here are some photos I've taken so far. I moved out of New York at the end of September, stayed with relatives in Phoenix for about three weeks, then moved to Los Angeles in late October. I've been here two weeks now. I really love it. The weather is wonderful: it's generally warm and sunny with a rainy day thrown in here or there. Temperatures right now are actually low for the season – and highs are in the 60s!
LA is definitely very spread out but it's not that hard to make your way around – especially with a car. People say New Yorkers take the subway and Los Angelenos (I think that's the noun) drive everywhere. But I've found that's not necessarily true. I've taken the subway twice now, and the buses many times. (In LA the whole transportation system is called the metro, like in DC or Paris). The buses don't run that often, so if you rely on them you're probably going to double or triple your commuting time. The subways – at least the red line, which is awesome – run much more frequently than the buses – about every fifteen minutes on weekdays, but they stop running around 11 at night. So you can't have a huge nightlife. Hopefully, if more people start taking public transportation, the people who run the metro will have incentive to extend the hours and frequency of service.
Anyway, here is the station at the top of the red line, in North Hollywood, or NoHo, as it's becoming known.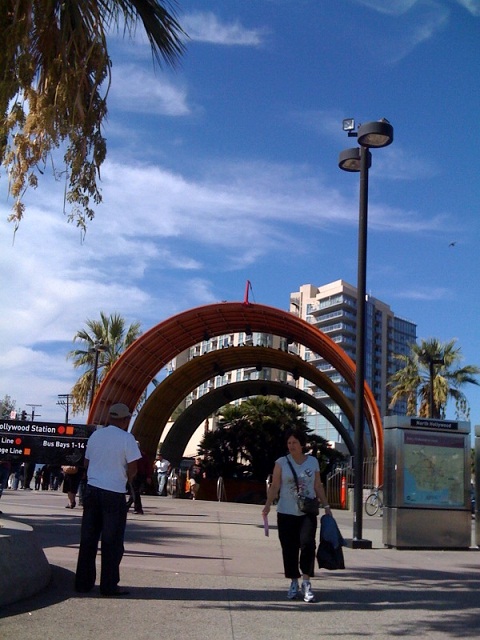 North Hollywood I guess used to be known as somewhat of a gangland, but it's becoming a burgeoning arts district. There are a few galleries, but it's mostly dance and acting studios, with some off-off-Broadway-type theaters. And there are some cool-looking clothing stores and cafes and restaurants. My photos of NoHo didn't come out very well because I went there on one of the grayest days since I've been here, but I'm hoping to take better pics over the weekend, when they're having … an arts fair!
If you take the red line subway south, you end up first in Universal City, which is where Universal Studios is located, then in Hollywood proper, probably the most touristy part of town, but for me important because it's where all the mainstage, Broadway-level theater is, like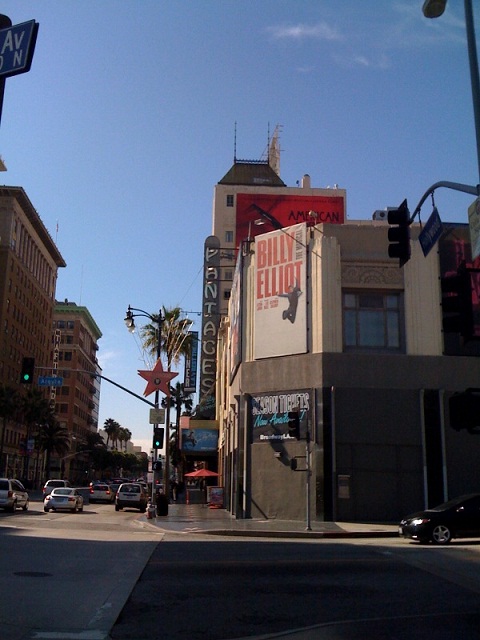 the Pantages Theater, where Twyla Tharp's Come Fly With Me is currently showing.
And here are some more touristy photos: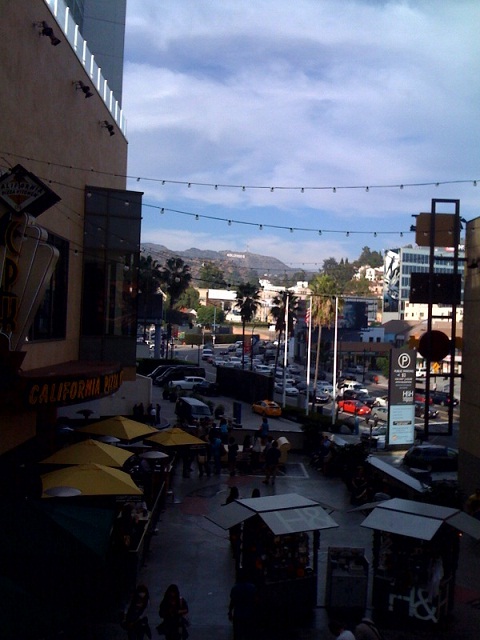 You can kind of see the "Hollywood" sign in the background on the hill. I live right over that hill, in Burbank, where many of the studios, including Warner Bros., reside. In fact, I feel like Warner Brothers practically owns Burbank.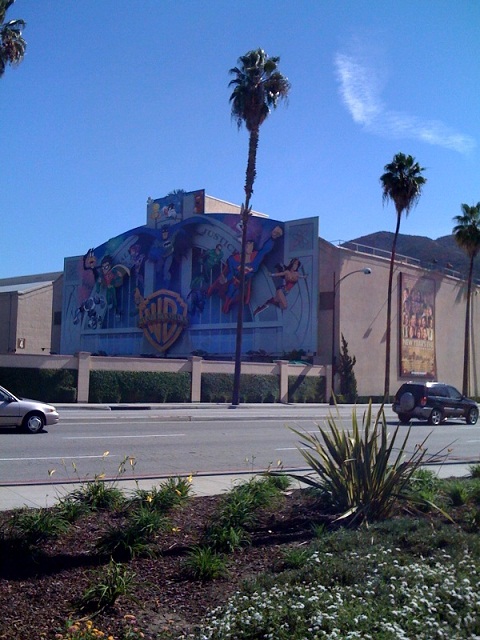 You see signs like this everywhere.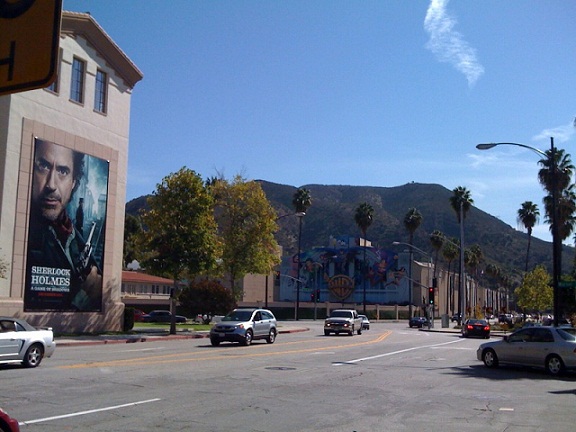 But it's good because you also see surveillance cameras everywhere, with signs warning against trespassers. I've been told Burbank is a very safe place, and I think this may be one reason why. Their police force is also supposed to be superb.
But back in Hollywood: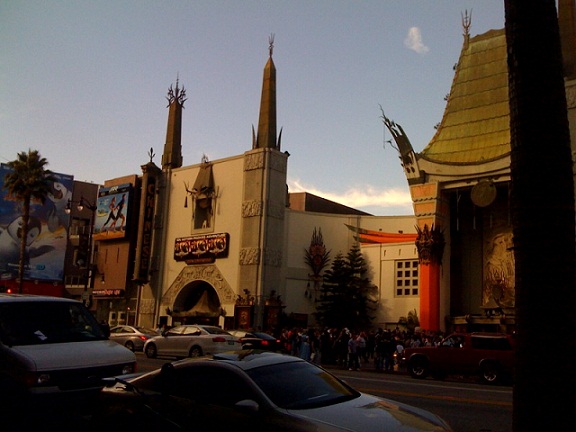 Here is the Grauman's Chinese Theater, at which many big movie premieres have taken place.
And here's the Walk of Fame, with all the star names, some of which – many of which – I admit I didn't recognize at all: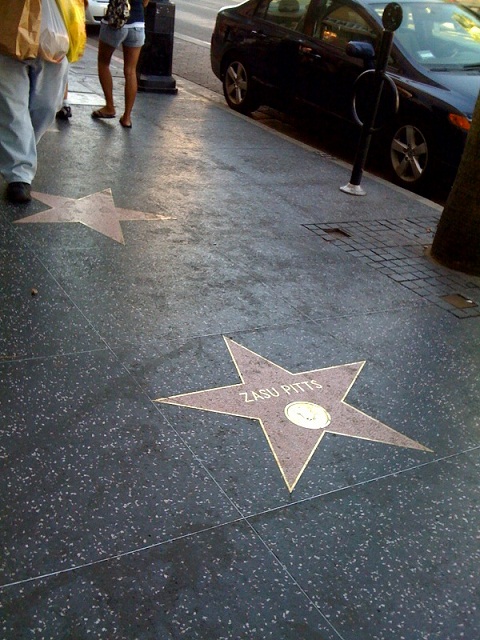 I love my neighborhood, and my building. Here's a view from my window: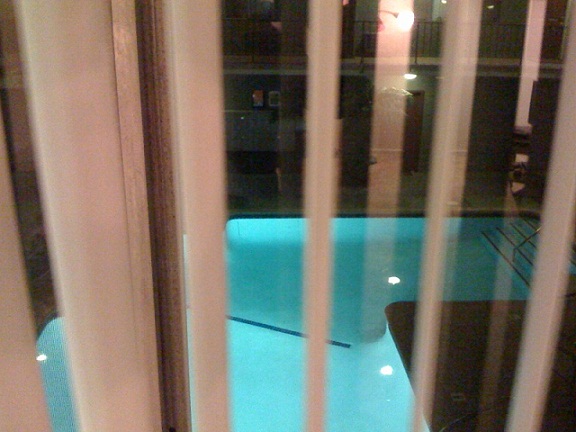 Okay, not the ocean, but I'm very happy with a view of the pool and courtyard!
And I have so much within easy walking distance: my new favorite cafe, which serves a huge variety of coffee, tea and hot chocolate and where there are lots of people rapidly clicking away on keyboards (writing screenplays perhaps?); an even closer Starbucks filled with equally interesting people in case I don't want to walk that far; a nice Japanese take-out place whose walls are covered with pics of the owner posing with famous people and where I've already heard one young woman telling the owner about her new TV pilot in the works; two pet stores; two large grocery stores (I met a hip hop dancer in one of them); one big drug store and another smaller and more homey one; a shoe repair and dry cleaner; a bank; the requisite dive bar (this one with karaoke); the requisite (for me) Mexican restaurant; two theaters – one off-Broadway and one off-off; and countless charming eateries, including the oldest remaining Bob's Big Boy: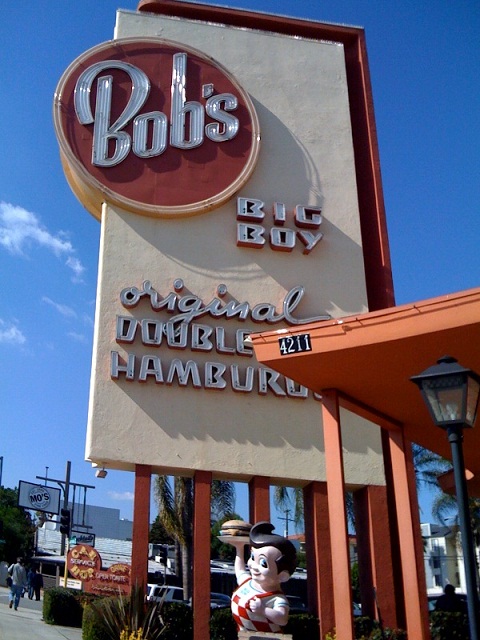 There were once many Bobs' out west but most of them were bought out by J.B.'s, which is what it was called when I worked there as a hostess as a teenager in Phoenix. But they've preserved this one pretty well, and even have a car hop out back (where I guess they serve you in your car, if you like – I haven't tried it), and they transform the parking lot into an antique car show on Friday nights.
Anyway, I have to go to sleep so I can get up early early early and hopefully avoid rush hour traffic to make my way to the west side for an appointment tomorrow morning. More soon!