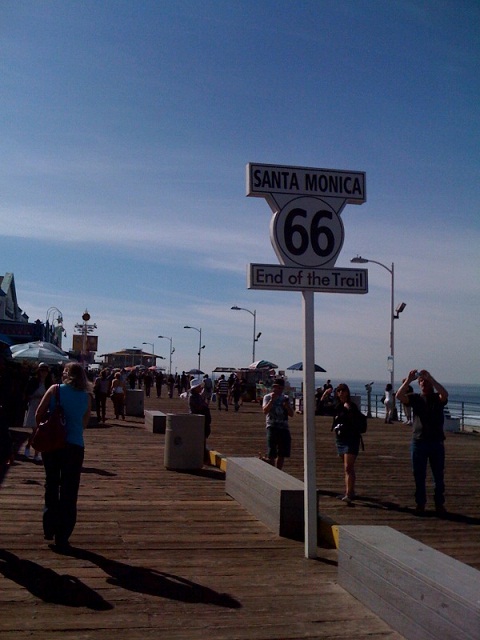 Here are some more of my recent LA photos. I guess before really settling in, there's a period where you just have to be a tourist 🙂
Most of my friends seem to live near Santa Monica, so I've been spending a good amount of time out there. Above is the Pier, where Route 66 officially ends.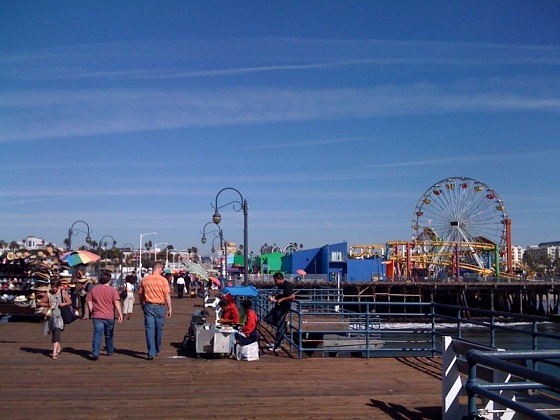 It's a bit Coney Island-esque with the ferris wheel and all (which is lit up at night). Not nearly as fascinatingly cheesy though 🙂 And no Nathan's hot dogs.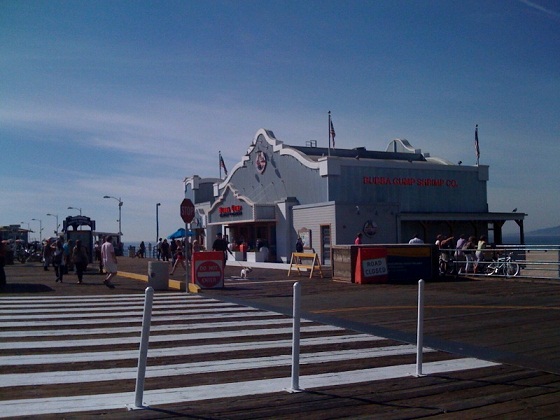 The Pier's very touristy – mainly filled with souvenir shops and restaurants like this one, called Bubba Gump, and named after the movie, Forrest Gump, and specializing in seafood of course.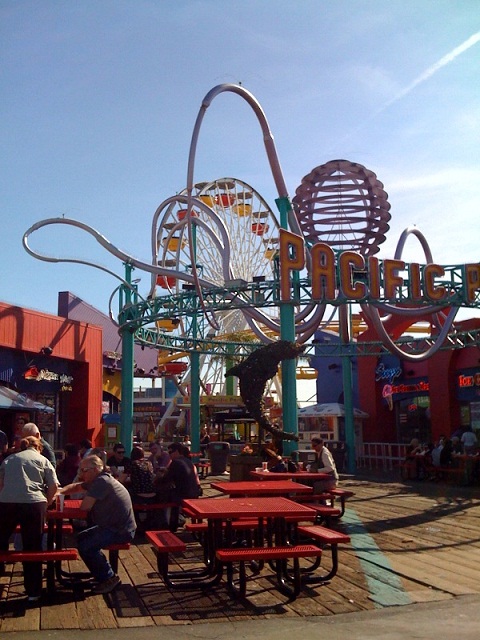 Here's the beach.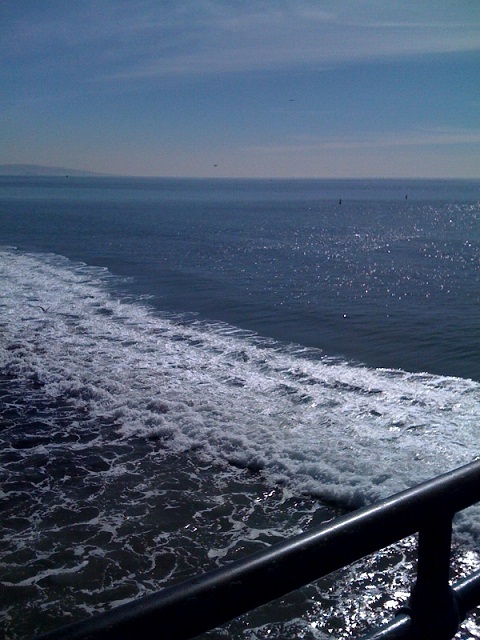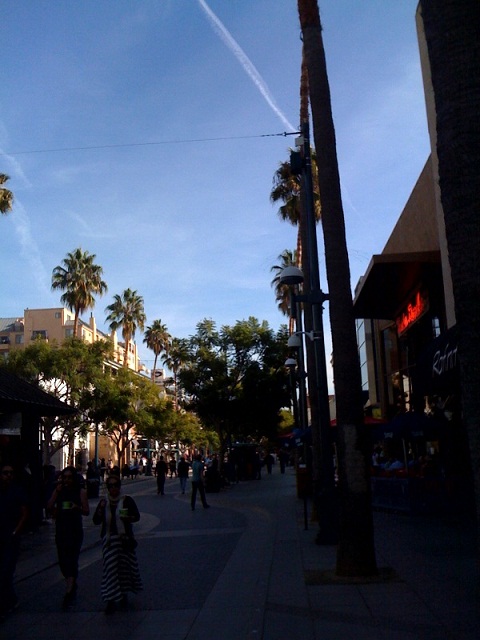 And here's the Third Street Promenade (so named because its cobblestoned street, which goes on for three blocks, is vehicle-free), which is also pretty touristy, with lots of chain stores like Banana Republic and Barnes and Noble and Starbucks.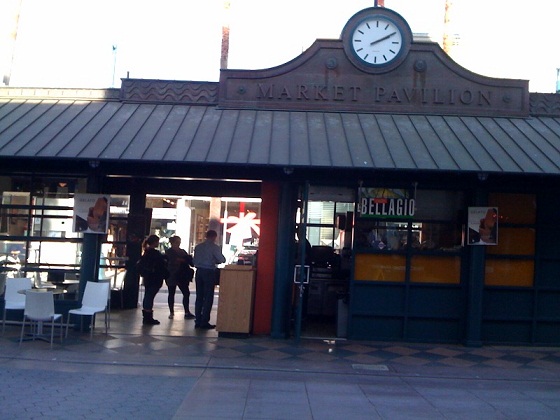 In places though it kind of reminded me of Vienna, with little cafes and wine bars in the middle of the street.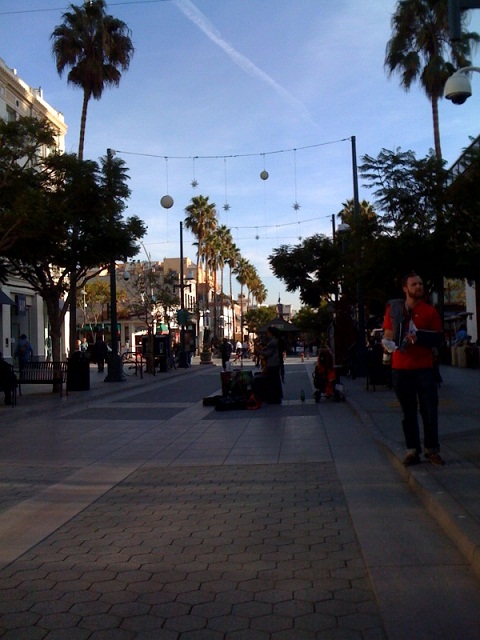 There were also some street musicians.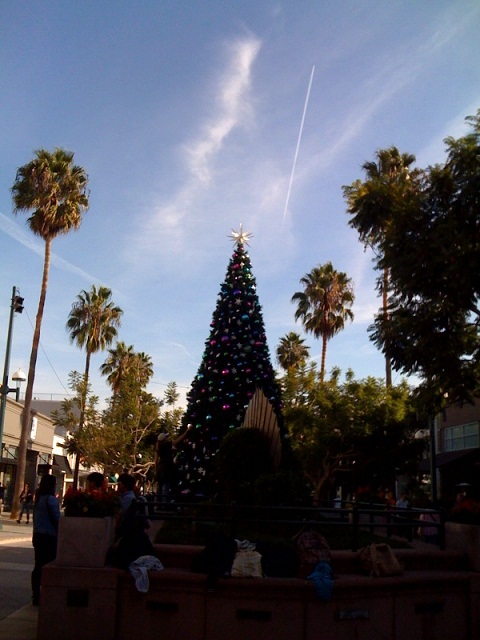 And a Christmas tree.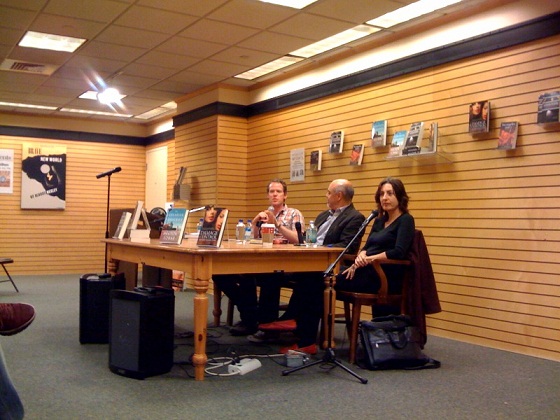 I went to Barnes and Noble for a discussion of LA Noir by three novelists of the genre: Denise Hamilton, Hector Tobar, and Scott O'Connor. It was really pretty interesting and made me feel that LA and NY have more in common than not. It made me feel at home, like readings often do, and made me want to pick up where I left off several weeks ago now with my own writing project.
I picked up one of the short story compilations that the writers contributed to, Los Angeles Noir, and also James Wolcott's new memoir, Lucking Out: My Life Getting Down and Semi-Dirty in Seventies New York, which I've been meaning to get since I first heard about its release. Unbelievably, I hadn't been in a bookstore since Borders closed a couple months ago.
I have to say, visiting bookstores used to be one of my favorite things to do. They've always made me feel safe and warm and un-alone, if I was feeling lonely. But they just don't make me feel that way anymore. This one was pretty empty, sadly, even on an event night – empty both of people and books. It was also pretty dimly lit – making it hard to find the books you're looking for; it was as if the salespeople just wanted everyone to leave so they could close and go home. I don't know, this bookstore actually depressed me.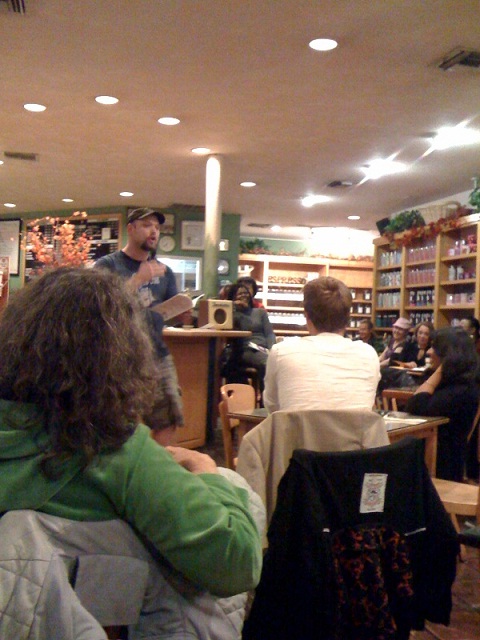 But hopefully cafes and bars will take over in celebrating and spreading literary culture. Here's a lively poetry reading at a coffee shop called Priscilla's back in my hood.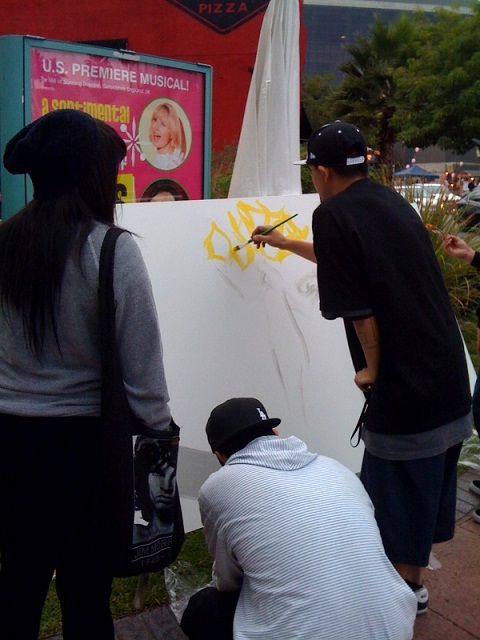 Here are a few photos of my trip to the NoHo Arts Festival last weekend. NoHo (North Hollywood) is kind of a bohemian area that, to New Yorkers, I'd liken to Bushwick. There are lots of dance studios (mainly teaching hip hop and jazz, some ballet), acting studios, very small theaters (as in off, off-Broadway), and a few galleries. For the festival, they had these little stations around town where all passersby could contribute to a work of art.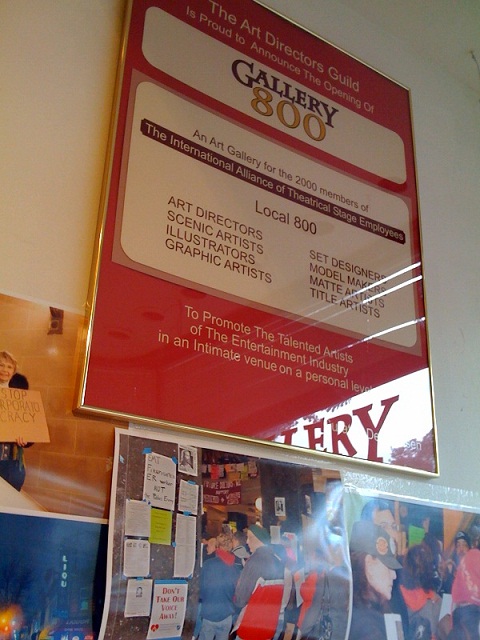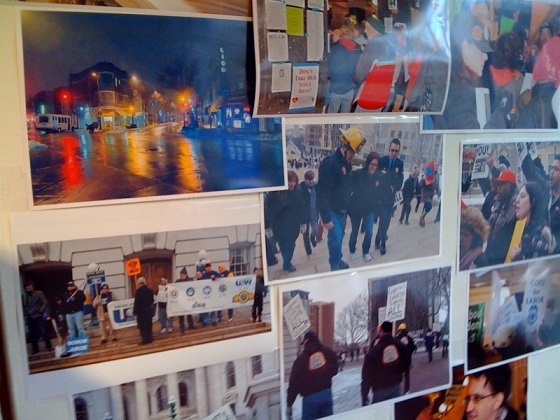 One of the galleries, showcasing art by those working in theater, and some photojournalism.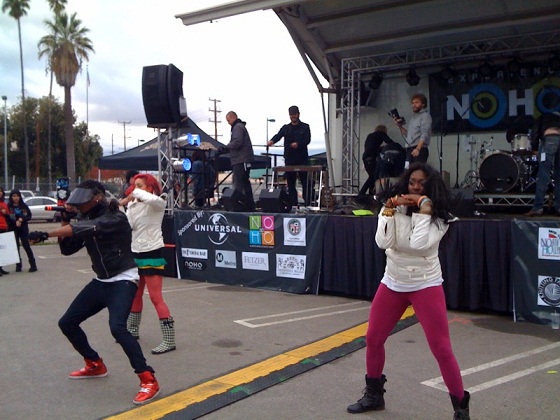 Here's a hip hop singer, Brooklyn J., performing on the mainstage with several female backup dancers.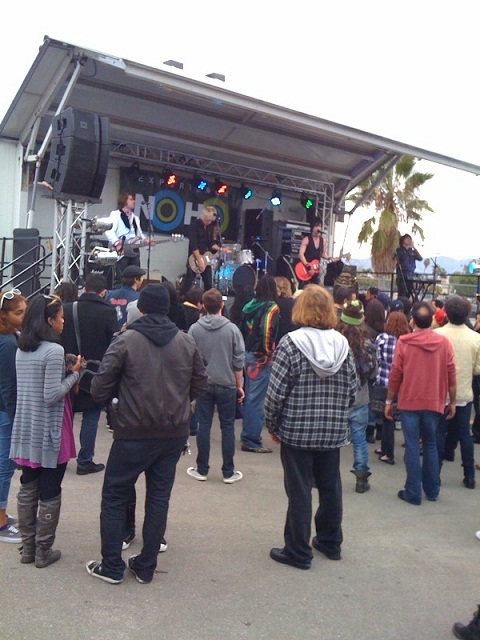 Here's a band. Music seemed to be mainly punk and grunge.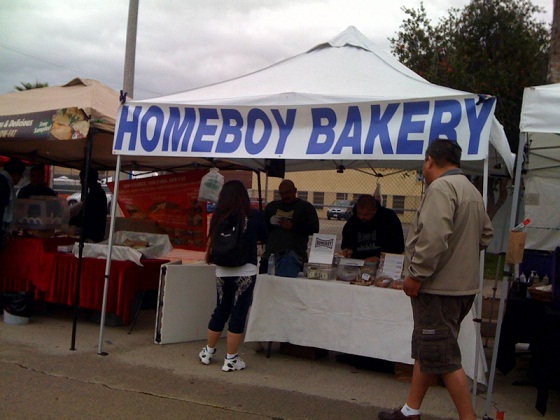 The arts festival coincided with a little farmers market, which I guess happens every Saturday near the subway. I was particularly intrigued by this vendor, Homeboy Bakery, who has several lines of products (bread, desserts, tortilla chips and salsa, etc.) for sale at both farmers markets and in local groceries, and whose mission is to help young people from troubled backgrounds stay out of trouble by keeping them employed with creative jobs.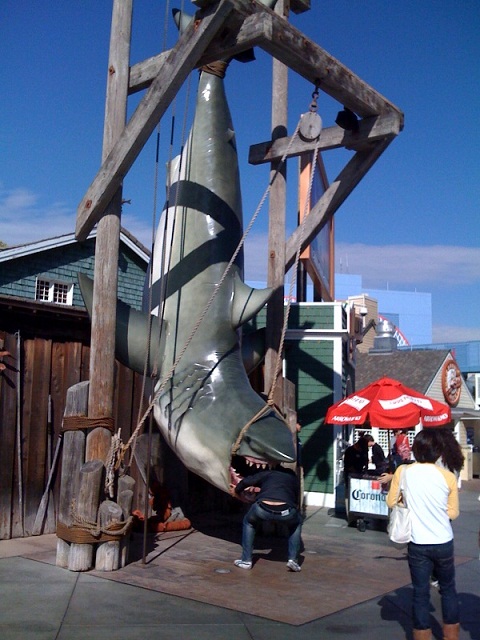 I spent Veteran's Day at Universal Studios. I'm such a tourist! I couldn't help it. I hadn't been there in over thirty years. I think the only parts of the studio tour that are still in existence from then are the Jaws and Psycho exhibits!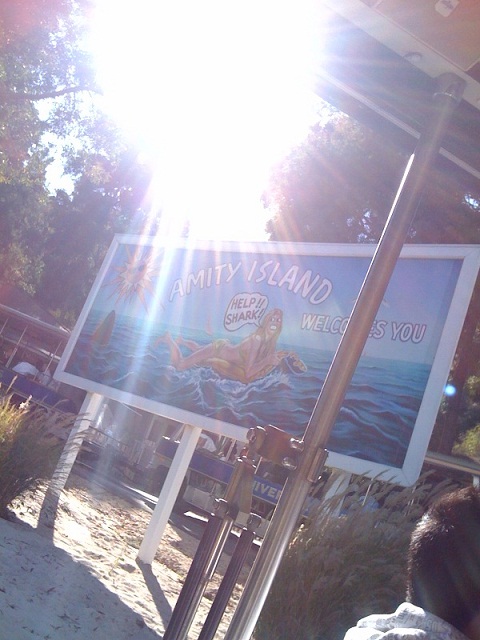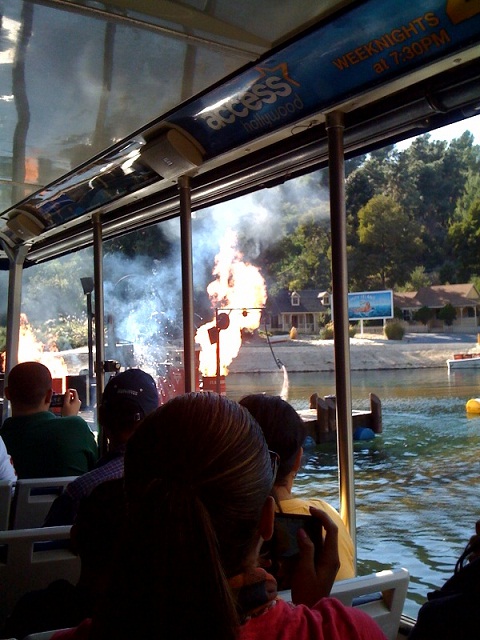 I couldn't get a good shot of the phony shark coming up to attack the tour trolley. In this photo, he's just set off some explosive device and is now coming for us.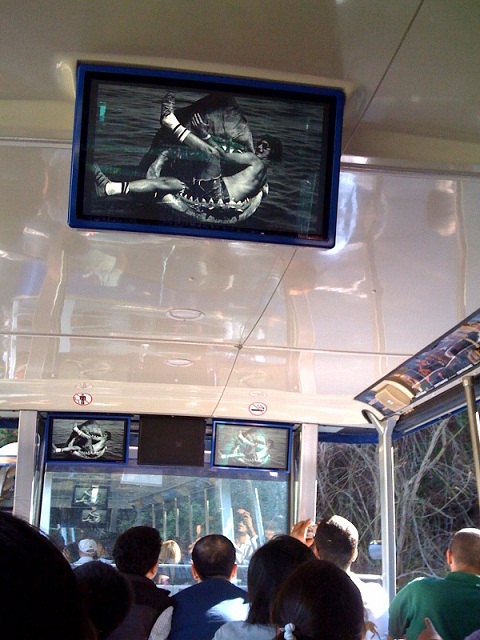 On the ride, they show you via the overhead monitors what the scenes that were shot on the sites you're visiting looked like in the finished movie. Here's a photo of the actor from Jaws messing about with the mechanical shark.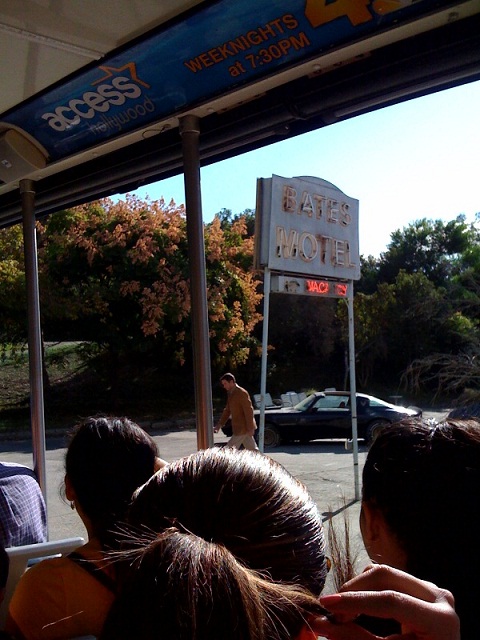 Here's the Bates Motel, where they have an actor playing Norman come out, drag his mother's body about, and eventually threaten guests on the ride.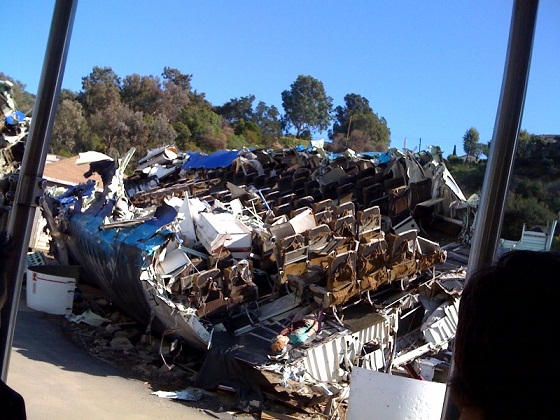 Here's part of a set from a plane crash. I forgot the movie… but this is from an actual plane.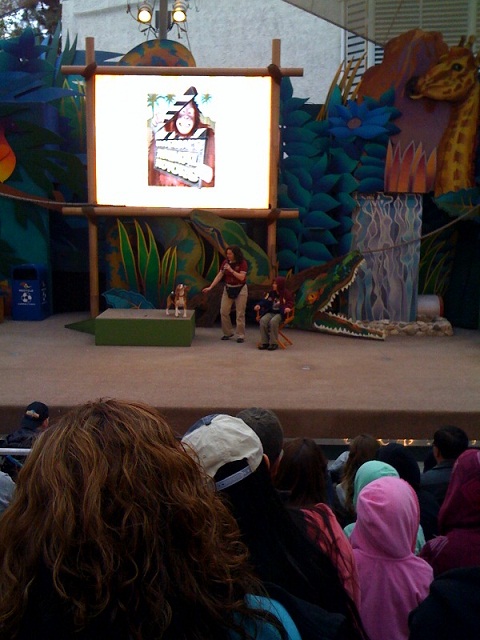 I also sat in on a little demo on how they train animals to "act" in the movies. These animals – dogs, cats (cats are the hardest of animals to train because of their independent nature), birds, an adorable little fox, a little monkey, and a chimpanzee, were so sweet and amazingly well-behaved; kind of made me want to be a trainer…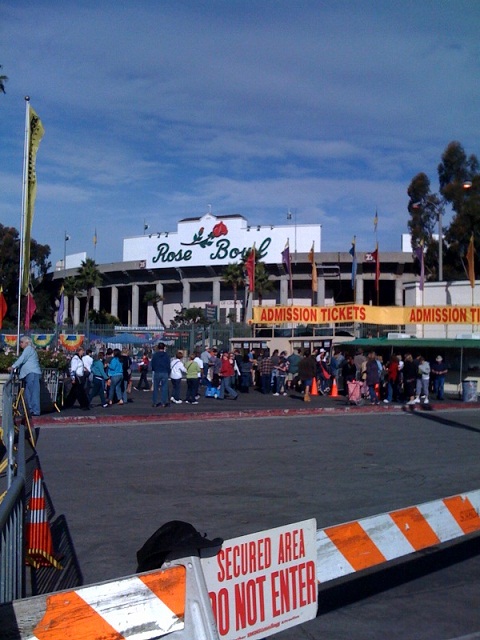 And on Sunday, I went to the Rose Bowl Flea Market in Pasadena, which takes place on the second Sunday of every month. I'd read a lot about this, so just had to check it out. Plus, I needed to get a few things for the apartment.
The amount of crazy stuff there – it was a hoot! Like these old fire hydrants…
And this piece of furniture that looks like it once sat in a museum, or maybe a hotel lobby.
And all these signs. A couple behind me became quite excited over the Jack Daniels one.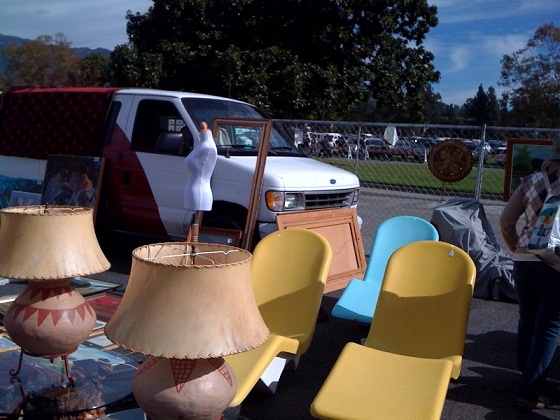 I badly wanted one of these Sixties era yellow lounge chairs! But nowhere to put them…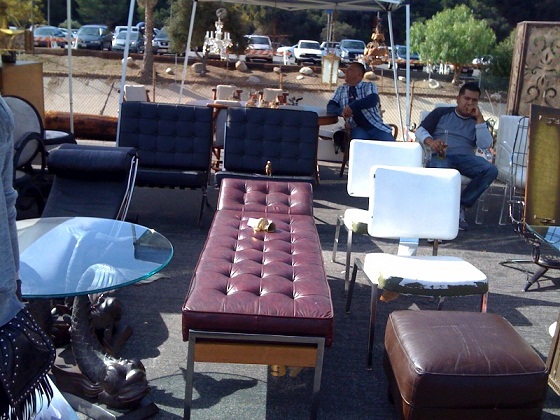 Or this Freudian-looking burgundy couch.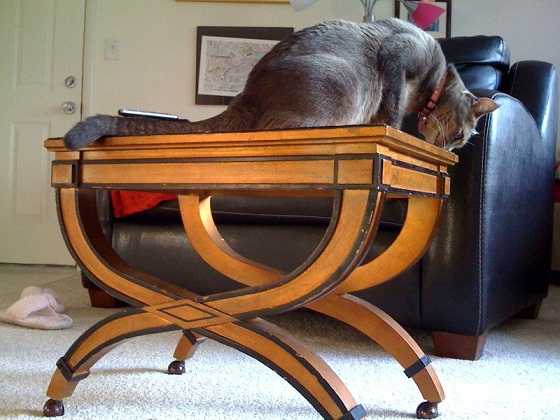 I needed a couple of end tables, so ended up getting this very art deco-looking piece (whose scent Rhea has approved),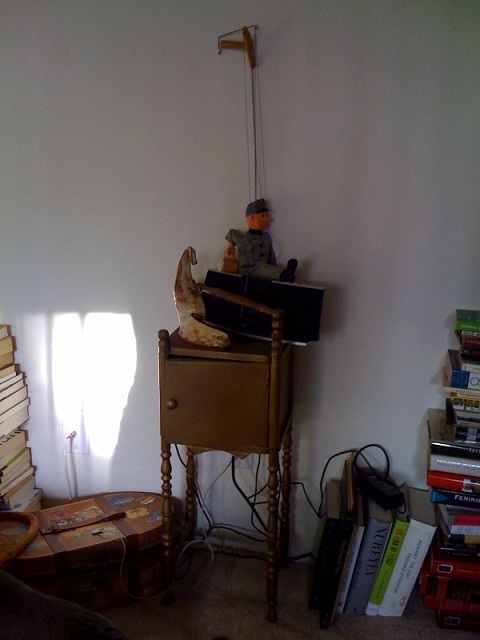 and, though I really have no idea what it is, this piece. All I know is it's small and has an ornate top handle for carrying that matches its legs, and it has a little door that opens up and provides a little container for books, or in my case a CD player and old CDs. I thought it was fun and very very old.
Finally, back in Burbank, here are some cars at the antique car show held in the Bob's Big Boy parking lot every Friday night.
Okay, that's all for now. Next, I hope to visit Hollywood Hills… hopefully to see Stravinsky's house (see Ballet Lover's comment on my last post!) And on Sunday, I'll be going to a dance performance – an actual ballet performance – finally! I'll be the guest of LA Times writer (and Arts Meme blogger) Debra Levine for the live-streaming of the Bolshoi's Sleeping Beauty starring our David Hallberg. Can't wait!