Okay, here's my (late) list of favorites from 2008: (click on highlights to read what I wrote about each dance)
Favorite overall dance of the year:
Revelations by Alvin Ailey. Because the movement language — a unique blend of American Modern with African — is highly evocative, richly varied, and, because it's set in a specific time and place recognizable to most if not all of us, it's imbued with meaning and feeling accessible to everyone. And because it speaks to the human condition like no other dance I've ever seen. I'm still looking for something to top this and don't know if I'll ever find it.
(photo by Paul Kolnick)
Favorite new dances:
1) Nimrod Freed's PeepDance in Central Park;
(photo of Peep by moi)
2) Craig Salstein's Time at ABT;
3) Alexei Ratmansky's Concerto DSCH at New York City Ballet, and Dreams of Japan performed by the State Ballet of Georgia.
Favorite revivals:
1) Anna Sokolow's Rooms by the Jose Limon Dance Company;
(photo of Rooms from here)
2) Paul Taylor's Company B at ABT;
3) Antony Tudor's Pillar of Fire at ABT.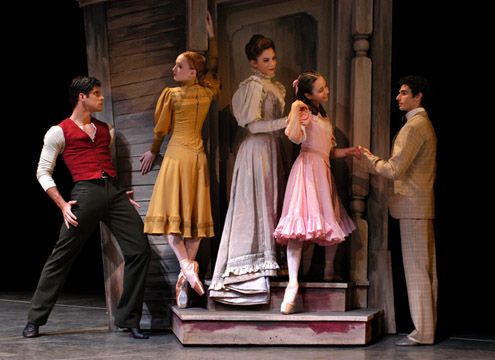 (photo of Pillar taken from Arts Journal)
Favorite dancers / performances:
1) The debut of Daniil Simkin in Company B and Flames of Paris at ABT;
(photo of Simkin by Gene Schiavone)
2) Yannick LeBrun at Alvin Ailey (specifically in Revelations' "Sinner Man", Flowers);
(photo of Lebrun by Eduardo Patino)
3) Jonathan Fredrickson of Jose Limon Dance Company as Jesus in The Traitor and Iago in The Moor's Pavanne);
4) Marcelo Gomes as the "bad guy / seducer" in Pillar of Fire, the famous matador in Don Quixote, and Rogue in Rabbit and Rogue;
5) Melissa Thomas in Antony Tudor's Jardin Aux Lilacs at ABT (she nearly made me cry with her portrayal of a woman forced to give up the man she loves to marry the man she doesn't, giving more passion and tragedy to that broken character than even veteran artist Julie Kent);
6) Veronika Part and Marcelo Gomes in La Bayadere at ABT;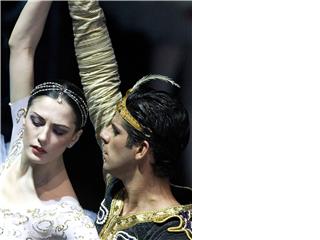 (photo by Gene Schiavone)
7) Desmond Richardson in I Will Not Be Broken by Complexions;
(photo of Richardson by Andrea Mohin for NYTimes)
8)  Amos J. Machanic in Masekela Langage, Go in Grace, and everything else he did at Ailey this season;
(photo of Machanic in Go in Grace by Paul Kolnick)
9) Linda Celeste Sims in Masekela Langage, Suite Otis, Pas de Duke, Festa Barocca and everything else she did at Ailey;
(photo of Sims from NYTimes by Lois Greenfield)
(photo of Sims in Suite Otis by Steve Vaccariello)
10) Blaine Hoven's Bluebird in Sleeping Beauty at ABT;
11) Antonio Douthit in Revelations ("Wade in the Water"), Festa Barocca, and everything else he did at Ailey;
(image of A. Douthit taken from Time Out NY)
12) Clifton Brown in Firebird and everything else he did at Ailey;
13) Hope Boykin in Festa Barocca, Blues Suite and everything else she did at Ailey;
14) Arunas Bizokas and Katusha Demidova's ballroom showdance showcase at Columbia University's Big Apple Dancesport Challenge.
(photo of the couple at Blackpool, by moi)
(Okay, this list is ridiculously long, and I've left out loads of people — like Kirven Boyd, Kathryn Morgan, Andrew Veyette, Jose Carreno, etc. — because I can't think of anything specific they were in that I loved. I really think DANCERS are selling dance these days, NOT choreographers). Btw, Kathryn and Kirven would make a very interesting partnership. hmmmm…
Favorite events:
1) Alvin Ailey's 50th Anniversary festivities, church / dance-going in Harlem with Ariel, the Andrew Eccles exhibit in SoHo,
free performances and classes over the summer, and of course their City Center season;
2) ABT's Antony Tudor centennial celebration;
3) Blackpool.
Favorite Dance Discovery:
The cleverness and astounding athleticism of Hip Hop, as seen on MTV's America's Best Dance Crew, and by Joshua Allen, Twitch and the other Hip Hop dancers on this year's So You Think You Can Dance.
(image of Joshua Allen taken from here)
Favorite Books:
(I haven't yet read the biggies, like 2666 and Diary of a Bad Year and Lush Life), but of the ones I did read:
1) All We Ever Wanted Was Everything, by Janelle Brown;
2) Beautiful Children, by Charles Bock;
3) The Story of Forgetting, by Stefan Merrill Block; and
4) Harry, Revised, by Mark Sarvas.
Most Educational, Rewarding Experience That Will Forever Change the Way I Think About Things That Go on in This Country: