Here are some photos, all by Kim Max, of DeMa Dance Company's recent debut season, at the Alvin Ailey Citigroup Theater. There were six dances — three choreographed by the company's founding sisters — Despina and Matina Simegiatos, and three by visiting choreographers TOKYO + TOKYO the company, Yesid Lopez, and of course So You Think You Can Dance's Sonya Tayeh. My favorite piece was Zaloggos, by the Simegiatos sisters, which depicted the true story of a group of Greek women, who, during the Greek Revolution in 1803, trapped by the enemy and refusing to yield to slavery, danced then threw themselves off a cliff. It was harrowing but beautiful and the movement was kind of a combination of Martha Graham and Greek folk dance. Very original, and very meaningful. Like Alvin Ailey's work, you could tell it came from the heart. (The Simegiatos sisters are Greek-American and they told us at the beginning of the program that DeMa refers both to the beginnings of their first names and to a Greek word that means a parcel holding something very precious). My second favorite piece was When the Love Enters, the Light Shines, by Tayeh, set to Bjork music, and whose central duo was performed by Billy Bell and Jaqlin Medlock.
Anyway, here are the photos:
The first two are from Zaloggos: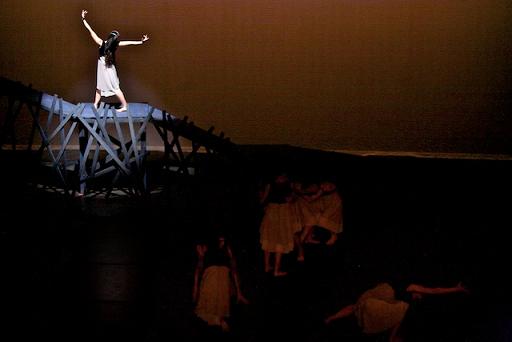 These are from the Tayeh piece:
These are from The Feminine, by TOKYO + TOKYO, which was a lyrical dance with upbeat music that seemed to be about a different kind of love and reminded me in places of Matthew Bourne's Swan Lake:
This is from Laser, by the Simegiatos sisters, a thrilling, very modern piece set to percussive music that was at times slightly unsettling (music by Craig Armstrong) in which the dancers kind of zig-zagged between two red electrical "wires". DeMa has a very good set of dancers by the way; they're especially strong with modern movement.
This is from Methods by the Simegiatos sisters, set to Philip Glass music, which consisted of both modern movement and balletic pointe work, and was by turns lyrical and rather intense, almost threatening at times. It was abstract but seemed to be about the group versus the individual.
And these are from the last piece, Yes, I Do, a sweet, funny, at times almost Chaplinesque story of a wedding by Yesid Lopez.
It was a very good program — lots of variety, original movement and themes, and excellent dancing. DeMa is small but I think this is definitely a company to watch for.