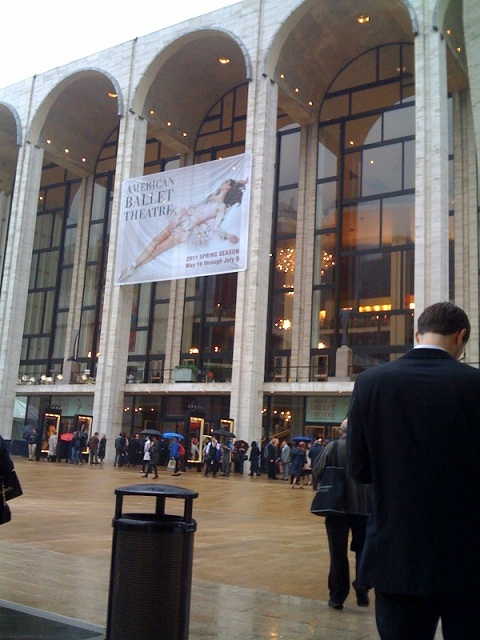 Last night was ABT's Spring 2011 opening night gala. Dreary, rainy night … but what else is new for New York these days?
Once inside, I really enjoyed the show though. (I'm hoping to receive photos soon, which I'll post). The program began with a short preview of Ratmansky's The Bright Stream, which I'm excited to see next week. Seems to have a lot of humor, some bravura dancing, a cute storyline.
(Photo: The Bolshoi's production of Bright Stream; Natalia Osipova is jete-ing).
Then, there were introductions by Rachel Moore, executive director of ABT, wearing a beautiful green dress, and Kevin McKenzie (AD), followed by Caroline Kennedy, who introduced the students of the Jacqueline Kennedy Onassis School of American Ballet as they danced a world premiere, Karelia March, by Raymond Lukens. The program says the students are Level 7, which must be the highest level, because some of those dancers looked like ABT principals. I'm not kidding, I swear. They really amazed me. That school is doing incredible things!
Next was Balanchine's Tchaikovsky Pas de Deux, danced by David Hallberg and Gillian Murphy. Everytime I see David dance I think he must be the most perfect male dancer in the world. Gillian was stunning too.
Then came the Grand Pas de Deux from Ratmansky's new Nutcracker, danced by Marcelo Gomes and Veronika Part. (No, they're not performing that ballet during the Met season, but there seemed to be a few excerpts in the program from ballets they're not performing). I missed seeing this couple – overall still my favorite – when the company premiered Ratmansky's version in December. They were so sweet. Veronika danced with such wonderment in her eyes, such joy. And Marcelo was her perfect, adoring cavalier, all eyes on her. I don't have kids, but I'd think they're the perfect wedding couple to wow very young audiences.
Then came Majisimo, a classical ballet piece with Spanish flourishes created by Georges Garcia for the Ballet Nacional de Cuba in 1965 and set to Jules Massenet's Le Cid. This piece was mainly meant to highlight Jose Manuel Carreno, who of course retires from ABT later this season. But it was really a dance for eight couples, and he danced only the male part of one of them – there were very few solos. He danced with Paloma Herrera. Xiomara Reyes was paired with Reyneris Reyes, guesting from Miami City Ballet. The other couples were comprised of Cuban dancers guesting from other companies as well: Lorena Feijoo and Joan Boada from San Francisco Ballet, and Lorna Feijoo and Nelson Madrigal from Boston Ballet. The dancers were spectacular, but I didn't think that much of the choreography, which reminded me of a more bland version of an ensemble scene from Don Quixote. Jose had a series of turning jumps, and a really beautiful multiple pirouette that wowed the audience – drawing those turns out are what he's most known for. And Xiomara really took my breath away with this crazy fast series of traveling turns in a diagonal down the stage. I've never seen her dance like that!
(Photo: Jose Carreno dancing with Polina Semionova in Diana e Acteon)
After intermission came two pas de deux from Swan Lake. A Twitter follower asked me why they needed to perform two scenes from the same ballet. I think that ABT, same as everyone else, is just trying to benefit from the Black Swan craze. They should have had Sarah Lane dance one of the pdd though! 😀 Anyway, first pas de deux – White Swan- was Paloma Herrera and Alexandre Hammoudi, which was good. But the second – the Black Swan – I found surprisingly magnificent! It was danced by Michele Wiles and Cory Stearns. There have been so many guest stars from Europe lately gracing ABT's stage, I'd forgotten how perfect an Odile Michele Wiles is. And Cory really impressed me as well. Whatever he may lack in dance ability (I can't imagine he'll ever be a David Hallberg or Marcelo Gomes), he more than makes up for in acting and stage presence. He's really good at bringing you into the world of the ballet and creating a character you can sympathize with.
Sandwiched in between the two SLs was Jessica Lang's Splendid Isolation III, danced by Irina Dvorovenko and Maxim Beloserkovsky. I joked on Twitter that Max earned the hot guy of the night award for that, but seriously – he did! Irina was really beautiful as well. And her party dress, which she came out in for the final stage bow, was, as usual, gorgeous. She has such impeccable fashion taste, imo.
Following that was the highlight of the night, for me – Diana Vishneva and Marcelo Gomes in the Act I pdd from Manon. Such a perfectly choreographed pas de deux – beautifully romantic and full of love / lust but with so many breathtaking but capriciously executed, dangerous-looking lifts you sense something out of control. As beautiful as it is, this story isn't going to have a happy ending. I am liking Diana Vishneva more and more. I've always thought she was a great dancer but she always seemed to play too much to the audience for the story ballets. She didn't take me into the world of the character as much as I want an actor to. But the last two seasons she's been doing just that: really developing the character and dancing to her partner – Marcelo here and in Lady of the Camellias last season, which is the first time she really blew me away – instead of the audience. This – the Manon pdd – was the audience favorite last night as well. The two got a storm of whoots and bravos at their curtain call, and practically had a standing ovation the audience was so loud in their applause. "So beautiful," exclaimed the woman beside me. "Okay, we can go home now," she joked.
(Couldn't find a photo of Diana and Marcelo, but here is Diana dancing Manon with Manuel Legris. With all photos I post now, I'm linking to the original site via a click on the photo.)
Here are Marcelo and Diana in Lady of the Camellias:
Then, Alina Cojocaru, one of the European guest artists this season, danced the Rose Adagio from Sleeping Beauty. I'm not a huge fan of this ballet in general, but she was lovely. Patrick Ogle replaced Sascha Radetsky as one of the cavaliers.
Second to last was the Act II pdd from Lady of the Camellias danced by Julie Kent and Cory Stearns. Again, Cory did a very good acting job – and physically he fits the character perfectly, as Julie does hers, but I think some of those lifts are so difficult-looking… I just worry about the dancers. Isn't that how Roberto Bolle got hurt last season – performing this role?
And the evening ended with another ensemble excerpt from Ratmansky's Bright Stream. People who stood out most to me were Daniil Simkin and, again, Xiomara Reyes. I really am excited to see this ballet.
Tonight Don Quixote begins and runs through the beginning of next week. I'm excited to see Alina Cojocaru dance with Jose Carreno on Friday night, and Russian ballerina Polina Semionova guesting in the Saturday matinee with David Hallberg.