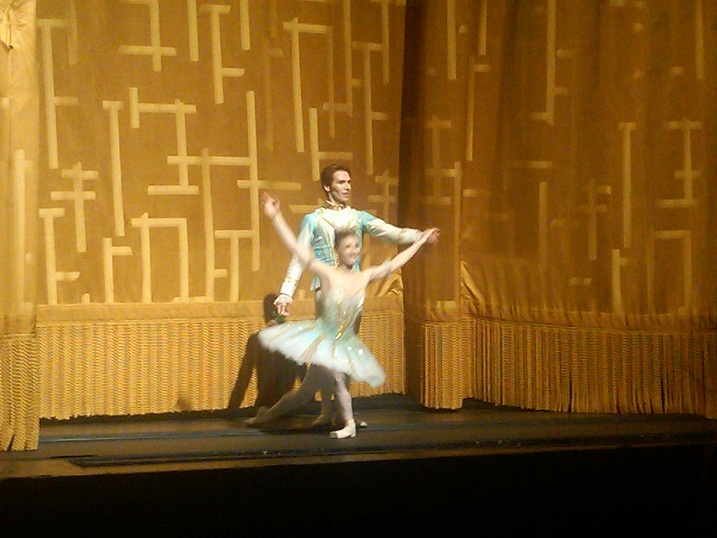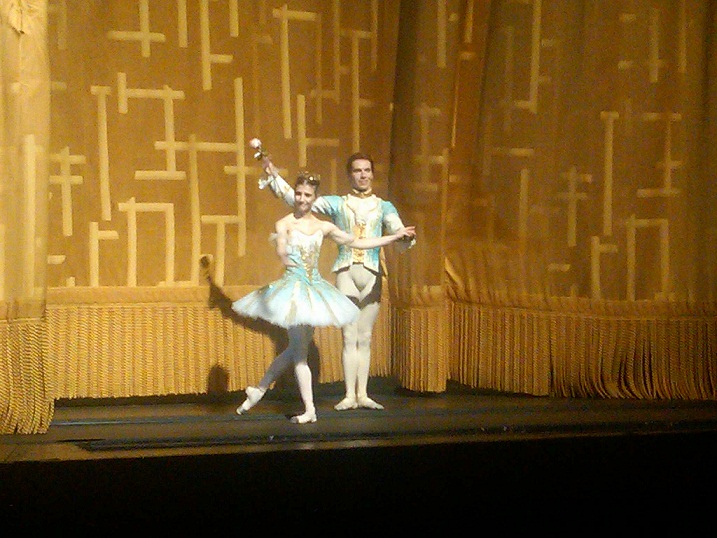 Curtain calls photos taken by my new balletomane friend, Andrea.
I have to confess, Sleeping Beauty is probably my least favorite ballet. I like the Aurora / Prince Desire wedding pas de deux, with all the gorgeous fish dives, in the last act but I could do without the rest. I just don't have a big appreciation for sustained balances on pointe and all of the fairy variations and all that.
BUT, I have to say, Alina Cojocaru and Johan Kobborg, guest starring from the Royal Ballet in American Ballet Theater's Met production showed me this ballet in a new light. As I said on Twitter, I feel like I now know how Sleeping Beauty is really supposed to look!
I did see Cojocaru last year (without Kobborg), but I think because I was sitting in orchestra and because it was my first time seeing her and was just getting used to her, I couldn't stop focusing on piddly things like her feet / shoes.  Now that I'm used to them, and because I was farther up, in dress circle (my friend, Marie, gave me her tix because she had to fly last minute to Japan and couldn't use them – thank you Marie!) I just focused on her brilliant dancing. She's somehow so precise and does such stunning things and makes such stunning lines while making it not about doing these stunning things but about the character and about bringing her sweet story to life. That's a crazy run-on sentence but you know what I mean? In the "Rose Adagio," while circling around in those repeated turns while being passed from cavalier to cavalier, she'd just flick her leg up so high and so fast whenever a cavalier took her hand. I was so awed. And she has the most stunning arabesque in attitude while she's being promenaded about by those cavaliers. To me, those fast, high, perfectly done lifts of the leg and her gorgeous arabesque were more magical than the sustained balances on pointe (which is what most hardcore ballet fans seem to adore in this ballet).
And during the wedding pas de deux, when Kobborg dipped and dropped her into a fish dive, her legs went up so high in the back. And they were perfectly crossed. And the dip was so fast. It was stunning! Sorry I keep using that word; it's just the word that best expresses how I felt the whole night. The other dancers – the American trained ones – don't do those fish dives that way. They take their time raising the ballerina and then fluidly taking her down into the dive. I think that's the influence of Balanchine, where every movement's supposed to seamlessly melt into the next and nothing is supposed to look "posey." But I like it so much better the way Kobborg and Cojocaru did it. So much more … stunning! Okay, I'll stop…
But my friend Natalie and I weren't the only ones wowed. This is what I love about sitting up higher. I feel like the orchestra is filled with people who fall asleep and with critics. Higher up is where the real fans sit, and Natalie and I were sandwiched in between these giggly twenty-something girls who nearly blasted out of their seats every time a lightning speed develope or fish dive happened, and this tattooed construction-worker looking guy who was there on his own and who followed Cojocaru's every movement with his binoculars and nearly burst my left eardrum with his applause at the end. I so love these people 🙂
Kobborg totally reminded me of NYCB's Gonzalo Garcia, who, everyone who reads this blog regularly knows is one of my favorites. His expressiveness, his devotion to his partner, his immense charm and the way his personality really shines through from far away – I really loved his Prince Desire. On the way out one of my friends said he loved Cojocaru but found Kobborg to be not as stellar as some of the ABT men like Marcelo Gomes. That's totally true, but what I loved about Kobborg was how he let her have her night, how everything he did was to showcase her. I love Marcelo and David Hallberg and all the ABT men of course (of course!) but sometimes it's nice when the guy doesn't steal the show and just lets the ballerina shine. But it wasn't like he wasn't as good as she was, just that he was letting it be all about her. Of course they're now engaged so a little romantic sentiment could be at play 🙂
Anyway, a few more pictures: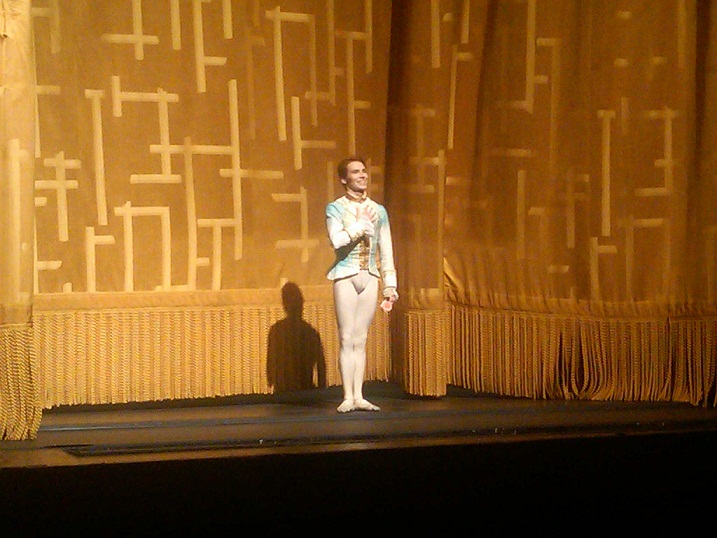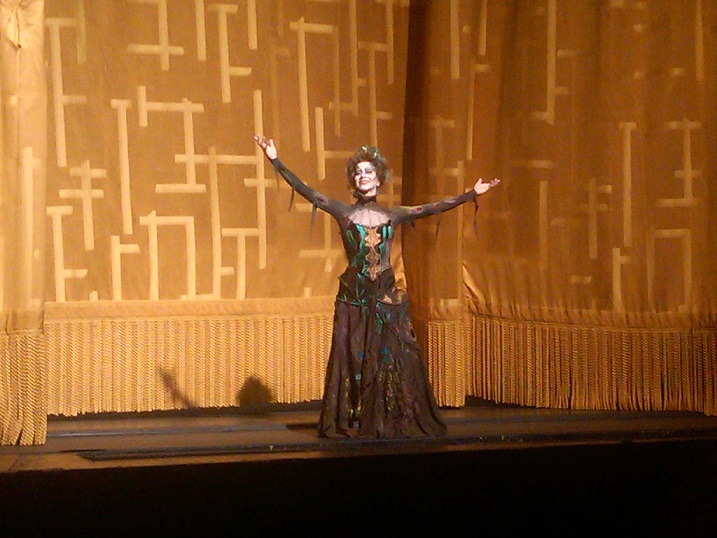 Martine Van Hamel was perfect as the wicked fairy Carabosse. And, I think I'm the only one who feels this way, but damn do I love that costume! It's very Helena Bonham-Carter / Tim Burton… Actually it's very Helena Bonham-Carter at the Oscars…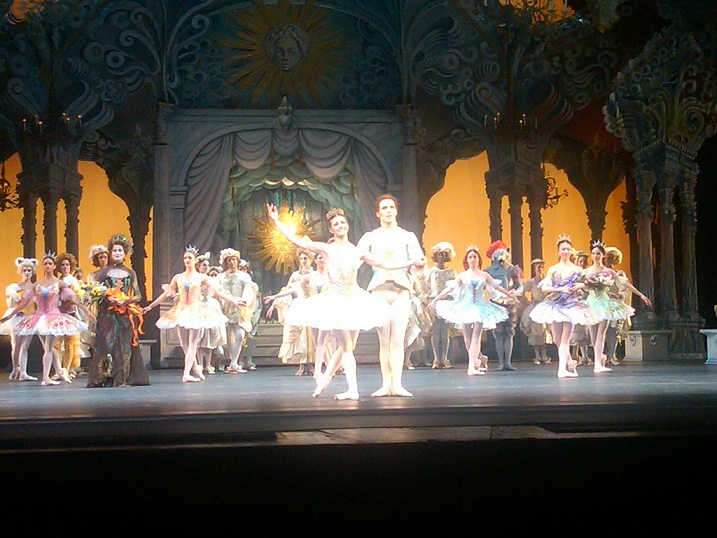 The whole cast. Thank you again to Andrea for the first-row pics!
The rest of the cast was very good as well. In particular I loved Yuriko Kajiya as the Lilac Fairy (she was a last-minute replacement for Maria Riccetto). She stood out to me more than she ever has before; for once I realized that she has a real stage presence. Maybe it was being up higher?… All the fairies were very good – Misty Copeland, Simone Messmer, Luciana Paris, Renata Pavam, and Hee Seo (who should be promoted to principal soon!), and Daniil Simkin and Sarah Lane were, as expected, a lot of fun as Bluebird and Princess Florine. I think they tried to give Kobborg and Cojocaru the best supporting cast possible.
Anyway, that's it for New York. ABT season is now over. The company is on to L.A. and Japan. And here in N.Y., we're on the Mariinsky next week at the Lincoln Center Festival. And then ballet season is over for the summer.