Last night was the opening of Los Angeles Ballet's Nutcracker. Above photo – of my favorite dance – taken from LA Mommy Poppins.) It had its premiere at the Alex Theater in Glendale, and will be showing again there tonight. Then, it'll travel to UCLA's Royce Hall in mid December, and will end at the Redondo Beach Performing Arts Center at the end of the month. I find it interesting how the productions here seem to travel around the city, in contrast to those of the NY companies.
Anyway, my new Twitter friend, the wonderful Christopher McDaniel, a dancer in the company, generously invited me. And I'm so glad he did because I was worried I would miss getting my Nutz fix this year. The production was fun. This company is much smaller and you can tell has far less of a budget than the two big New York companies. So no live music, no ginormous trees magically shooting through the roof, no Stella McCarthy-designed costumes. But it was a sweet production, and the theater was really packed – mainly with families, I assume from the suburbs. And the audience really seemed to enjoy it. This ballet is all about pleasing children anyway.
The Alex Theater is quite small and every seat is pretty close to the stage, which is nice for a change from the huge NY houses. I think that up close feeling, the feeling that you're part of the action compensates for theatrics like NYCB's magic tree.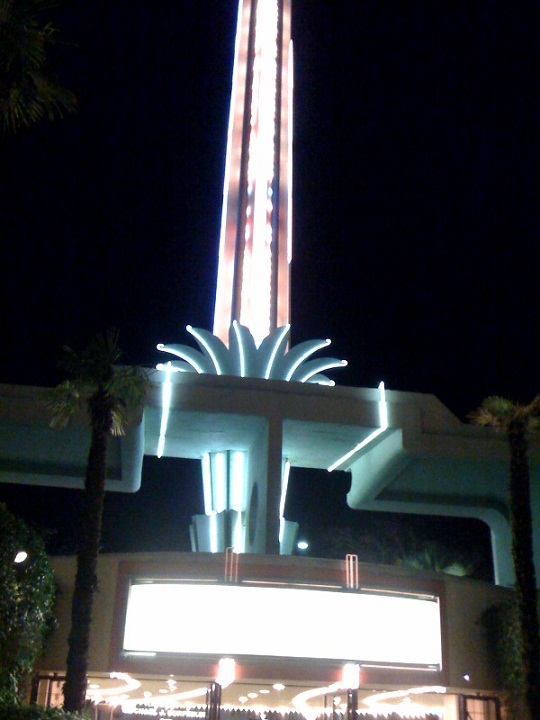 Here is my extremely crappy night-taken iphone photo of the entrance, which I loved and found gloriously West Coast with its Art Deco-y design and bright sparkling lights noticeable from quite far away 😀
The choreography (by artistic directors Thordal Christensen and Colleen Neary) wasn't as clever and intricately detailed as Ratmansky's but it was still very lovely classical ballet. My favorite overall was the Arabian (pictured above). The couple entered the stage with the man holding the woman high above his head in a beautifully snaky overhead lift. The female dancer, Julia Cinquemani, was really flexible and long-limbed and she did an excellent job with the part. She also had terrific stage presence, and I'm not the only one who thought so – they got huge applause at the end.
Of course I loved the Russian dance, as I always do. And Christopher was in that one so it was all the more special! There was no Tea / Chinese dance, which I found refreshing because that one always seems to end up embarrassing me with its ridiculous stereotypes.
I found the mouse costumes splendidly creepy – it's just that those tails reminded me of an appendage to a costume that I saw recently on an episode of the HBO series Bored to Death and, well, eeeek. And when the mice died they did so with their little legs bent and up in air – so real looking, it made me laugh! Mother Ginger was danced by a man, as in NYCB's, but here he wore an actual gingerbread house as a costume, his head coming up through the chimney. And little children came out of the house and danced. They were very popular, those kids! I think they had lots of family members in the audience 🙂 No ornery little mouse, as in Ratmasky's.
My friend was impressed with the boy who played Clara's little brother, Fritz – Aidan Merchel-Zoric. She thought he was a very good young actor.
All in all, I really enjoyed the production and am so glad I went.
But I think for a while going out is going to be a bit fraught with angst for me, until I get used to things more… So, the performance began at 7:30. At 5:00 my friend who I'd invited, who lives in a beach city, called on her cell phone. She sounded a bit frantic. "Tonya?!" she said when I answered.
"Uh huh?" I answered.
"Um, I'm really sorry and I don't understand this at all and I really don't know what's going on, but I'm in my car and I'm getting ready to leave, and I just typed the address of the theater into the GPS, and it's telling me my estimated arrival time is 8:20 pm?!"
"Three and a half hours? What?" I was as astonished as she. "I'd think you'd be in Palm Springs in three and a half hours."
"I'd think I'd be in Arizona in three and a half hours!" she shrieked.
Glendale is in northeastern LA, up over the Hollywood Hills, and so on the reverse edge of town from the beach cities. But come on, it's like 25 miles. It really shouldn't have surprised me that much. I spent several days this week driving to UCLA, which is diagonally across town for me, and is about 20 miles away, and I've spent about three to four hours per day in my car going to and from. Anyway, she told me she'd try to be there as soon as possible, she'd go on back roads and avoid freeways to save time, but she'd perhaps have to pick up her ticket during intermission. I said no worries, but did worry about her sanity after spending a total of seven hours in her car in one day – which is longer than it takes me to get to Phoenix…
Anyway, she drove through town, avoiding the freeways, and got there in two hours, thankfully.
Then, afterward, we had planned to go to a newish cocktail lounge nearby with this supposedly up and coming mixologist. The cocktail lounge was close but not close enough to walk to. But when we looked it up online it seemed like there was only street parking, which may have been a real pain. We'd each be in our separate cars and it might take me a while to get out of the crowded garage near the theater that I'd parked in, and what if there were no parking spaces there, and I didn't have any quarters for the meters anyway, etc. etc. We ended up deciding to go to the bar of a chain restaurant down the street, that we could easily walk to. And that bar was all nice and good, and we ended up meeting some movie industry people (I'm starting to realize you meet them everywhere) and discussing various flavored ciders and new caloric menu listings now required by law and how horrid it was for the government to require restaurants to shove in our faces just how much we were consuming, and all manner of interesting things … But it still bothered me that parking angst prevented us from going where we'd originally planned to go – the more interesting, newish place with the supposedly brilliant cocktail mixologist, rather than the chain. That never would have happened in New York (my friend happens to be from NY as well, though she's been here a lot longer than I have).
We were chatting so, we forgot the time and soon it was well after midnight. When we left the restaurant the street was deserted. We agreed to walk together to the parking garage she'd parked in, then she'd drive me to my car in the garage I'd parked in because I was freaking out a bit about walking through a dark garage alone. It all came out okay, but it made me think, what if each of us were covering the performance on our own – or the opening of the new cocktail bar with a supposedly brilliant mixologist – and had to be out late and had to go to our cars alone…
I don't know, I guess it'll take me a while to get used to this new life…