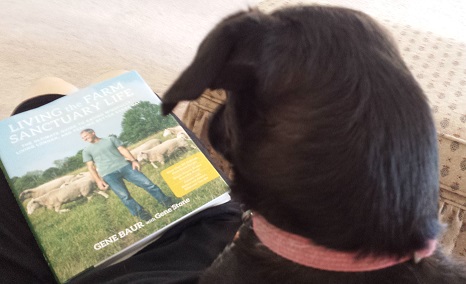 Our sister Sofia reading Living the Farm Sanctuary Life by Gene Baur with Gene Stone, which we found at Changing Hands Bookstore in Tempe, AZ.
We loved this book! It's a nice, big, glossy coffee table book by the founder of the Farm Sanctuary in Woodstock, NY, Gene Baur. It's a combination of little vignettes illustrating what it's like to live at the sanctuary, where your friends consist of cows, pigs, chickens, turkeys, goats, sheep, and ducks, stories about some of the animals and how they came to live there, lovely photos of the animal residents and the people who come to visit, facts about the health benefits – both mental and physical – of eating a plant-based diet, and really wonderful vegan recipes! Witty Kitty can't wait to try some of these – particularly the Wild Mushroom and Spinach Roulade, the Osso Vita (using parsley root instead of deer bone), and the Lobster Mushroom Tostada Tower. Not to even mention the desserts: Salted Caramel Chocolate Bliss Bites, need I say more!
The book also gives you tidbits on how to find some good cheese and dairy replacements. Witty kitty loves cheese, so knowing some quality artisan cheese companies are out there – like Kite Hill, Dr-Cow, and Miyoko's Kitchen – is very helpful! They also give you some good sources of protein, such as beans, and tempeh, which WK has heard a lot about and must try.
But the best thing about this book is the happy little stories about some of the animals who live there, such as Opie, the calf who was born on a freezing NY morning in a dairy farm still wet from birth, who nearly died. The dairy farmer was just going to let him die when he was found by a member of Farm Sanctuary, who, despite the veterinarian's warnings that he wouldn't live, took him in anyway. After keeping 24-hour watch on him, his body temperature improved and Opie began eating well, mooing happily, and frolicking with the other cows. He grew to be a gentle giant, weighing nearly 3000 pounds, and a favorite of cows and human visitors alike, living for 18 years.
Another story features a hog farmer who became fond of a runt he managed to nurse to good health. His friendship with the little pig grew so that, after ten years, he could no longer bring himself to continue to raise pigs for slaughter. He ended up becoming a vegetarian.
And those are only a couple of the stories. There's also a section on how to dress stylishly and vegan! Sweet, informative, fun book with lots of colorful pics!
Save